Note: The following dialogue transcript is taken from the conversation between Marc Gafni and Dada conducted in December 2012. The entire dialogue is currently available for a very limited time at the Imaginal World website.
We need to actually grow up to higher and higher levels of consciousness. The way we do it is we have to tell the story. We need to teach about levels of consciousness. People don't even know they exist. There are clear and distinct stages of consciousness. That needs to become part of our vocabulary.
We need to being looking at where are we on the map. Where's my people? Am I egocentric? Ethnocentric? Worldcentric? Cosmocentric? That's just one simple way of talking about levels of consciousness. It's really easy. Every one of our holy listeners, who are awesome and thank you and deep bow, can get that.
Egocentric: my felt sense of concern is me and my people, my family, people who help me survive.
Ethnocentric, which is a leap of consciousness: I have expanded my circle of care and concern to those in my circle, my country, my tribe, my religion.
Worldcentric: I actually have a felt sense of caring and concern for actually every human being in the world.
Cosmocentric: I'm even wider and more expanded. I have a felt sense of care and concern for every sentient being, for the cosmos, for past, present, and future, and I'm awakened to the divine in me and I'm acting as a divine agent catalyzing and taking the responsibility for this whole story that we're in, because you started the story. You were there at the Big Bang. Where else could you have been? Because it's your story, step up, take responsibility for it, play in it, in all the ways you can in your life.
Those four levels of consciousness, ego-, ethno-, world-, and cosmo-centric: that'w what I mean by levels of consciousness. it's just a simple way to talk about it. We've got to grow up, and we need to wake up.
This content is restricted to site members, you need a
FREE
membership to view the full content.
If you are an existing user, please login
Click here
.
New users may register below
Click here
.
X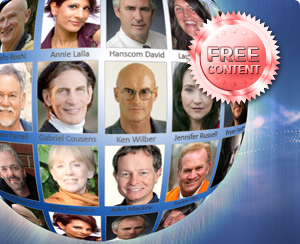 Free Membership