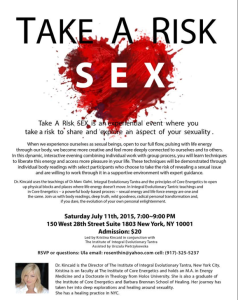 AN EXPERIENTIAL WORKSHOP ON SHARING AND EXPLORING YOUR SEXUALITY
When we experience ourselves as sexual beings, open to our full flow, with energy pulsing through our bodies, we become more creative and feel more deeply connected to ourselves and to others. In this dynamic, interactive evening combining individual work with group process, you will learn techniques to liberate this energy and access more pleasure in your life. These techniques will be demonstrated through individual body readings with select participants who choose to take the risk of revealing a sexual issue and are willing to work through it in a supportive environment with expert guidance.
Dr. Kincaid uses the teachings of Dr. Marc Gafni, Integral Evolutionary Tantra, and the principles of Core Energetics to open up physical blocks and places where life energy doesn't move. In Core Energetics — a powerful body-based process — sexual energy and life force energy are one and the same. Join us with Core Energetics techniques, body readings, deep truth, wild goodness, radical personal transformation and, if you dare, the evolution of your own personal enlightenment.
Dr. Kincaid is the Director of The Institute of Integral Evolutionary Tantra, New York City. Kristina is on faculty at The Institute of Core Energetics and holds an M.A. in Energy Medicine and a Doctorate in Theology from Holos University. A graduate of the Institute of Core Energetics and the Barbara Brennan School of Healing, she also holds a B.A. in Anthropology from the University of Texas, Austin.
SPACE IS LIMITED. REGISTER NOW! TEL 917-734-2197
REGISTRATION FEE: $20.00
SATURDAY JULY 11TH 2015
7:00-9:00 PM
150 WEST 28TH STREET SUITE 1803
NEW YORK, NEW YORK 10001
IN CONJUNCTION WITH DR. GAFNI & THE INSTITUTE OF INTEGRAL EVOLUTIONARY TANTRA