Posts Tagged:

CIW Founders: Ken Wilber Media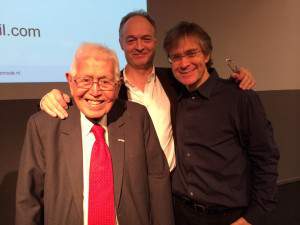 In this workshop on Conscious Entrepreneurship at Nyenrode Business University, Dr. Marc Gafni, Ken Wilber (on Skype), and Prof. Dr. Paul de Blot explored the following questions:
What are the three core principles of running a conscious business?
What is the difference between the shareholder model and the stakeholder model, and why does it matter?
Why is it essential for a company to identify its Unique Self?
What are the three reasons that changing the perception of business in the modern world is essential to the success of business?
Why is the evolution of business from unconscious to conscious entrepreneurship essential to the financial bottom line of a company?
Let's celebrate the role of capitalism in culture, and create a breakthrough new way of navigating a transforming economy. What might it take to forge radical changes born from the ethical and spiritual wisdom of Ken Wilber's Integral approach. Spiritual and ethical consciousness in doing business includes four principles:
Higher purpose / meaning of life
Interdependent stakeholders' orientation
Conscious leadership based on self-leadership
Conscious culture of trust with awareness for each other
Enjoy the workshop: