Posts Tagged:

Conscious Eros Video
Various aspects of Eros – Video with Dr. Marc Gafni
Eleven video excerpts from the Summer Festival of Love 2018, in which Dr. Marc Gafni discusses the term Eros from several different angles.
Stay tuned for the new Online Course with Dr. Marc Gafni to be launched soon: Our First Steps as "Homo Amor". The course was recorded during the last Festival of Love in Holland and is being produced right now. It will be launched on our CIW Programs Platform. Snippets of that course were used for the video above.
Transcript
What is Eros?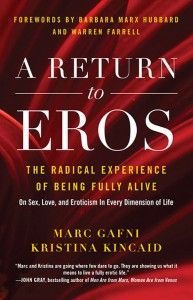 So in A Return to Eros, we tried to define what eros means. And we got almost there. It was one of the more depressing moments. We got like, just about there, then we published it, and then I realized it was one tad off. Right? And I just like, killing myself, calling the publisher, "Stop, stop, stop!" And he said, "Fuck you, don't talk to me. No one cares."
But here's the best definition of eros. This is what eros … right, we got almost there in Return to Eros. And I apologize, we'll correct it in the next edition.
Eros is … and listen. Try and look like, wildly excited about this, because this took me 20 years, this very simple sentence. So just look … just, even if you don't get it, just like look, like, "Wow, that got so amazing. Like, that's so fantastic."
Okay, ready? So Eros is … eros is … Eros is the experience of radical aliveness moving towards ever-deeper contact and ever-larger wholes. W-H-O-L-E-S. And those of us who are hanging out with Joost someplace in France, we did that sentence over there, right?
Eros is the experience of radical aliveness which desires. It's filled with dripping desire to make ever-deeper contact and create ever-larger wholes. That is the quality of eros. Eros is all the way up and all the way down.
Eros and Desire
Every single person in this room, and every single person in the world has some experience of our basic needs, the dignity of our desire, being fundamentally degraded. Desire is the quality of finitude. It's not just the shame of aliveness, it's the shame of finitude. It's the shame when my basic needs are shamed. My fundamental desire for the first scene, food, and the second scene, touch. Your Need is My Allurement restores the dignity of personal need, which is not a psychological category. It's not an existential category. It's not even a spiritual category. The word's too narrow. It's not even just a scientific category, but it's the essential structure of reality. The structure of reality is eros, desire, is the intimate Universe, and the entire intimate Universe lives in me.
What Whitehead called the Lure of Feeling for the primordial One, which drives every quark and atom, which is how we describe prehension, which moves atoms to come together, is alive in me all the way up and all the way down. When you have a structure of reality in which there's no sexual narrative, and there's no narrative of touch, and there's no narrative of desire, and there's not an understanding that I am a unique expression, a unique set of allurements, that allurement guides my life. Allurement is clarified allurement. I wrote 1000 pages on that. How do you clarify your desire, the clarification of desire? The distinction we've made between eros and pseudo-eros. Of course, that's all in place. But, remember that all desire is the source of ethics.