Posts Tagged:

Board Meeting Video
The Boy Crisis Meets A Return to Eros – A Dialogue between Dr. Warren Farrell & Dr. Marc Gafni – Part 3
In this discussion between Marc Gafni, Warren Farrell, and the board members of the Center for Integral Wisdom we explore answers to several evolutionary questions such as:
How do we eliminate male disposability?
What impact has the charter school movement had on the boy crisis?
Do you find a different number of women who are willing to be a champion for men, than willing to be a champion for boys?
Kids that do the mass shootings are disproportionately white, is that fair to say? And if so, what do you think of that?
Men and women desire each other and we seem to have gotten to the point where men are asked to hold all of the desire in society. How did we get out of balance?
Enjoy the video here:
For the beginning of this dialog between Marc Gafni and Warren Farrell, check out part 1 and part 2.
A Return to Eros: The Radical Experience of Being Fully Alive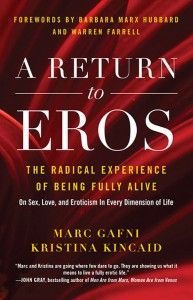 – On Sex, Love, and Eroticism in Every Dimension of Life, from Drs. Marc Gafni and Kristina Kincaid, reveals the radical secret tenets of relationship between the sexual, the erotic, and the holy. They reveal what Eros actually means and share the ten core qualities of the Erotic, which are modeled by the sexual. These include being on the inside, fullness of presence, yearning, allurement, fantasy, surrender, creativity, pleasure, and more.
A Return to Eros shows why these qualities of the erotic modeled by the sexual are actually the same core qualities of the sacred. The relationship between the sexual and the erotic becomes clear, teaching you how to live an erotically suffused existence charged with purpose, potency and power.
To be an Outrageous Lover—not just in sex but also in all facets of your life–you must listen deeply to the simple yet elegant whisperings of the sexual. This book will forever transform your understanding and experience of love, sex, and Eros.
___________________
Reclaiming Eros
with Dr. Marc Gafni
Imagine being fully expressed with an unstoppable life force that aligned you with the will, the desire, the knowledge and the creative impulse to engage ALL areas of your life full-on; without fear or shame stopping you from moving forward. Imagine the transformative power and positive impact you'd have on your personal relationships and potentially be a major influence in the world.
This is the ideal companion to our think tank book A Return to Eros by Dr. Marc Gafni and Dr. Kristina Kincaid.