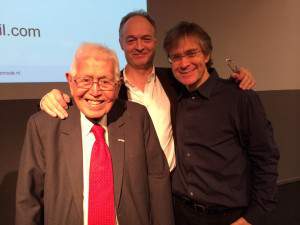 In this workshop on Conscious Entrepreneurship at Nyenrode Business University, Dr. Marc Gafni, Ken Wilber (on Skype), and Prof. Dr. Paul de Blot explored the following questions:
What are the three core principles of running a conscious business?
What is the difference between the shareholder model and the stakeholder model, and why does it matter?
Why is it essential for a company to identify its Unique Self?
What are the three reasons that changing the perception of business in the modern world is essential to the success of business?
Why is the evolution of business from unconscious to conscious entrepreneurship essential to the financial bottom line of a company?
Let's celebrate the role of capitalism in culture, and create a breakthrough new way of navigating a transforming economy. What might it take to forge radical changes born from the ethical and spiritual wisdom of Ken Wilber's Integral approach. Spiritual and ethical consciousness in doing business includes four principles:
Higher purpose / meaning of life
Interdependent stakeholders' orientation
Conscious leadership based on self-leadership
Conscious culture of trust with awareness for each other
Enjoy the workshop:
The workshop was organized by Center for Integral Wisdom and Nyenrode Business University.
Paul de Chauvigny de Blot SJ is Jesuit and professor of Business Spirituality at Nyenrode Business Universiteit. He was made a Knight in the Order of Orange-Nassau in 2009. Paul studied physics, philosophy, politics and Indonesian state philosophy in Indonesia, physics in Germany and cultural philosophy, spirituality and psychology, and theology in The Netherlands.
Ken Wilber is the most widely translated academic writer in America, with 25 books translated into some 30 foreign languages, and is the first philosopher-psychologist to have his Collected Works published while still alive. Wilber is an internationally acknowledged leader and the preeminent scholar of the Integral stage of human development, which continues to gather momentum around the world.
Dr. Marc Gafni is a visionary philosopher, author and social innovator. He is Scholar-in-Residence and Director of the Center for Integral Wisdom. He is a leading voice in bringing Unique Self enlightenment into the world, an emergent post-postmodern wisdom lineage which builds on his national bestseller Soul Prints (2001), winner of the Nautilus Award for Best Spirituality Book, as well as the highly acclaimed Your Unique Self (2012) and Radical Kabbalah (2012).