The Boy Crisis

Meets

A Return to Eros

– A Dialogue between Dr. Warren Farrell & Dr. Marc Gafni – Part 2
Join Dr. Marc Gafni as he explores our primal need to be needed, the uniqueness of identity, The Boy Crisis and the #MeToo phenomena in the light of our much needed return to eros. 
In this video, you will learn…
How we as human beings die when we don't experience ourselves as being fundamentally needed

About the power, gorgeousness and universality of sexual energy and desire – and how we are all a part of #MeToo

About the demonization of male desire

That uniqueness is a core structure of reality and reality intends uniqueness

What happens to boys when their desires are shamed

Enjoy the video here:
For part 1 and part 3 of this dialog between Marc Gafni and Warren Farrell, click the links of part 1 and part 3.
Partial Summary
As human beings, and this is absolutely critical, we die if we don't have something in the world which calls us and requires our attention, if we don't experience ourselves as being fundamentally needed. We have an enormous amount of neuroscience on the importance of being genuinely needed in the world.
Being needed is not a contrivance, it's not a function of our social, psychological, or cultural conditioning – it is part of the essential quality of being human. Being needed gives us a genuine sense of identity because we realize that reality intended us. Our uniqueness is an indication that reality wanted us.
Imagine for a moment the billion billion chemical reactions that have had to take place uniquely within a structure of a hundred trillion cells dancing in utterly unique complementarity!  We each have a unique atomic signature which is enormously well developed. Uniqueness is a core structure of reality and reality intends uniqueness. It is telling us that we are not extra. No one can give your gift.
Our unique perspective emerges from our particular place in the space-time continuum, so our quality of being needed is not our social, psychological, and cultural conditioning. Fundamentally being needed creates in us a sense of duty and honor. Duty and honor is something that we have lost in the liberal world, even as we have multiplied our options.
The notion of being obligated to something is culturally in opposition to a superficial sense of freedom. The sense of obligation in the original Hebrew is the same word as for love – Havana Seba. When we actually know our own identity, we realize that we are a unique configuration of the love-intelligence and love-beauty that is the initiating and animating eros of all that is that lives in me, as me, and through me; and as such, I've got a unique expression that I can actually give to the world that is fundamentally needed by all of reality.  That is the premise of a Unique Self Symphony.
For more on the relationship between the Boy Crisis, #MeToo, and our much needed return to eros, please watch the video above.
___________________
A Return to Eros: The Radical Experience of Being Fully Alive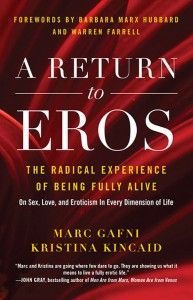 – On Sex, Love, and Eroticism in Every Dimension of Life, from Drs. Marc Gafni and Kristina Kincaid, reveals the radical secret tenets of relationship between the sexual, the erotic, and the holy. They reveal what Eros actually means and share the ten core qualities of the Erotic, which are modeled by the sexual. These include being on the inside, fullness of presence, yearning, allurement, fantasy, surrender, creativity, pleasure, and more.
A Return to Eros shows why these qualities of the erotic modeled by the sexual are actually the same core qualities of the sacred. The relationship between the sexual and the erotic becomes clear, teaching you how to live an erotically suffused existence charged with purpose, potency and power.
To be an Outrageous Lover—not just in sex but also in all facets of your life–you must listen deeply to the simple yet elegant whisperings of the sexual. This book will forever transform your understanding and experience of love, sex, and Eros.
___________________
Reclaiming Eros
with Dr. Marc Gafni
Imagine being fully expressed with an unstoppable life force that aligned you with the will, the desire, the knowledge and the creative impulse to engage ALL areas of your life full-on; without fear or shame stopping you from moving forward. Imagine the transformative power and positive impact you'd have on your personal relationships and potentially be a major influence in the world.
This is the ideal companion to our think tank book A Return to Eros by Dr. Marc Gafni and Dr. Kristina Kincaid.