– in Response to an Invitation of the German "Integrales Forum" in 2011

Thank you for your kind invitation to comment on the Integrales Forum position paper in regard to teacher-student relations. First let me congratulate you on this paper, which serves to initiate this important conversation. This topic is a worthy one in need of urgent address on many levels. Let me also commend your excellent deployment of the Integral framework in discussing these issues. It is the use of the Integral framework that allows for this discussion to hold the necessary complexity, multiples perspectives, and nuance that it deserves.
In broad terms, I agree with your conclusions in terms of the need for some essential standards in regard to spiritual teachers. Clearly we are all aware of the most horrific abuses that take place in the context of some pre-personal cults, as well as of some of the more subtle forms of psychological manipulation, financial dishonesty and sexual abuse that take place in these same contexts under the fig leaf of the teacher-student relationship for the sake of the dharma. To protect the potential victim and shield the powerless from the whims of the powerful is a core obligation of any community.
At the same time, as you indicate in your paper, much discernment is needed in this conversation to assure that the teacher-student function is upheld. For indeed, without this teacher-student function, both the transmission of wisdom as well as the personal and collective enlightenment of the interior face of the cosmos would be severely impaired. The teacher-student function is essential for these evolutionary goals.
by Dr. Zachary Stein – after the 15th and final Wisdom School at Shalom Mountain, which concluded a 10 year cycle
In a popular culture that has re-packaged the great cultural revolutions of the 1960s we have to ask exactly where and what a "counter culture" could be in today's world. One answer is that the counter culture has gone mainstream, it's everywhere now—massive numbers are marching for women and the Earth, even more are engaging in political critique and ethical activism on social media. Cultural evolution proceeds via the center metabolizing the periphery; the fringes of culture move to the core. What was a rare view becomes common and identity formation and cultural production follow suit. Whole industries spring up around ideas and practices that used to be tucked away in obscurity. As the mainstream drifts to accommodate and commodify cultural innovations for the masses, true cultural innovation continues underground, as it always has been, articulated first and raw in some place off the map.
Across the centuries, mystics have convened mystery schools on the edges of civilizations and worldviews. Intentionally small and remote, peopled with trusted initiates, these schools have been the storehouses of innovations in consciousness, sourced in ancient traditions, guided by a memory of the future. Off stage and out of sight, a few have always been preparing seeds for planting in the compost of the rapidly degenerating culture of the so-called civilized.
The Catskills seem to be trying to hide Shalom Mountain in clouds and endless back roads, making it feel secluded enough to shout secrets into the air through a megaphone. The mystery school displaces the center of self and knowledge, shifting us to the surrounding realms of imagination, memory, instinct, and revelation. Everything is on the table, as Gafni becomes a trickster, weaving Tantric Kabbalah from ancient texts, modern science, and depth psychology. Paradox and laughter co-emerge in the dissolution of culture-wrought truncations of self, world, and God. Audacious sovereign greets audacious sovereign in a dance of co-empowerment and natural hierarchy. Gafni is repeatedly moved to tears by sacred texts, so much so that a late June thunderstorm is easily felt as God moved to tears by reading the book of Gafni's life. So much was taught that I might only select one lesson—one from the calm in the morning after the storm.
T'shuvah means literally "to turn" and is usually translated as penitence or repentance, meaning roughly to turn towards one's sins and mistakes, to understand them, and to fix them. This is exemplified in the tears shed by King David before the profit Nathan, followed by the King's humble admission, "I have sinned."  He had sinned, and would sin again. David, like others in the line of the Wisdom of Solomon, is identified as one whose greatness is intimately bound up with flaws and error. The finitude, limitation, and darkness of the human being have long been the mystical keys that open the heart of Tantra. We are exactly (precisely nobody but) the ones making mistakes, taking risks, landing in failure, illness, and shadow. Religions are built around the core idea of a fall. From Adam and Eve to maya and samsara, humans are destined to make mistakes and live with them. You and I will make mistakes again and again. On one view this is terrible—the fall is our shame, and it means that no one is innocent, no one is really truly good. On another view—the non-dual view—the fall is great news because everything is grist for the Divine Mill. The Good is not some static absolute innocence of non-action. The Good is making mistakes in the right direction. We can only learn and evolve by virtue of the mistakes we make and how we respond to them.
T'shuvah is a practical answer to the idea that because humanity is destined to make mistakes we are all tragically flawed. T'shuvah is a practice for turning mistakes into insight and transformation. The practice is clear, simple, and could not be any more radical in a broader cultural where mistakes in some areas of life are enough to mark someone as untouchable for life. What could be more radical than a practice allowing for an individual and collective turning toward sin, failure, and mistakenness? We can all lose face together, abandon the moral high ground together, and turn then toward each other before God, seeking only learning and transformation through and within our own and each other's mistakes. Individually and as a culture we must turn towards our mistakes and thus toward our Unique Selves, which are fumbling toward actualization, making mistakes in the right direction.
Importantly, the situation and dynamics in which we make mistakes have occurred before and will occur again. History repeats itself, both personally and culturally. T'shuvah becomes a kind of mystical fixing when practiced as way of life. By turning towards the dynamic that caused us to fall, seeing it, and committing to change it into something new, t'shuvah liberates the memory of each person and culture, destined as they are always to carve a unique path of mistakes. History itself must be unwound from the trauma of repetition and freed from the faltering stutter of eternal return. Beyond and after the total reciprocal forgiveness of each and everyone there is a new planetary culture that is possible. The mystery school felt like a living visitation from the future of humanity, transformed from the fall, moving up from Eden.
Watch this teaching by Dr. Marc Gafni as our special gift from our Online Course on Reclaiming Eros:
Some of the themes Marc Gafni covers in this video:
The lineage of the "Einstein's of Consciousness"
King Solomon, his wives, and the Temple in Jerusalem
The Raiders of the Lost Ark – The Ark of the Covenant
The Practice of Jewish Yoga
The Talmudic Story of the Poisoned Cookies
Temple Consciousness and Sexuality
Eros in Exile
Reclaiming Eros = Reclaiming Temple Consciousness
>> Download the Transcript of the Video Here <<
Imagine being fully expressed with an unstoppable life force that aligned you with the will, the desire, the knowledge and the creative impulse to engage ALL areas of your life full-on; without fear or shame stopping you from moving forward. Imagine the transformative power and positive impact you'd have on your personal relationships and potentially be a major influence in the world.
This is what you will learn and become through taking this 9-week video course, professionally filmed on location during the First Festival of Love in Holland.
>>> Learn more and register here for our online course Reclaiming Eros <<<
Enjoy this beautiful introduction and story by Dr. Marc Gafni from our recent CIW Board Retreat:
The Story of Levi Isaac of Berdichev Told by Dr. Marc Gafni
from the book Your Unique Self by Dr. Marc Gafni
When you fail to hold the personal, you may begin to engage in manipulation or possibly even psychological abuse. When you begin to see yourself as aligned with the process, which was the great teaching of Hegel, you may inadvertently give birth to the worst evils of Fascism, Communism, and Nazism, all of which were very heavily influenced by Hegel's teaching that demanded that the individual must awaken and identify with the great evolutionary process of divine unfolding in absolute spirit. In Hegel's powerful clarion call to align with the ecstatic impulse of historically unfolding evolutionary God, the holiness of the individual was somehow crushed in all the grand rhetoric, with devastating results for God and humans. The process must always remain personal.

For me it was always the Hasidic master Levi Isaac of Berdichev who radically reminded me of the primacy of the personal even when in the throes of evolutionary ecstasy. Levi Isaac was once leading the prayers at the close of Yom Kippur services. Yom Kippur is a fast day and the holiest day in the Hebrew calendar. The twilight hours at the end of the fast are filled with potency. According to the evolutionary mystics of Kabbalah, the enlightened prayer leader, during that time may potentially enter the virtual source code of reality and effect a tikkun; that is, effect a momentous leap in the evolution of consciousness for the sake of all sentient beings, in all generations. This is precisely what Levi Isaac—greatest of all enlightened evolutionary prayer leaders—was doing on that Yom Kippur. Night had already fallen, the fast was officially over, but the ecstasy of Levi Isaac was rippling through all the upper worlds. All beings held their breath in awe of the evolutionary power of Levi Isaac's consciousness. All of reality was pulsating with him towards an ecstatic evolutionary crescendo. Just as the great breakthrough was about to happen at the leading edge, Levi Isaac spotted out of the corner of his eye an old man who was thirsty. The fast had been very long and the old man needed to drink. So in the midst of his ecstasy, Levi Isaac brought the whole evolutionary process to a halt. He immediately ended the fast and personally brought the old man a drink of water.
How can you feel the pain of the world and still be empowered?
How can you become a beacon of light and love in the midst of all the pain you face – both yourself and the pain you see in the world?
How can you become a beneficial healing presence on the planet?
These are the questions that we need to answer in order to create a Politics of Love and an Integral Planet.
In the video below, CIW President Dr. Marc Gafni shares a daily practice from his tradition called participating in the pain of Eros in exile. What that means is that you open yourself up to the pain of the world without becoming dysfunctional.
That means you plug into the portal of pain in a way that's powerful rather than impotent.
In this mystical practice that Marc Gafni transmits in his video, you open up to the pain fully for 5 minutes a day. You might do it by getting silent, bringing to mind images of pain, and letting your mind dwell in it. You might do it by reading a newspaper article.
By opening yourself to the pain fully for a limited amount of time, you realize a deep mystical knowing: When you enter the pain, you find yourself participating in the sweetness of the Divine.
The alive personal intelligence of All-That-Is is both the infinity of intimacy and the infinity of pain. The Divine pain is infinite. In this sacred practice, you are entering into God's heart and are participating in the pain of the personal Eros of All-That-Is. In that participation, an infinite sweetness emerges.
Yeats wrote of this sweetness, in the understated but raw Eros of his verse:
When such as I

Cast out remorse

So great a sweetness fills my breast

We can dance and we can sing

We are blest by everything

And everything we look upon

Is blest.
When you step inside, you are blessed by everything. The contraction melts away and you feel the aliveness and awakeness of the feminine Goddess Divine – the personal embrace of the loving intelligence of the universe.
You have the power to love and dance and sing and create.
You are empowered to become a beneficial healing presence on the planet.
Enjoy this video by Dr. Marc Gafni:
View more videos by Dr. Marc Gafni on how to close the gap between our ability to feel and our ability to heal the pain here>>>
The dharma of Outrageous Love, Eros, and Unique Self has never been more alive than during those last couple of days. Evolutionary Relationships and Unique Gender are connecting the dots between the Awakening as a Unique Self and the Unique Self symphony.
"We are the erotic mystics reweaving and evolving the source code of reality." – Marc Gafni at the Summer Festival of Love 2015
Marc Gafni first published a version of the lines and circles teaching in his book, The Mystery of Love (Atria, 2003).
The teaching has evolved dramatically over the last 13 years. He gave a more advanced version of it in Venwoude several years ago to a small inner group at the community. The version we heard at the Festival is the deepest and most advanced version we have of this dharma.
"All forms of reality that don't have in them
the marriage of masculine and Feminine
are no reality at all.
There is no higher form.
They have no potency and no blessing in them."
"Blessing only flows when the Masculine and the Feminine dance in their Higher One."
– The Zohar
Testimonial by participant David Steel:
What an incredible blessing this week has been. I have had the opportunity to study and learn with one of the great teachers of our time. I know that in many ways I will never be the same. I have truly begun to understand and appreciate my "Unique Self."
The following is a condensed summary of the dharma of the second part of the festival with many quotes or paraphrased statements from the teachings.
[To read a summary of the first three days, click here: "Lines & Circles: A new Dharma on Unique Gender at the Venwoude Summer Festival of Love".]
In the evening of day 5, Ken Wilber called into the Conference adding his wisdom on Gender from an AQAL perspective, engaging "in the kabbalistic process of Tzimtzum," as Marc called it, and "contracting brilliance and light into a single point of ten minutes which communicated something profound and potent and game changing."
At the end of his talk Ken concluded (paraphrased from his talk):
We as humanity are at such a high level of consciousness that we actually have a choice which characteristics we want to embody. Each Unique Self is a unique embodiment of lines and circles. For the first time in history we can select our own gender profile.
The participants responded with love, appreciation, and a standing ovation for him.
On day 5 and 6, a profound healing of the Masculine (or what we preferred to call the line quality) in its beauty happened, it radiated from every face of both men and women as well as from the spaces in between. We were and still are in awe of what is possible in just a few days together in devotion to the dharma, when the Unique Self symphony comes alive.
On day 7, we finally entered the circle. This is what I wrote immediately after the teaching to capture some of the essence of what happened:[Read more…]
Wisdom for Your Week
Watch this beautiful excerpt from a Sermon with Dr. Marc Gafni at the Pacific Coast Church in 2014.
By listening to this rich talk that uses storytelling, inquiry, and sacred text reading to transmit the deep wisdom of the lineage masters, you will learn:
– Why God is not only the Infinity of Power but also the Infinity of Intimacy
– What it means to live in an Intimate Universe
– How Christ incarnated to be an expression of that Infinity of Intimacy
– Why Being God's Unique Intimacy is our greatest Joy and deepest Obligation in our daily lives
Andrew Harvey and Sally Kempton are co-teaching a 6-months online course on The Evolutionary Goddess: Incarnating the Divine Feminine in Your Spiritual Life & Our World through The Shift Network.
In a bonus session for the course they have been interviewing Marc Gafni on the presence of the divine feminine in Jewish mysticism, and how the Kabbalistic teachings on the Shekinah hold a secret mystical understanding of the evolutionary Goddess:
For more free transformational content and world-changing information, please visit www.TheShiftNetwork.com.  This recording is ©2015 The Shift Network. All rights reserved.
Andrew Harvey is the Founder Director of the Institute of Sacred Activism, an international organization focused on inviting concerned people to take up the challenge of our contemporary global crises by becoming inspired, effective, and practical agents of institutional and systemic change, in order to create peace and sustainability. Sacred Activism is a transforming force of compassion-in-action that is born of a fusion of deep spiritual knowledge, courage, love, and passion, with wise radical action in the world. The large-scale practice of Sacred Activism can become an essential force for preserving and healing the planet and its inhabitants. Read more about his biography>>>
Sally Kempton is one of the Founders of Center for World Spirituality, which is now transformed into Center for Integral Wisdom. She serves as Vice President and a member of the Board of Trustees. Read more about her>>>
Dr. Marc Gafni is a visionary thinker, social activist, passionate philosopher, wisdom teacher, and author of ten books, including the award-winning Your Unique Self: The Radical Path to Personal Enlightenment, the two-volume Radical Kabbalah, and the recently published Self in Integral Evolutionary Mysticism: Two Models and Why They Matter and Tears: Reclaiming Ritual, Integral Religion, and Rosh Hashana. Read more about him>>>
Last week, our initiatives were featured in different ways in two forums: Patheos.com and the Integral Church Blog.
Interview about Success 3.0 Summit on Patheos
Patheos.com is running an interview with Dr. Gafni about the Summit–on their front page. Read all about the interior vision for the Success 3.0 Summit coming up Halloween weekend in Boulder here. Patheos is the leading religion site on the World Wide Web today with seven million unique hits a month.
At the end of October, a select group of the world's leading thinkers, entrepreneurs, and change-agents are gathering in Boulder, Colorado to articulate a new, transformative vision of conscious living, innovation, and social impact. The goal? To create a new definition of Success that can lead humanity into the future.

Leo Brunnick, co-founder and CEO of Patheos.com, invited Marc Gafni—author, World Spirituality leader, and co-founder of the Center for Integral Wisdom—to share the vision of the Success 3.0 Summit.

Marc, tell me about the Success 3.0 Summit. What's it all about?

Success 3.0 Summit is an exciting gathering of the best hearts and minds around the one central issue that affects everyone: what does it mean to be successful? We all have hidden success myths that define our lives. We have a profound need to be successful, but in general we have separated being successful from being good. We have limited the criteria of success to things like money, status, or power, but have found that these things are not fulfilling or holistic or profound or joyous or energizing. In order to evolve the real source code of culture, we needed to rework this core issue.
Center for Integral Wisdom featured as key new emergent in Integral Lineage
Center for Integral Wisdom was also featured as a key new emergent in the Integral Lineage beginning with Rudolph Steiner and running all the way through Ken Wilber's seminal Integral work and then with Marc and Ken founding the Center for Integral Wisdom; this was reflected in an independent scholar's Timeline of Integral Spirituality by blogger, interfaith minister, and co-founder of the Integral Church in St. Petersburg in Florida (founded in 2012) Joran Slane Oppelt.
Starting with a lecture in Paris by Rudolf Steiner in 1906 where he commented on the "integral evolution of man," through Sri Aurobindo and the Mother, Pitirim Sorokin, Pierre Teilhard de Chardin, Aldous Huxley, Jean Gebser, Allan Watts, Arthur Koestler, Jane Loevinger, Clare Graves, Michael Murphy, Ken Wilber, et al. to the foundation of the California Institute of Integral Studies, the Integral Institute, and CIW, this timeline tracks the emergence of many strands of Integral Thought and Spirituality.
For those of you interested in the history of the Unique Self Teaching, which is one of several–in Ken's phrase–"evolutionary emergent teachings" for which Marc has been the lead theorist in the articulation of an Integral Spirituality, see here.
Unique Self was featured in a special edition of The Journal of Integral Theory & Practice (6:1), the two-volume academic treatise on Radical Kabbalah, the classic Unique Self book Your Unique Self: The Radical Path to Personal Enlightenment and a new work on Self in Integral Evolutionary Mysticism: Two Models and Why They Matter.
What are the practical implications of reincarnation when we deconstruct dogma and embrace the many forms of empirical knowledge… as many as seventeen types of empirical knowing… that inform us of deeper human existential realities? Marc Gafni and Michael Murphy discuss Integral Transformative Practice.
Part 7: East-West Enlightenment and a New Empiricism
Marc and Michael continue their discussion on reincarnation, in this piece, reflecting upon the pulses of cultural transmission from east to west, and that we are now in an exciting time period of being able to evaluate all past traditions and wisdom of the global village, evolving a deepened empirical understanding and experience of the nature of God and the journey of the soul through more than one physical embodiment.
Part 6 – "God With Form, and God Without Form"
If we take all theology and dogma out of the discussion, and look at empirical evidence, where do rigorous conversations on topics such as the positive effects of prayer or the possible reality of reincarnation take us?
Part 5 – "Prayer and the Cosmic Vending Machine"
Part 4 – "Coming of Age in Relation to God"
Marc continues the dialogue with his observations on cognitive bias – how people come to believe what they believe. It takes willingness and courage to objectively look at empirical evidence, and because the conversation on reincarnation has become associated with fringe metaphysical thinking, there has been a damper on the conversation regarding reincarnation and true human potential. – SR
One Integral definition of "a postmetaphysical discussion on reincarnation" could be to attempt to integrate empirical first person transpersonal experiences with third person academic research and writing on reincarnation. Each domain has its proponents and biases. The challenge is in incorporating a phenomenological approach with credible research. It is in this spirit that Michael Murphy and Dr. Marc Gafni continue their discussion in Parts 2 and 3 of their dialogue on Reincarnation. – SR
Part 2 – Does Anything Happen After You Die?
Part 3 – The Reincarnation Research from the University of Virginia
The Story of Krishna
We're going to finish with a holy story that I will read you from my heart, from the mirror of the heart. It's the great story of the goddess Radah.
You know that many mortal women make love to Krishna, and Krishna is the sensuous God, the child, the lover. He was often caught stealing butter. He would walk among the villages in the hot, moist, Indian land, and he called the women to join him for an afternoon of lovemaking. Age didn't matter, the rolls of the belly didn't matter, gray hair or black hair didn't matter, curve of the breast didn't matter, marital status didn't matter. Krishna loved all women and all men, and Krishna wanted to be loved in turn.
Stream Audio here and read further below:
We just completed a very special series of events at our Teaching Center at Venwoude in Holland. Dr. Marc Gafni taught two Valentine's Day events in a very beautiful church in Amsterdam. This was followed by a wonderful and very intimate two-day retreat at Venwoude on Saturday and Sunday. Capping off the 4-day weekend, we had an outstanding presentation at Nijenrode University on Conscious Capitalism with Prof. Dr. Paul de Blot, Dr. Marc Gafni, and Ken Wilber (via Skype) in front of 150 enthused Entrepreneurs.
Valentine's Day at Vondelkerk Amsterdam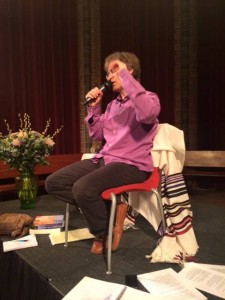 A packed house of people celebrated Valentine's Day in an old beautiful Church in Amsterdam with Dr. Marc's Dharma on Outrageous Love. It was a day of profound new dharma, deep practices, and a stunning community of Outrageous Lovers. Dr. Marc took us deeply into a practice space with dyad practices, chanting, and intimate sharing. The evening session seemed to explode–after a very quiet and subtle beginning with hearts meeting in Chant and Meditation and finally and melting open into the Inside of the Inside–with a fireworks of Dharma on Outrageous Love and Unique Intimacy.[Read more…]
By Joe Perez
"For most people, the move beyond loneliness requires us to share our story with a significant other. For the spiritual elite, the receiving of our own story — and the knowing that it is an integral part of the larger story of All-That-Is — is enough. But for most human beings, loneliness is transcended through contact with another person."

– Marc Gafni
Your Supreme Identity is calling to you from the essence of all things. It is your own dwelling place, your unique life story not only told but lived and constantly recreated. It is the force which not only remedies loneliness but gives us solace in our solitude.
Paul Tillich once wrote: "Language… has created the word 'loneliness' to express the pain of being alone. And it has created the word 'solitude' to express the glory of being alone."
Researchers tell us that loneliness may be painful, but it also associated with spiritual experiences and creativity. When being alone is freely chosen as an artist's duty, it becomes a normal part of life. Indeed, being alone is part of the human condition in which we are often at our saddest, full of shame or fear or anger. It does not require us to be physically isolated; we can be desperately lonely in a crowd or amid loved ones if we have been prevented from being our true selves.
This content is restricted to site members, you need a
FREE
membership to view the full content.
If you are an existing user, please login
Click here
.
New users may register below
Click here
.
By Joe Perez
At least since the early writings of Karl Marx, many public intellectuals have acknowledged some variant on the phrase "the personal is political". Not only that, but by implication it is held that "the spiritual is political". This notion actually is a reversal of the truth and invites a closer look at the connection between politics and spirituality.
Traditional religion is often intertwined with government. And various conservative, liberal and liberation theologies in the twentieth century across a spectrum of religions spelled out new ways in which religious teachings seek to influence the public sphere in secularized societies.
Read more...
This content is restricted to site members, you need a
FREE
membership to view the full content.
If you are an existing user, please login
Click here
.
New users may register below
Click here
.
(part 6)
Two Faces of All That Is
This is the animating impulse that moved eastern spiritual teaching, motivated by love, to seek to free you from the illusion of separate self. Their great mistake was to jettison Uniqueness along with separateness by conflating the two in a way that was both unnecessary and wrong. This confusion of separateness and uniqueness forgot that you could be both part of the whole and a distinct part at the same time. The recovering of that memory is essential to healing the fractured and broken self. The dignity of the part can be held even as your are connected to the whole. You are part of the seamless coat of the universe. Seamless, but not featureless.  You can transcend your exclusive identification with your part nature, the ego, even as you identify with the larger whole. But that does not mean that your unique part nature is absorbed in the whole. Rather, it is integrated in the seamless coat of reality without compromising its unique features.
(part 5)
God in the First Person:
"All at once I found myself wrapped in a flame-colored cloud. For an instant, I thought of fire and immense conflagration somewhere close by in that great city; the next I knew that the fire was in myself. Directly afterward there came upon me as sense of exultation, of immense joyousness accompanied or immediately followed by an intellectual illumination impossible to describe. Among other things, I did not merely come to believe, but I saw that the universe is not composed of dead matter, but is on the contrary, a living presence; I became conscious in myself of eternal life. It was not a conviction that I would have an eternal life, but a consciousness that I possessed eternal life then; I saw that all men are immortal, that the cosmic order is such that without any peradventure all things work together for the good of each and all; that the foundation principle of the world, of all worlds, is what we call love, and that the happiness of each and all is in the long run absolutely certain."
~R.M. Bucke
God in the Second Person addressing man:
I will be united with you in marriage forever
I will be united to you in marriage through justice and righteousness
I will be united with you in marriage through overflowing love and compassion
I will be united with you in marriage in complete trust
And you will erotically know the divine
Hosea the Prophet: 2: 21- 23
Only someone who lacks both of these realizations can identify all that is as merely a process or impulse. Realization teaches that the all that is expresses as a process or an evolutionary impulse, but that God is process plus personal, not process minus personal.