Various aspects of Eros – Video with Dr. Marc Gafni
Eleven video excerpts from the Summer Festival of Love 2018, in which Dr. Marc Gafni discusses the term Eros from several different angles.
Stay tuned for the new Online Course with Dr. Marc Gafni to be launched soon: Our First Steps as "Homo Amor". The course was recorded during the last Festival of Love in Holland and is being produced right now. It will be launched on our CIW Programs Platform. Snippets of that course were used for the video above.
Transcript
What is Eros?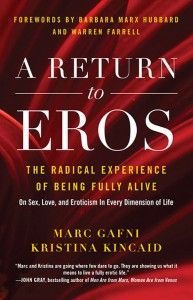 So in A Return to Eros, we tried to define what eros means. And we got almost there. It was one of the more depressing moments. We got like, just about there, then we published it, and then I realized it was one tad off. Right? And I just like, killing myself, calling the publisher, "Stop, stop, stop!" And he said, "Fuck you, don't talk to me. No one cares."
But here's the best definition of eros. This is what eros … right, we got almost there in Return to Eros. And I apologize, we'll correct it in the next edition.
Eros is … and listen. Try and look like, wildly excited about this, because this took me 20 years, this very simple sentence. So just look … just, even if you don't get it, just like look, like, "Wow, that got so amazing. Like, that's so fantastic."
Okay, ready? So Eros is … eros is … Eros is the experience of radical aliveness moving towards ever-deeper contact and ever-larger wholes. W-H-O-L-E-S. And those of us who are hanging out with Joost someplace in France, we did that sentence over there, right?
Eros is the experience of radical aliveness which desires. It's filled with dripping desire to make ever-deeper contact and create ever-larger wholes. That is the quality of eros. Eros is all the way up and all the way down.
Eros and Desire
Every single person in this room, and every single person in the world has some experience of our basic needs, the dignity of our desire, being fundamentally degraded. Desire is the quality of finitude. It's not just the shame of aliveness, it's the shame of finitude. It's the shame when my basic needs are shamed. My fundamental desire for the first scene, food, and the second scene, touch. Your Need is My Allurement restores the dignity of personal need, which is not a psychological category. It's not an existential category. It's not even a spiritual category. The word's too narrow. It's not even just a scientific category, but it's the essential structure of reality. The structure of reality is eros, desire, is the intimate Universe, and the entire intimate Universe lives in me.
What Whitehead called the Lure of Feeling for the primordial One, which drives every quark and atom, which is how we describe prehension, which moves atoms to come together, is alive in me all the way up and all the way down. When you have a structure of reality in which there's no sexual narrative, and there's no narrative of touch, and there's no narrative of desire, and there's not an understanding that I am a unique expression, a unique set of allurements, that allurement guides my life. Allurement is clarified allurement. I wrote 1000 pages on that. How do you clarify your desire, the clarification of desire? The distinction we've made between eros and pseudo-eros. Of course, that's all in place. But, remember that all desire is the source of ethics.
From Pre-Modernity, through Modernity, to Post-Modernity – Video with Dr. Marc Gafni
In this video excerpt from the Summer Festival of Love 2018, Dr. Marc Gafni paints a historical overview of how humanity landed in this critical moment, where we have all the power in the world but lack a story to give it meaning in a way that evolves us all.
Stay tuned for the new Online Course with Dr. Marc Gafni to be launched soon: Our First Steps as "Homo Amor". The course was recorded during the last Festival of Love in Holland and is being produced right now. It will be launched on our CIW Programs Platform.
Transcript
Dr. Marc Gafni:
We're ready? We're ready? Yeah? We have a little drum roll in the house. Drum roll in the house. Yes, drum roll in the … oh my God. Here we go, and…
You think by the way, what we're about, the conversation we're about to have all week, you think this conversation is happening everywhere, it should be. It should be happening at the best conservative think tanks, and the best liberal think tanks of Europe, and Asia, and America. It should be happening at the leading university departments all over the world. But it's not.
This is the conversation that everyone knows needs to happen, but it hasn't happened in a real way since the Renaissance. That's a very big deal. When I make an assertion like that … So, I'm trust able on some things. I don't make casual assertions. I've spent my life hanging out way too many wild central nights with books. Till 5:00 in the morning I've plowed through thousands and thousands of volumes in my life. This conversation is not happening. It's the single most important conversation we can have, which is after all of the deconstruction, Postmodernity. How many people have heard the term Postmodernity? Anyone?
Postmodern, postmodern means really simply. This postmodern moment which says that all the earlier stories of the past were wrong. Postmodernity says that pre modernity meaning up to the Renaissance. The great traditions, the great religions, up to the Renaissance these guys got it wrong in a really bad way. Voltaire leads modernity with the cry: remember the cruelties. The great evil of pre modernity that was unleashed through the power of sanctioned official religion. So, Postmodernity critiques the hell out of pre modernity, but forgets to make a distinction.
Watch and listen to this 15-minute video, the second part of a 10-part dialogue with Ervin Laszlo and Marc Gafni in Tuscany on the topic of Evolutionary Love–envisioning a new Renaissance that will take us to the future. Listen to the first part here.
Enjoy the second part of the dialogue here:
Marc Gafni introduces the first and second shocks of existence:
The first shock of existence is the emergence of separate self. We move from hunter/gatherer, whose concern is survival in a small clan to early horticulture, the emergence of the human being. The emergence of separate self confronts the human with death, and culture unfolds to confront death.
After we evolve through 7 culture ethics (instinct, early farming, mythological, industrial, informational, and post informational) the second shock of existence unfolds: The second shock of existence is the awareness of the potential death of the species (vs. death of the individual). We've out-used our resources in terms of our core fuels.
How do we move forward from this? A fundamental shift in our consciousness.
Ervin Laszlo talks in depth about the creation of the individual and their place in society:
From the observer's viewpoint, this world is falling apart because the discovery of self during the renaissance era. A transition from roles in society that had individuals such as kings and heros with communities that were designed with roles (those who pray, those who fight, those who rule)  has now come to such lengths that everyone is an individual. We serve the individual, the individual becomes dominant. Your role or place in the larger community is secondary.
The individual has no particular place and is supreme in this model. The individual becomes expressed in the seeking of power, wealth, and satisfaction. This has lead to a coming apart of natural relationships that create a community.
Looking at it through the lens of system theory, you could say you've sub-optimized the system. The individual parts of the whole can not all be the greatest part.
We must recover our oneness, our unity within a larger whole, to meet evolutionary love. In a way that doesn't give up our personality or self but integrates the self in a larger whole. We can support both at the same time.
Marc Gafni Summarizes:
The individual lives within the context of a larger whole. The mass flowering of the individual happened in the renaissance. The self emerges, then gradually gets decontextualized. The self must validate their existence and they do this through consuming (wealth, power), while losing their connection to the larger context, leading to emptiness, which leads to more consumption.
The system begins to pull apart with depleted energy, depleted resources, and disconnection from the larger context. We're looking to recover the larger we-space while reclaiming the individual within the larger system.
The individual remains a unique expression of that system, with unique dignity and unique creativity, which paradoxically becomes the currency of connection, not separation. My Unique Self, that's part of the larger context, serves the larger context in love and the larger context loves and holds me in return.
In their dialogue they share about the Second Shock of Existence, the New Renaissance, Evolutionary Love, and Unique Self Enlightenment as well as cutting-edge topics like super-coherence, self-organization, and the Unique Self Symphony.
---
If you like the dialogue, you may be interested in our online course " Becoming a Future Human"
Who do we need to become in order for humanity to make it though its current dangerous technological adolescence and to create a world that is truly commensurate with our full human, scientific, social, spiritual, and technological capabilities? If you are here to embody your unique gift fully for the benefit of all life and play your role as a steward of the cosmos and the birth of a new humanity, then welcome! This course is for everyone that knows humanity is at the brink of an epochal shift, that believes we can create the world the great sages knew was possible, and that wants to be a part of co-creating that world together.
Watch and listen to this 10-minute video, the beautiful first part of a 10-part dialogue with Ervin Laszlo and Marc Gafni in Tuscany on the topic of Evolutionary Love–envisioning a new Renaissance that will take us to the future.
Marc Gafni opens the space:
After we have killed all the gods except for Aphrodite, although we worship at her altar of love, we have lost the meaning of the word love.
"I love you" is our sacred word but we have forgotten what it truly means.
If we begin with a reconstruction of love and its actual meaning, maybe from there we will develop a super-coherent vision of the patterns that connect.
Ervin Laszlo then sets the stage for the rest of the conversation:
Love IS reconstruction. We need to reconstruct because the world is falling apart.
Love is the longing to become one.
We need unity in diversity and Love is that element of unity. It is what holds it all together.
It is there in the quantum world, the simplest systems, the planets… What makes a system whole is the sense of belonging of its parts.
In the sentence "I love you", the YOU means everybody and everything.
Evolutionary Love is the love of reconnecting, of rebirthing the world, of becoming part of it.
Enjoy the first part of the dialogue here:
In their dialogue they share about the Second Shock of Existence, the New Renaissance, Evolutionary Love, and Unique Self Enlightenment as well as cutting-edge topics like super-coherence, self-organization, and the Unique Self Symphony.
---
The Evolution of Love: Activating Evolutionary Relationships & Unique Gender
An 8-Week Online Video Course with Dr. Marc Gafni
The Evolution of Love, Relationships, & Gender in 8 Steps
Session 1: The Principles of Transformation, The Evolution of Love, & The 3 Levels of Relationships
Session 2: Unique Self & Unique Self Symphony, Love Languages, The Six Big Bangs, & The Emergence of Evolutionary Relationships
Session 3: From Man/Woman through Genderqueer to Unique Gender – Lines & Circles All the Way Up & All the Way Down
Session 4: Light & Shadow, Hierarchy & Status, & the Beauty of the Line
Session 5: The Universe: A Love Story – Entering the World of Lines
Session 6: Take Responsibility for Your Own Arousal & Embrace Your Unique Risk
Session 7: The World of the Circle: Enlightenment Is Intimacy with All Things
Session 8: Potent Precision, & Spacious Expansion: The Higher Integration of Lines & Circles – Liberation from Loneliness through Evolutionary Relationships
by Kerstin Zohar Tuschik
This blog post is based on a deep dive private study session I did in the Dharma of the Center for Integral Wisdom, the dharma of Unique Self, World Spirituality, and Evolutionary Eros, that I am studying and being initiated into by Dr. Marc Gafni, who is my teacher, my friend, my colleague, the co-founder and President of the Center of which I am the Executive Director.
In the first part of our session we talked about the innate modesty of the enlightened person.
The highest person, the highest Rebbe, the highest master is the one who can hold confidentiality. That is the nature of enlightenment. Not all must be shared. You might know great wisdom but you do not need everyone to know that you know.
The initiate into an esoteric tradition is the one who can keep a secret. He keeps the wisdom that he or she knows a secret. The word esoteric comes from the Hebrew word seter which means hidden. Keeping a secret means to live in the mind of God.
"Normal people," when asked to keep a secret, will only tell two people… who will then tell two people… which is why there are no real secrets in the world anymore.
To live an enlightened life means to become essentially self-referential, to not be dependant on the passing fads of the frivolous because you do not have a grasping need for that extra hit of attention you get from telling a secret. You can be wise, do good, and change the world but you do not need to tell everyone.
That is the major teaching of the Eastern traditions. Enlightenment means that you are one with everything. There is no outside. So why would you need anything from anyone else. The very notion of there being anyone else outside of you is already a sign of your unenlightened state.
That is certainly true. Yet, the complete opposite is also true.
If you really get the nature of Enlightenment and you are in relationship with another person, that other person is all of reality just as you. So, when this person doesn't call or doesn't write back or is rude to you, it is not just your ego getting hurt by another ego. It is all of reality doing that to you.
To love from that place means to wait breathlessly for the other person to call or write. It is to empathize and feel and care so deeply, so completely that it hurts. From that place you want to share everything.
How is it possible that both of these are true?
In the Eastern traditions that is often seen as the dialectic of the absolute and the relative truth.
Absolute truth means that there is no other. It means to be totally self-referential. Absolute Love is a state of Oneness that is impersonal because there is no person left. There is only One Self that is No Self. There is no outside. And because of that there is no inside either. Inside and outside don't even make sense.
Relative truth however is all about relationship. There are parts that are in relationship, that are attracted to each other, and that form greater wholes that are parts of an even greater whole… ad infinitum. Relative Love is all personal. It is about communion. It is about giving up your autonomy to become part of a greater whole.
However, in our Unique Self World Spirituality lineage of evolutionary mystics, we maintain that these two truths are one in the Mind of God. These are no absolute and relative truths that are in fact mutually exclusive opposites, but these seeming opposites live in a dialectical tension within the Absolute. The distinction between absolute and relative truth, absolute and relative love is a false dichotomy. It comes from a logical mind that cannot hold paradox.
Love in this dialectical sense is both absolute and relative, personal and impersonal. It is not only communion, nor is it just the autonomous state of All-Oneness. Love is exactly the sweet spot between autonomy and communion. It is the space in between – the space in between the Cherubs on top of the Ark in the Holy of Holies of Solomon's Temple in Jerusalem, as we call it in our lineage.
It is station 3 of the three stations of love that move from falling in love, through falling out of love, to falling in love again at a higher level that transcends and includes the first two… or from submission, through separation, to sweetness… from pre-personal oneness, through personal autonomy, to a communion or intimacy, in which both partners don't lose their distinctness.
In dialectical thinking, the first two stations act like thesis and antithesis that seem mutually exclusive. Yet, at a higher level the dialectical tension is solved (not dissolved) into a new synthesis.
Real intimacy or communion are only possible between partners that are not separate but distinct. That goes further than the whole-part relationship that is often used in the two truths doctrine with the absolute being the ultimate whole, while the relative is built from wholes that are also parts of a larger whole and so on.
In Marc's teaching the partners are not only parts of a greater whole. Rather, they are unique expressions of the whole that offer a unique perspective, a unique taste, and a unique intimacy into the whole, while also being animated by it.
This is a principle that goes all the way up and all the way down the evolutionary chain, which is what Dr. Marc Gafni means when he talks of the intimate universe, the evolutionary Eros, or that reality is relationships.
The Intimate Universe at the Most Basic Level
An example of that on a subatomic level became obvious to me through my study of physics earlier in my life. Looking at it tells me something about reality at the very basic level.
Listen to this 15 minute meditation on the 5 Big Bangs and the Evolution of Love, excerpted from the course, Awakening Your Unique Self, by Dr. Marc Gafni.
Barbara Rosson created the slide show with pictures and music. Here is what she wrote us:
When I did the AYUS transcription, I started seeing things.

Here's a glimse of what I saw…

Watching it still makes me cry for joy, even after seeing it over and over and over!
Enjoy!
FreedomFest is the most unusual and exciting liberty conference of the year, and this year Marc Gafni will be there – meeting with thousands of attendees as well as hundreds of speakers and fellow exhibitors…all to share in the intellectual feast about freedom, prosperity, individual rights, and much more.
You're invited to join FreedomFest 2015, July 8-11, at Planet Hollywood in Las Vegas for three and half days that could change your life.
What's FreedomFest All About?

Philosophy, history, science & technology, geo-politics, money and business, art and literature, healthy living, music and dance…..and to learn, network, socialize and celebrate liberty. Click here for the Conference Agenda.
FreedomFest has gathered the best and the brightest — experts, authors, professors, scientists, philosophers, artists, musicians, and first rate thinkers – over 200 speakers in all with hundreds of breakout sessions, panels and debates. All the major think tanks and freedom organizations will be there in the "Trade Show for Liberty." Click here for the list of this year's FreedomFest Speakers.
Dr. Marc Gafni of the Center for Integral Wisdom will be among a number of featured speakers. The event, which is billed as "The World's Largest Gathering of Free Minds," is held annually and will run from July 8 through July 11, 2015. He is scheduled to speak twice on Saturday, July 11, first participating in a philosophical debate at 10:30 a.m. and then appearing again as a featured speaker for a lecture scheduled for 4 p.m.
Known as a visionary in a number of fields and a highly regarded philosopher, teacher and social activist who is the author of 10 books and the co-founder of the Center for Integral Wisdom, Dr. Marc will be taking part in a debate titled "Spirituality vs Materialism," which will also feature Ronald Bailey, John Mackey and Dr. Michael Shermer, with the debate being moderated by Alexander Green. He and John Mackey will take one side of the issue, while Michael Shermer and Ronald Bailey will represent the opposing viewpoint during the debate.
Later that afternoon, he will be the featured presenter while giving a keynote titled, "The Erotic and the Ethical: Next Steps in Libertarian Awakening." The content of the 50-minute lecture will draw on the dharma of Unique Self, Eros, and Outrageous Love that is front and center at CIW and is elucidated in his award-winning book, Your Unique Self, as well as in his book The Mystery of Love.
The dialogue between Michael Murphy and Marc Gafni ends on a contemplation of the vast, infinite complexity and beauty of an ever-expanding Universe expressed also as the infinite complexity and beauty of each soul… of each irreducibly Unique Self… ever-evolving… ever-expanding.
Our Board of Directors members Venodhar Rao Julapalli, M.D. and Vinay Rao Julapalli, M.D., F.A.C.C. have written an exciting white paper about Unique Self and the Future of Medicine and we have just published it on our website.
There is a dire need for the integration of the art, science, and morality of medicine. This paper explores the deep implications of the Unique Self in integrating medicine. Co-authors and physicians Venu and Vinay Julapalli call on their extensive understanding of the promises and pitfalls of modern health care to reconceive the practice of medicine. The paper provides the framework to evolve medicine through the emergent Unique Self insight. At stake is no less than the future of how we care for ourselves and each other.
Read the introduction and download the whole article here.
(part 5)
God in the First Person:
"All at once I found myself wrapped in a flame-colored cloud. For an instant, I thought of fire and immense conflagration somewhere close by in that great city; the next I knew that the fire was in myself. Directly afterward there came upon me as sense of exultation, of immense joyousness accompanied or immediately followed by an intellectual illumination impossible to describe. Among other things, I did not merely come to believe, but I saw that the universe is not composed of dead matter, but is on the contrary, a living presence; I became conscious in myself of eternal life. It was not a conviction that I would have an eternal life, but a consciousness that I possessed eternal life then; I saw that all men are immortal, that the cosmic order is such that without any peradventure all things work together for the good of each and all; that the foundation principle of the world, of all worlds, is what we call love, and that the happiness of each and all is in the long run absolutely certain."
~R.M. Bucke
God in the Second Person addressing man:
I will be united with you in marriage forever
I will be united to you in marriage through justice and righteousness
I will be united with you in marriage through overflowing love and compassion
I will be united with you in marriage in complete trust
And you will erotically know the divine
Hosea the Prophet: 2: 21- 23
Only someone who lacks both of these realizations can identify all that is as merely a process or impulse. Realization teaches that the all that is expresses as a process or an evolutionary impulse, but that God is process plus personal, not process minus personal.
By Joe Perez
Everyone knows the human individual is autonomous, a separate being in itself. Not so fast, says evolutionary biologist David P. Barash of the University of Washington, writing recently in "Who's in Charge Inside Your Head?" for the New York Times. Drawing on research into parasites which alter the consciousness of their victims, Barash says:
It may be distressing to those committed to "autonomy," but such manipulators [as Echinococcus and Dicrocoelium] have inherited the earth. Including us.

Take coughing, or sneezing. It may be beneficial for an infected person to cough up or sneeze out some of her tiny organismic invaders, although it isn't so healthful for others nearby. But what if coughing and sneezing aren't merely symptoms but also, even primarily, a manipulation of us, the "host," by influenza viruses? Shades of zombie bees, fattened mice and grass-blade-besotted ants.

This content is restricted to site members, you need a

FREE

membership to view the full content.

If you are an existing user, please login

Click here

.

New users may register below

Click here

.

By Joe Perez

Making sense of the intuition is a cutting edge frontier of consciousness research. We all obtain knowledge from parts of the self unfiltered by the rational mind, but how do we make sense of that knowledge? And how do we distinguish between authentic intuition and base feeling?

Scientists, offering what we call "third-person perspectives," (meaning that they are looking at the topic as an "It" rather than an "I" or a "We"), see intuition as a puzzle. In recent years studies have looked at it as a response of the brain to past experience and external stimuli in decision-making processes.

This content is restricted to site members, you need a

FREE

membership to view the full content.

If you are an existing user, please login

Click here

.

New users may register below

Click here

.

By Joe Perez

At first, I saw no reason that I should link to this blog post by a pseudonymous blogger who calls himself Orac. He claims to be a surgeon/scientist, and I have little doubt that he is. He is skeptical about all complementary/alternative medicine, which he likens to The Secret and New Age woo-woo nonsense.

At his Respectful Insolence blog, he writes:

...CAM [complementary alternative medicine] is nothing more than placebo medicine. It makes it easier for me to remind people that intentionally practicing placebo medicine is unethical (because it requires lying to the patient) and paternalistic, just like 60 years ago when conventional doctors did actually order placebos for patients. In a perfectly Orwellian turn of phrase, advocates of "health freedom" and CAM advocates are in essence advocating a return to that sort of paternalism. As I've pointed out before, CAM cloaks itself in rhetoric suggesting that it "empowering" patients to "take control" of their health. In actuality it denies them the most important tool to do that: A appraisal of the rationale behind a proposed treatment, along with an assessment of its potential benefits and risks based on science, not fantasy. Instead, it substitutes tooth fairy science, pre-scientific vitalism, and utter faith in the practitioner for science and reason.

So calling advocates of alternative medicine unethical peddlers of fantasy with Orwellian delusions is "respectful insolence" now?

This content is restricted to site members, you need a

FREE

membership to view the full content.

If you are an existing user, please login

Click here

.

New users may register below

Click here

.

The Eros of evolution dances up the evolutionary spiral to higher and higher levels of complexity, and consciousness emerges from the evolutionary soup. It is a continual process of self-organization through self-transcendence, in which self transcends itself to recognize and join other in higher embrace. Love by any other name. The evolutionary ladder continues to spiral to ever-higher and deeper levels of complexity and consciousness. Each higher level is always defined by ever-higher levels of mutuality, recognition, union, and embrace between the evolving cells and organisms. Plants, amphibians, mammals, then higher mammals, until we get to the full bloom of human consciousness. This is the Great Story of One Love: Evolutionary Love.

Your Unique Self (in press)

For more information on private study or to book a public teaching, contact Dr. Marc Gafni at support@ievolve.org

According to a story in The Raw Story, a group of Canadian psychologists has concluded that directing test subjects to think "analytically" lowers their level of religious belief. Their research was published in this week's issue of Science. A look at the study's methodology, however, reveals misguided assumptions.

Test subjects were given a problem-solving test, shown a picture of Rodin's famous sculpture "The Thinker," and given a questionnaire asking participants how much they agreed with statements such as "I believe in God." When these subjects were compared to control subjects not given problem-solving tasks, and presumably not shown a picture of "The Thinker," the group subjected to the problem-solving tests were less likely to admit to having religious beliefs.

This content is restricted to site members, you need a

FREE

membership to view the full content.

If you are an existing user, please login

Click here

.

New users may register below

Click here

.




By Joe Perez

Here's one manifesto, The Omnologist's (see below), that I can wholeheartedly sign aboard. Were I to defer on a particular, it would be over the manifesto's emphasis on thinking over doing, words over deeds, science over art.

Not sure about the ending of the word "omnologist," either. Dictionary.com tells us who the -ists are:

The -ist"'is a suffix of nouns, often corresponding to verbs ending in -ize or nouns ending in -ism, that denote a person who practices or is concerned with something, or holds certain principles, doctrines, etc.: apologist; dramatist; machinist; novelist; realist; socialist; Thomist.

The one -ist I wholeheartedly embrace is To Exist. It is not the self that studies the omni; it is the Self which is Existence which does what it does, looks around and through itself, writing every manifesto before tearing it down and building it again. It is the True Self of the Omni which is that which I embrace, as it is logically linked and physically embodied in each particular self, uniquely.

I embrace the manifesto with appreciation. As I see it, the Omnologist's Manifesto is a look through the Eye of Spirit, the King of Existence telling the story of its own Sovereignty.

This content is restricted to site members, you need a

FREE

membership to view the full content.

If you are an existing user, please login

Click here

.

New users may register below

Click here

.




"Given enough time, modernity is enough to show traditional churches that homosexuality is not an illness or disorder, and ought to be tolerated. Given enough time, postmodernism is enough to show modernist churches that they need to accept gays, lesbians, and other sexual and gender minorities for the diversity they bring. Given enough time, an integral wave of consciousness — a World Spirituality — will be enough to show traditional churches that they have held an honorable role by keeping the flame burning which knows the inner divinity of gays and lesbians; it will be enough to show modernist churches and secular organizations the ways in which gay/straight differences in perspective offer many fruitful new avenues for investigation of  the interior life of all sentient beings; it will be enough to show postmodern churches, spirituality-based, and mission-driven organizations the best ways to bring homophiles and heterophiles and all people within whom gender/sexual/energetic polarities exist into a constructive theology of interrelationship, marriage, and social ethics. All this is within our reach in the stratums of pre-modern, modern, and post-modern life-worlds in which we dwell, but it most definitely requires a World Spirituality." — Joe Perez

Recently on this blog: Towards a World Spirituality theology of gay marriage







Robert McNamara's approach to resistance training, as described in his book Strength to Awaken, is grounded on integral principles… and he views muscle building as a spiritual discipline. On his Embodied. Evolution. blog, the author explains why people over the age of 22 to 24 need to build muscle:

Muscle strength cannot be reduced to a "macho" thing that you may or may not not be attracted to. The larger truth relevant for everyone is this: You need muscle strength, this is a pragmatic fact. If you don't believe me go volunteer at a nursing home for a week. It will dramatically change your perception of strength and what happens to your quality of life when you can't move around freely. Muscle strength determines freedom of movement perhaps more than any other single factor and science tells us that strength is positively correlated with quality of life. When you lose strength you also lose quality of your life. It's that simple.

One of the questions everyone must address is this: Does your day to day lifestyle increase your capacity to move about freely with greater ease and more flexibility? If you can not say yes to this, consider breaking out of your conditioned lifestyle that presently holds you. If you are not moving towards becoming more, then you're slowly, or perhaps not so slowly, eroding the quality of your life.

Strength and metabolism do not have to decline with age. In fact, it appears that these decline more in concert with lifestyle than with your chronological age. Strength training is a massively (perhaps the most) powerful way to reverse both of these measures as you grow older.

Strength To Awaken is the most integrated approach to strength training you will find on the planet. Greater integration means greater results. Train smart, learn to engage whole-heartedly into the discipline of strength training as this book does and you will enjoy multifaceted adaptations that will likely serve every facet of your life.

Read the whole thing.




By Joe Perez

Despite thousands of years of prophetic religious teachings telling us to lift up the poor and identify with the outcast, and hundreds of years of Western Enlightenment teaching about that all people are created equal, we live in a world of massive social inequality. When we aren't completely ignoring the problem, scientists research the phenomenon to shed light. In "Why Low Social Status Causes Health Problems," on Big Think, comes word from the study of macaque monkeys that inequality leads to disease: