– in Response to an Invitation of the German "Integrales Forum" in 2011

Thank you for your kind invitation to comment on the Integrales Forum position paper in regard to teacher-student relations. First let me congratulate you on this paper, which serves to initiate this important conversation. This topic is a worthy one in need of urgent address on many levels. Let me also commend your excellent deployment of the Integral framework in discussing these issues. It is the use of the Integral framework that allows for this discussion to hold the necessary complexity, multiples perspectives, and nuance that it deserves.
In broad terms, I agree with your conclusions in terms of the need for some essential standards in regard to spiritual teachers. Clearly we are all aware of the most horrific abuses that take place in the context of some pre-personal cults, as well as of some of the more subtle forms of psychological manipulation, financial dishonesty and sexual abuse that take place in these same contexts under the fig leaf of the teacher-student relationship for the sake of the dharma. To protect the potential victim and shield the powerless from the whims of the powerful is a core obligation of any community.
At the same time, as you indicate in your paper, much discernment is needed in this conversation to assure that the teacher-student function is upheld. For indeed, without this teacher-student function, both the transmission of wisdom as well as the personal and collective enlightenment of the interior face of the cosmos would be severely impaired. The teacher-student function is essential for these evolutionary goals.
by Kerstin Zohar Tuschik
A couple of days ago, many of us returned from the fifth annual Mystery School with Dr. Marc Gafni in Holland. Still basking in the aftertaste of it, we are in the process of integrating it all into our bodies and our lives.
At the Center for Integral Wisdom, our mission is to evolve the source code of culture by evolving the memes and distinctions that govern both our personal and collective lives. The Mystery and Wisdom Schools are our Dharma labs for the new distinctions that we are developing and learning how to deploy into culture to evolve the source code.
As our Academic Director Dr. Zachary Stein has stated so beautifully in a previous blog-post:
"Across the centuries, mystics have convened mystery schools on the edges of civilizations and worldviews. Intentionally small and remote, peopled with trusted initiates, these schools have been the storehouses of innovations in consciousness, sourced in ancient traditions, guided by a memory of the future. Off stage and out of sight, a few have always been preparing seeds for planting in the compost of the rapidly degenerating culture of the so-called civilized."
Mystery School is where we come together as evolutionary mystics, the Wheel of Dharma turns, new dharma is coming down, SHE dances, and we can literally feel the source code shift.
Mystery School is not a personal growth seminar. And yet, paradoxically, personal transformation happens at much higher rates than at any personal transformation event. All of us committing to evolving the source code of culture, to the conscious evolution of the all, is exactly what fuels our own transformation with the power of the all.
Once we realize that we are not separate from, but unique embodiments of, the Evolutionary Impulse it all starts to make sense.
As long as it is about MY transformation, I separate myself from the all and I am narcissistically lost in ego. Once I begin to serve the evolution of the all, that same impulse becomes alive in me and my own transformation becomes a byproduct of the evolution of the all.
When you read my testimonial below and the ones of my colleagues linked to at the end, keep in mind that they are written with great delight from within the energy of the Mystery School. They are not 3rd person accounts but rather 1st person mystical testimonials.
Each year at the end of the Festival we say: This cannot get any better! And then it does get better. And OMG, we did it again! This was the most awesome Mystery School of Love EVER!!!
Deepest bow to CIW President Dr. Marc Gafni, our dharma teacher, who opened the space again and again, every morning, every moment with open heart, penetrating insight and clarity, deep humility, devotion, purity, and holy audacity. He has been more humble, devoted, pure, open, and audacious than ever, serving the dharma, serving the Goddess, serving the collective field and the awakening of every single human being in the room and on this planet while dancing with us to the end of love, the end of shame, and the leading edges of culture.
In order to live an awakened life, we need some wisdom to live by. It is the World Spirituality Dharma of Unique Self and Evolutionary Love that provides us with the Integral Wisdom to guide us every day. Our post-postmodern Dharma is not Dogma, but the best take on reality we have based on pre-modern, modern, and postmodern insights, weaving together what we know about the patterns that connect.
Enjoy this collection of 7 Dharma Quotes Graphics for Living an Awakened Life by Dr. Marc Gafni.
Apply these pearls of wisdom in your everyday life and become unstoppable in living and expressing the Outrageous Love at the core of your most gorgeous Unique Self.
Dharma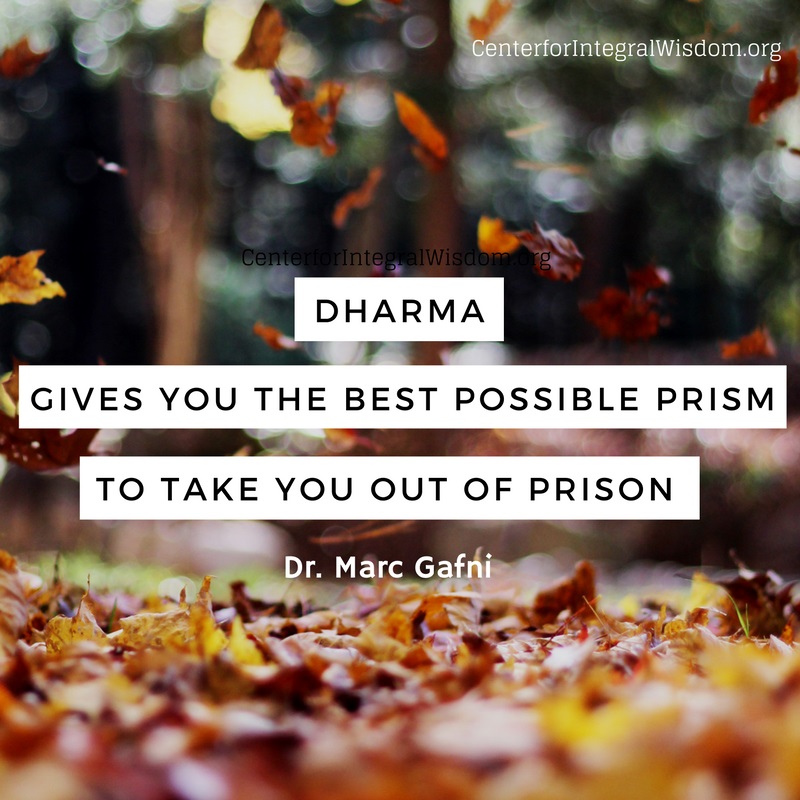 Dharma gives you the best possible prism to take you out of prison.
>> The World Spirituality Unique Self Vision of Dharma, Lineage, Students and Teachers <<
Life Is for Pleasure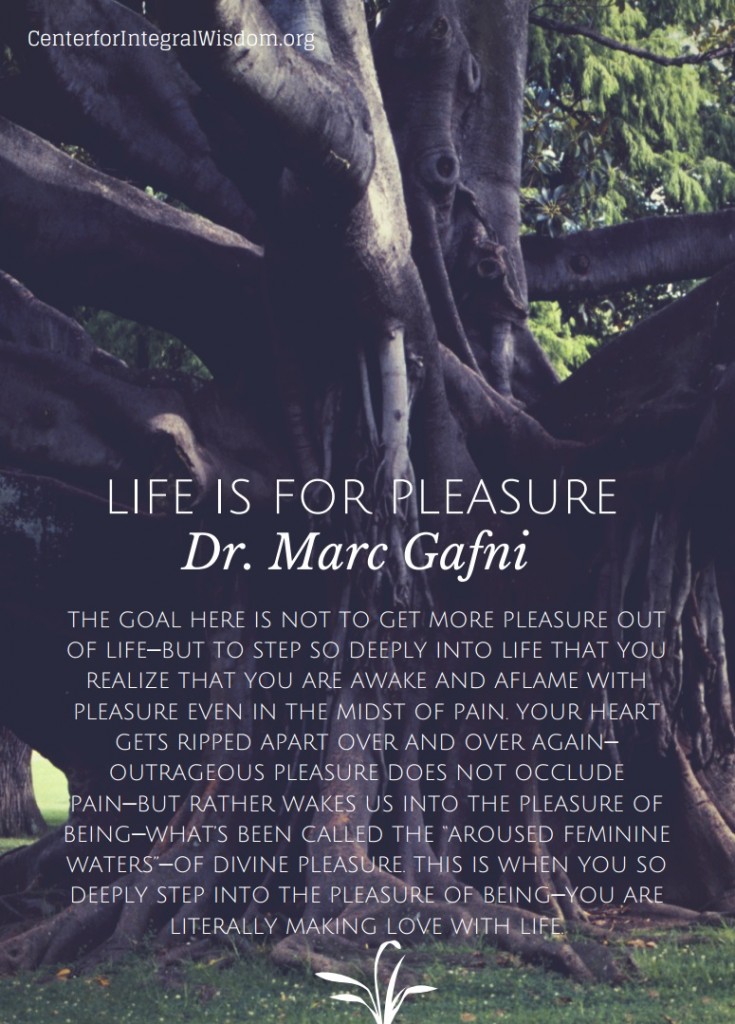 The goal here is not to get more pleasure OUT of life—but to step so deeply INTO life that you realize that you are awake and aflame with pleasure even in the midst of pain. Your heart gets ripped apart over and over again—outrageous pleasure does not occlude pain—but rather wakes us into the pleasure of being—what's been called the "aroused feminine waters"—of divine pleasure. This is when you so deeply step into the pleasure of being—you are literally making love with life.
The Highest Pleasure
The highest pleasure is to know that through my own transformation I transform the world.
As are millions around the globe, CIW Board Member Tom Goddard was trying to find his way through the density of this week. He found and slightly edited this beautiful text by Marc Gafni and started to share it with friends and family – then on his blog "The Integral Company."
He starts out with Marc's famous lines:
"We live in a world of outrageous pain.

The only response to outrageous pain is outrageous love."
And finally ends with:
"…an outrageous social vision, in which each person committing their unique outrageous acts of love participates in enacting a Unique Self Symphony that has the capacity to heal the entire story. An emergent politics of outrageous love begins to take form before our eyes. A politics of outrageous love that is as practical as it is lyrical."
It seems like more than ever we need to hear this message of hope. More than ever we need to know that we can do something… that we are needed by all-that-is… that we can co-create the beautiful world that we yearn for… a world that works for everyone.
Read the beautiful and audacious message here>>>
Let's close with R. Buckminster Fuller:
"There is a young world very ready to embrace a one world revolution to create a world that works for 100% of humanity."
Enjoy this powerful conversation between three evolutionary geniuses Barbara Marx Hubbard, Marc Gafni & Daniel Schmachtenberger. It provides a brief peek into the forthcoming Video Course "Becoming the New Human."
This is the group discussion after a Module on Becoming Fully Human with Daniel Schmachtenberger.
In this lesson you will learn:
how human history can be traced through the lens of different approaches to reconciling the split between autonomy and communion

how Unique Self is the place where the split between autonomy and communion disappears and why we must optimize for both instead of choosing one over the other

how technology can address the neural net membrane and connectivity of the human imaginal cells around the world

why both Liberals and Fundamentalists don't practice tantra very well

how certainty and uncertainty can be reconciled and how Barbara practices that in meditation

this course is a post-Liberal and post-Fundamentalist course, emergent by nature, which takes the best of both and integrates everything in a higher way
Listen to the audio and read the summary below.
At the Center for Integral Wisdom, our intention is no less than to participate in the Evolution of Love.
In the world today we look around and see that we've made love small. We have exiled love to a particular transient emotion that takes place between particular human beings of a particular gender within a particular legal context.
In our CIW Think Tank, we have an understanding that love is an expression of a much deeper source. For us, love is the animating Eros, the love-intelligence and love-beauty of all reality.
As we wake up and grow up, as we show up in our lives, we become the clearest and most powerful vessels for that love. We are participating in the evolution of love by evolving our consciousness and emerging as our Evolutionary Unique Self.
Are you ready to play a larger game?
You are invited to participate in the Evolution of Love.
Watch our beloved Co-Board Chair Barbara Marx Hubbard and CIW President Dr. Marc Gafni as they explore the Mysteries of the Evolution of Love:
This film was made in November 2015.
Read more about the Evolution of Love in the Conscious Eros Portal>>>
Read this series on the Evolutionary Unique Self, Outrageous Love & the Unique Self Symphony>>>
Listen to this 15 minute meditation on the 5 Big Bangs and the Evolution of Love, excerpted from the course, Awakening Your Unique Self, by Dr. Marc Gafni.
Barbara Rosson created the slide show with pictures and music. Here is what she wrote us:
When I did the AYUS transcription, I started seeing things.

Here's a glimse of what I saw…

Watching it still makes me cry for joy, even after seeing it over and over and over!
Enjoy!
We at the Center for Integral Wisdom – together with leading thought leaders and change agents – are dedicated to transform and evolve the source code of culture through application of Integral principles.
In our Activist Think Tank, we articulate, evolve and deliver a new, Integral narrative for living – which transforms each individual, culture and life itself – creating a world of Outrageous Love, through Outrageous Love. Our mission is to love outrageously, live outrageously, and create an extraordinary world.
Read more about our mission here>>>
Some of the core memes we have articulated are the memes of Unique Self and Evolutionary Love.
"We live in a world of outrageous pain. The only response to outrageous pain is Outrageous Love." – Marc Gafni
Outrageous Love is not ordinary love but Evolutionary Love.
Since the publication of Your Unique Self in 2012 by Dr. Marc Gafni and Integral Publishers, the teaching has evolved further into a coherent concept of how Evolutionary Love and the emergence of the Unique Self Symphony allows us to not only articulate a new Politics of Outrageous Love but to solve every problem that we are facing as humanity grows into the new stage of what Executive Board Member Barbara Marx Hubbard has come to call Conscious Evolution.
To give you an update on the newly emergent teaching on Evolutionary Unique Self, Outrageous Love, and the Unique Self Symphony, see our blog-series on UniqueSelf.com.
The Law of Feeling and Healing

The Law of Feeling and Healing, while simple in explanation, is quite profound. As the gateway to a seemingly impossible evolutionary shift, this law is our access to the divinity and untold amounts of love, joy, and connection.

Fifty years ago, God was experienced by the great realizers and religions as both all knowing and all potent and powerful. Only God knew of the immense pain in the world. Today, boundaries around knowledge cease to exist and images of unbearable suffering penetrate our hearts, bodies and minds hourly. Consequently, there is an enormous amount of Promethean talk about humans becoming God-like with the power we wield. Ignoring the fact that such talk does not take into account the infinite power of cosmos, these erroneous conversations forget divinity is not merely the infinity of power but also the infinity of pain. As our power of knowledge increases so does our awareness of the depth of suffering. In one way, we are potent like gods; we have the never previously known ability to acquire depths of understanding and graphic detail about the horrific pain happening across the planet. Yet, while we know an enormous amount about the reality of suffering around the globe, we experience ourselves as impotent. We feel powerless. Unlike the gods, we are rendered powerless to heal the hurt surrounding us. For most of us, the only way we are capable of responding is to close our hearts.

The Gap Between Feeling and Healing

Enlightenment teachers of all stripes say the reason we close our hearts is because our coiled ego clenches in a self-centered contraction. I don't think so. We do not close our hearts—at least not primarily—because we are bad, asleep or narcissistic. We close our hearts because the gap between our ability to feel and our ability to heal is simply too great to bear. It is so hard to open our hearts when they have been broken so many times.

These broken hearts of ours hold outrageous pain. When our hearts break we become wounded and contracted. It becomes exceedingly scary to open our hearts again. We are afraid it will bring a pain that we simply cannot bear. Our wounds are further funded by the essential contraction of being a limited, fragile and mortal being. Our mortality itself is enough to break any awake heart.  But the grief is not merely from our personal heartaches. We have more direct access to pain through unmediated images of horror and information about mass suffering than any previous generation in history. Our hearts are broken exponentially every time we log in. Facebook and Twitter offer us instant updates on happenings in every nook and cranny of the world. The moment we turn on CNN we see sickening videos from Syria, Congo and so many other crisis points. When we connect we feel utterly devastated. We also feel utterly helpless. We have never seen so much suffering and been so unable to heal it.
Excerpt of the Essay by Dr. Marc Gafni:

In their 2013 ITC conference presentation, Marc Gafni and Sally Kempton will explore "Integral God: Sacred Activism and Falling in Love with the Divine." To explore this, they will consider two models of self in evolutionary mysticism and why these models matter. Both models emerge at the time of important updates to the source code of enlightenment. The first update is the understanding that all of reality, including spirit, is evolving, and this is a shared understanding of both Unique and Authentic Self teachings. The second update to the source code of the enlightenment teachings can be understood as the emergence of the awakened personal function, and this is a key area of divergence between the Unique and Authentic Self teachings. Read more in this excerpt from the introduction of the essay :
Unique Self and Authentic Self in Context:
Within the Integral context, two ways of thinking about self have emerged which are distinctive both in their shared contours and significant distinctions. One framework or model has been called Authentic Self, and the other, Unique Self.[i] Their implicit assumptions suggest both a shared worldview and subtle but important distinctions in their vision of the ideal homo religiousus. These distinctions are foundational with vast implications in virtually every dimension of life, and therefore, need to be laid out with clarity and precision. Each suggests a different understanding of what it means to wake up from the narrow identity as a separate self or ego self into a more enlightened and correct identity as, respectively, Authentic or Unique Self.[ii]  Both the Unique Self and Authentic Self models locate themselves within the context of classical mystical enlightenment teaching. Neither emerges from a western flatland paradigm which views the self as an isolated and discrete unit, or what has been called a skin-encapsulated ego. For both Unique Self and Authentic Self, the first major step towards enlightenment is the realization that the person is not merely an ego or separate self, but rather that the person's true identity is their absolute, essential, or true self.[Read more…]
Editor's note: The following essay is published as a white paper of the Center for Integral Wisdom think tank. Our Spirit's Next Move blog is pleased to announce the paper's availability.
Implications: A Great Voice Which Does Not Cease
Some teachers have taught that revelation heard long ago at Mount Sinai when God spoke to human beings was an event occurring once in the lifetime of the universe, calling it according to its biblical phrasing, "A great voice which did not continue." Again, the mystics insist that another reading is possible. In the original Hebrew, the phrase "did not continue" can paradoxically be read as "did not cease." The voice of Sinai is accessible even after the echoes of the original revelation are long since lost in the wind. The voice of revelation has never ended.
So if the voice still continues, in what form does it live on?
It thrives in the voice of the human being who speaks from the silence. This is what I have termed Silence of Presence. When we listen deeply, we are able to uncover the God-voice within us. We become present in the silence. We are called by the presence–the God-voice within us–that wells up from the silence.
Indeed the entire cultural –spiritual enterprise of the Judaic spirit in the post biblical age is to hear the voice, even in – some would say especially in – the silence. The Biblical age ended when God stopped talking. For the Buddhist, even if one were to assume some notion of divinity – there is clearly no such absurdity as a talking God. For the Hebrew however, the essence of divinity is a talking God. Indeed the Hebrew God of the Bible talks almost endlessly, pouring out 24 books of divinely spoken or inspired word – the Hebrew Canon. What to do then when God stops talking and retreats into silence? In the interpretive reaction to this silence Judaism and early Christianity parted ways. For Christianity the cessation of speech by a talking God could only be a portent of divine withdrawal of favor. They interpreted the silence as a silence of absence. God no longer talked to the Hebrews for he had chosen a New Israel. The post prophetic Hebrews however refused to accept this understanding of God's silence. This is the silence, not of abandonment they insisted – but of mature love. It is not silence of absence but silence of presence. Imbued with intense and profound religious passion they listened to the silence and insisted that they heard God talking. That speech is the Halachic enterprise, which insists on the radical presence of the divine in every facet of existence. It is only in this sense that we understand the Rabbinic comment after the temple's destruction, "God's presence in this world now rests in the four cubits of Halacha". It is not a statement of dejection or resignation – it is rather the confident commitment of the lover.
By Oleg Linetsky
Open letter to Ken Wilber and integral teachers
Dear Ken,
First of all I would like to express my deep love and gratitude for the light of wisdom you bring and your incomparable contribution for the good of sentient beings. Your works had a great impact on my own life, for which I am very grateful to you. On my journey through the pages of your books I experienced a true divine joy.
In this letter I would like to illuminate a side of the Integral Approach (IA) which up until now remained in the darkness, i.e. boundaries. Just like any other objects inside the quadrants, boundaries are objects that can be felt and realized, so they cannot be ignored and left outside the integral map. There are boundaries, even though also illusory for the non-dual witness.
In the natural state of non-dual oneness it becomes clear that all forms arise from the light of primordial ground, and even boundaries are a concentrated light of clarity of the nature of the mind and the final barriers on the way to the inexpressible. They are the very core of our feeling of aliveness and awakeness. They let us feel joy and suffering of life and make life meaningful. The message about boundaries (as five elements, fivefold mahabhuta or five skandhas) came to us from ancient traditions dating back thousands of years. This message is as valuable for humanity as The Great Chain of Being. There is a special method which lets us study boundaries today even in our usual waking state. Boundaries are the missing link between the absolute and the relative, emptiness and form, spirituality and religion, IA and its popularity.
Today we see that the message about boundaries actually describes the mechanism of conscious evolution, understanding of which can promote a progress of humanity towards 2nd tier and simply help us living from the deepest part of us that you and Marc Gafni call the Unique Self. Five boundaries described here are right about how to live in resonance with our Unique Self and how to resolve the problem of wise choice in everyday life using an integral approach.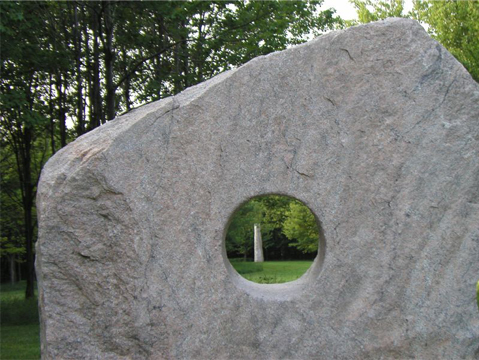 By Marc Gafni
The following are notes from Marc Gafni's dharma talk given in March 2012 at Shalom Mountain Wisdom School, where Gafni serves as the World Spirituality Teacher in Residence.
Introduction
The seven levels of certainty and uncertainty tells the story of how the great religious traditions came into being and how they were challenged first by science, and then by modern and post-modern mindsets.
This is a rough sketch of a map of certainty and uncertainty.
We have forgotten what we know. Indeed we do not know whether we know or not at all. We do not know whether we know or what we know or even how to know. The general impression today is that anyone who claims to know something is lost in dogma or regressive fundamentalism. Indeed almost the definition of a fundamentalist is someone who claims to know something with is totally "true" about Ultimate issues.
A person cannot survive and certainly cannot thrive without knowing.
A generation cannot survive without its knowing. A generation certainly cannot participate in the evolution of consciousness, which is the evolution of love, without knowing what it knows.

A position paper by Integrales Forum
Introduction
The Integral Forum has set itself the goal to discuss and apply the integral approach within the German speaking community as it has been developed by Ken Wilber and others. In doing so co-operations and partnerships have been developed and are being developed with organizations and individuals including spiritual teachers. These teachers are themselves subjects of public discussion that range from approval to very critical. Against this backdrop, the Integral Forum Board of Members has often been asked again and again and recently even more increasingly how we view our relationship to spiritual teachers and how we deal with the criticism of these teachers.
Based on this background and applying an integral approach we have prepared the two following articles.
Their purpose is:
to clarify and outline our position on this subject
to set a standard for our own (also spiritual) work
to promote discussion and exchange with spiritual teachers
to serve as a starting point for discussion with an interested public
to help bridge the gap between humanistic disciplines, their applications and spirituality
to be an example for an applied integral spirituality.
With the first article, Towards a School and Science of an Integral Evolutionary Spirituality, a philosophical framework is provided within which the discussion can take place. It particularly highlights theoretical questions in which different positions in theory can also have different ethical implications. For example a theoretical disregard of the Relative as related to the Absolute can practically lead to an ignorance and presumptuousness in a practice of the Absolute ignoring the practice towards humanity itself and finally result in spiritual arrogance. The second article, Enlightened Spirituality – A Checklist for Spiritual Teachers with Respect to Competence, Integrity, Responsibility and Transparency, then offers concrete criteria with which spiritual teachers but also their critics can be evaluated.