by Kerstin Zohar Tuschik
A couple of days ago, many of us returned from the fifth annual Mystery School with Dr. Marc Gafni in Holland. Still basking in the aftertaste of it, we are in the process of integrating it all into our bodies and our lives.
At the Center for Integral Wisdom, our mission is to evolve the source code of culture by evolving the memes and distinctions that govern both our personal and collective lives. The Mystery and Wisdom Schools are our Dharma labs for the new distinctions that we are developing and learning how to deploy into culture to evolve the source code.
As our Academic Director Dr. Zachary Stein has stated so beautifully in a previous blog-post:
"Across the centuries, mystics have convened mystery schools on the edges of civilizations and worldviews. Intentionally small and remote, peopled with trusted initiates, these schools have been the storehouses of innovations in consciousness, sourced in ancient traditions, guided by a memory of the future. Off stage and out of sight, a few have always been preparing seeds for planting in the compost of the rapidly degenerating culture of the so-called civilized."
Mystery School is where we come together as evolutionary mystics, the Wheel of Dharma turns, new dharma is coming down, SHE dances, and we can literally feel the source code shift.
Mystery School is not a personal growth seminar. And yet, paradoxically, personal transformation happens at much higher rates than at any personal transformation event. All of us committing to evolving the source code of culture, to the conscious evolution of the all, is exactly what fuels our own transformation with the power of the all.
Once we realize that we are not separate from, but unique embodiments of, the Evolutionary Impulse it all starts to make sense.
As long as it is about MY transformation, I separate myself from the all and I am narcissistically lost in ego. Once I begin to serve the evolution of the all, that same impulse becomes alive in me and my own transformation becomes a byproduct of the evolution of the all.
When you read my testimonial below and the ones of my colleagues linked to at the end, keep in mind that they are written with great delight from within the energy of the Mystery School. They are not 3rd person accounts but rather 1st person mystical testimonials.
Each year at the end of the Festival we say: This cannot get any better! And then it does get better. And OMG, we did it again! This was the most awesome Mystery School of Love EVER!!!
Deepest bow to CIW President Dr. Marc Gafni, our dharma teacher, who opened the space again and again, every morning, every moment with open heart, penetrating insight and clarity, deep humility, devotion, purity, and holy audacity. He has been more humble, devoted, pure, open, and audacious than ever, serving the dharma, serving the Goddess, serving the collective field and the awakening of every single human being in the room and on this planet while dancing with us to the end of love, the end of shame, and the leading edges of culture.
In order to live an awakened life, we need some wisdom to live by. It is the World Spirituality Dharma of Unique Self and Evolutionary Love that provides us with the Integral Wisdom to guide us every day. Our post-postmodern Dharma is not Dogma, but the best take on reality we have based on pre-modern, modern, and postmodern insights, weaving together what we know about the patterns that connect.
Enjoy this collection of 7 Dharma Quotes Graphics for Living an Awakened Life by Dr. Marc Gafni.
Apply these pearls of wisdom in your everyday life and become unstoppable in living and expressing the Outrageous Love at the core of your most gorgeous Unique Self.
Dharma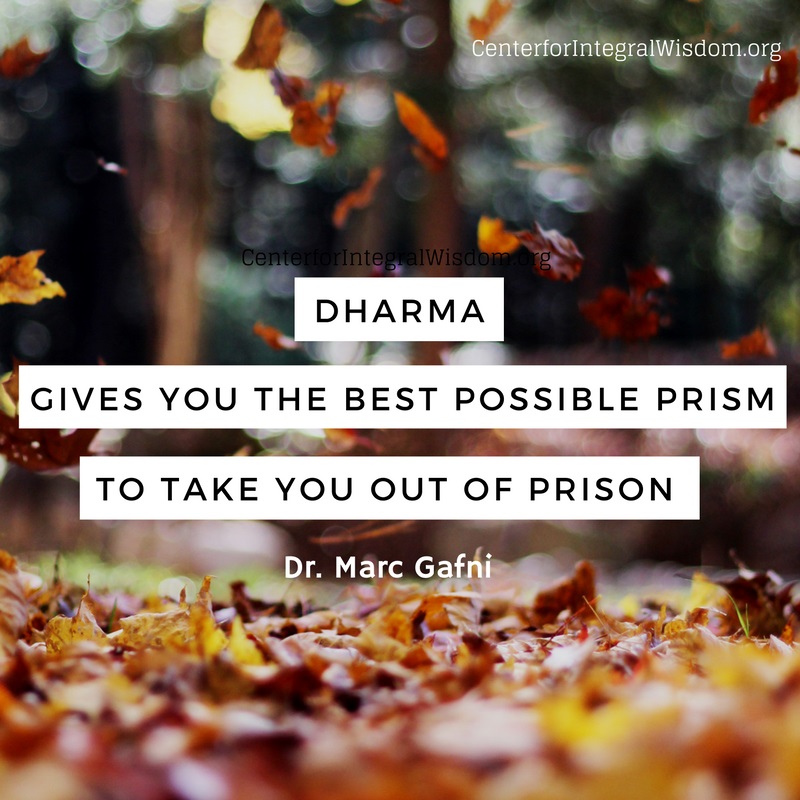 Dharma gives you the best possible prism to take you out of prison.
>> The World Spirituality Unique Self Vision of Dharma, Lineage, Students and Teachers <<
Life Is for Pleasure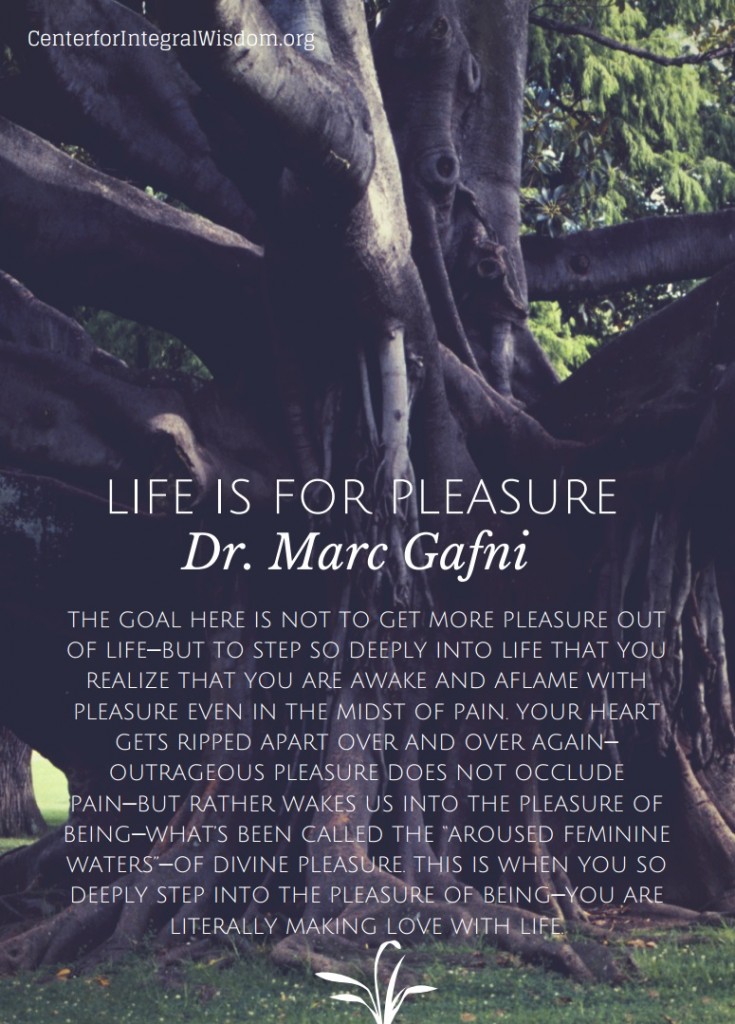 The goal here is not to get more pleasure OUT of life—but to step so deeply INTO life that you realize that you are awake and aflame with pleasure even in the midst of pain. Your heart gets ripped apart over and over again—outrageous pleasure does not occlude pain—but rather wakes us into the pleasure of being—what's been called the "aroused feminine waters"—of divine pleasure. This is when you so deeply step into the pleasure of being—you are literally making love with life.
The Highest Pleasure
The highest pleasure is to know that through my own transformation I transform the world.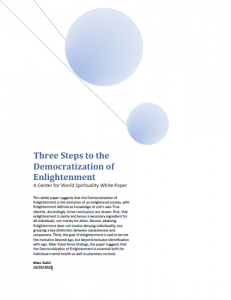 This white paper, "Three Steps to the Democratization of Enlightenment," by Marc Gafni suggests that the Democratization of Enlightenment is the evolution of an enlightened society, with Enlightenment defined as knowledge of one's own True Identity. Accordingly, three conclusions are drawn: First, that enlightenment is sanity and hence a necessary ingredient for all individuals, not merely for elites. Second, attaining Enlightenment does not involve denying individuality, but grasping a key distinction between separateness and uniqueness. Third, the goal of enlightenment is said to be not the evolution beyond ego, but beyond exclusive identification with ego. After these three findings, the Marc Gafi suggests that the Democratization of Enlightenment is essential both for individual mental health as well as planetary survival.
This content is restricted to site members, you need a
FREE
membership to view the full content.
If you are an existing user, please login
Click here
.
New users may register below
Click here
.
By Marc Gafni
The following are notes from Marc Gafni's dharma talk given in March 2012 at Shalom Mountain Wisdom School, where Gafni serves as the World Spirituality Teacher in Residence.
Introduction
The seven levels of certainty and uncertainty tells the story of how the great religious traditions came into being and how they were challenged first by science, and then by modern and post-modern mindsets.
This is a rough sketch of a map of certainty and uncertainty.
We have forgotten what we know. Indeed we do not know whether we know or not at all. We do not know whether we know or what we know or even how to know. The general impression today is that anyone who claims to know something is lost in dogma or regressive fundamentalism. Indeed almost the definition of a fundamentalist is someone who claims to know something with is totally "true" about Ultimate issues.
A person cannot survive and certainly cannot thrive without knowing.
A generation cannot survive without its knowing. A generation certainly cannot participate in the evolution of consciousness, which is the evolution of love, without knowing what it knows.
This content is restricted to site members, you need a
FREE
membership to view the full content.
If you are an existing user, please login
Click here
.
New users may register below
Click here
.