"You need to find your Kali side," I told Annie. You may know someone like Annie. She's a production manager at a local tv station, a single mom with a busy schedule, and a really nice person. She values yoga as a doorway into peace and well-being, teaches it to troubled teens, and always stresses the importance of equanimity and other yogic virtues -- non-violence, surrender, contentment, detachment.
But Annie's approach to yoga is like her approach to life: she is so conflict averse, that its hard for her even to admit that she has negative feelings. She rarely raises her voice, and she once told me that she can't remember the last time she felt anger. But at this moment, mired in a family conflict that involves missing money, elder abuse, and shady lawyers, Annie senses that her carefully cultivated tendency to seek peace over conflict is not helping her. She's called me for advice: she wants to be told how to keep a good relationship with her brother and sister, and still stop them from cheating her mother out of her property. In other words, she wants me to give her a prescription for non-violent conflict from the yogic playbook.
Instead, what pops out of my mouth is, "You need to find your Kali side."
This content is restricted to site members, you need a
FREE
membership to view the full content.
If you are an existing user, please login
Click here
.
New users may register below
Click here
.

Your Unique Self: Giving Your Gift "" Dr. Marc Gafni -- Audio Transcript

Bert Parlee: Marc has an incredible breadth of wisdom and knowledge, not only in the spiritual traditions, but his doctorate is from Oxford, he's a scholar, speaks various languages, and the way he weaves stories, drawing from all streams of life that he brings into his very embodied organic teaching style. Welcome Marc.
This content is restricted to site members, you need a
FREE
membership to view the full content.
If you are an existing user, please login
Click here
.
New users may register below
Click here
.
By Tilmann Haberer
"˜I am spiritual, but not religious"˜– many people make this distinction. They describe themselves as spiritual and maybe they mean by this that they follow a more or less intensive discipline such as Yoga, Vipassana or Zen. Or maybe they lay the Tarot. Perhaps they also believe that, for them, the existence of a higher order is self-understood. However, this higher order has little to do with the god spoken about in religion. For the established religions - in particular Christianity, Islam and Judaism in our part of the world - have gambled away our trust, which, for centuries, was taken for granted. Of course there are reasons for this. One of the most important of these must be that, historically, the churches often played a very disreputable role. Crusades, burning of witches, persecution of heretics and those with different beliefs, religious wars, the conquering of Middle and South America with fire and sword! The list is endless, as endless as the streams of blood and tears that the churches have caused over the course of the centuries. This list carries forward to the present day; the abuse scandals scream to heaven.
This content is restricted to site members, you need a
FREE
membership to view the full content.
If you are an existing user, please login
Click here
.
New users may register below
Click here
.
Be the Unique Poem that You Are

by Leyna Roget
There's this tingle of excitement fizzing around inside me as I start to realize that evolving, not just for oneself, but also for the entire global neighborhood, is a powerful message to consider. "These words are going to hold and comfort hundreds of thousands of people", says Marc Gafni about his explanation of the first integral principle to a world spirituality: waking up.
Gafni points out that teachings on enlightenment are not more present in mainstream conversation because if we are to assert "˜awakening' through popular esoteric guides, our expression of uniqueness is distorted and even discouraged, in lieu of a single "˜oneness'.
In "waking up" we must acknowledge that there is something to awaken to, where we have otherwise been sleeping. Being asleep in this life means not being aware of the inner and outer workings in your day-to-day life.  Many people are already familiar with this concept.  When we wake up, we perceive our true nature of reality. The Sufi's call your true nature the supreme identity, or the oneness of all; an identification that is no longer a separate "˜me' experience, but a "˜we' interpretation of life; a non-egoic identification with actions and purpose.  What Gafni stresses is that there are two stages of awakening: the internal impulse and the external or evolutionary impulse.
The internal is the interpersonal or the "I" way of seeing my life connected to a universal stillness; a collective presence, a depth and beauty of relating to everyone because we are all made of a human essence.  This is often achieved through meditative practices and shifting the perception of yourself in relation to the whole of existence.
The external awakening therefore involves a reflection on the process and how you're evolving in a process that is itself evolutionary. Basically, we are very intelligent beings, and we both participate and affect how we become "˜enlightened'.  We are aware of our ability to reframe that which is an evolving model of enlightenment.
Sometimes I feel like I'm throwing a wrench in my own process by being so open to its impermanence, like I can't get a grasp of it.  Maybe Gafni sensed this in me (and some of the others) because I received subtle reassurance in hearing that "our life attains infinite significance in all that is in every moment".
Upon leaving our first (half day) in mixed contemplation and confusion for how I am to honor my unique self throughout this dual awakening, I playfully note that we are housed in the Lotus Room, a flower which undergoes its own waking up "from the primeval mud of materialism, through the waters of experience, and into the bright sunshine of enlightenment."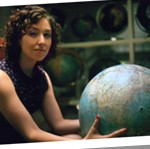 Leyna Roget networks with community organizations and businesses to introduce the inspiring stories of Planet Progress and the developing works of iNDIGO PROjECT MEDIA. She captures on and off camera images for Blog posts, Twitter updates, and various other engaging platforms to bring the viewer into the company's interconnected sphere. Leyna creates new outlets and sustainable community events that invite the public to interact with iPM.