In this beautiful and deeply moving series of short videos from 2008 from the Treblinka death camp, Dr. Marc Gafni tells us the story of Kalonymus Kalman Shapira, Rebbe of Piaseczno, who–after his whole family was killed by the Nazis–kept on teaching and loving and writing down his sermons to his students in the Warsaw Ghetto. When he became aware that the end of the Ghetto and its inhabitants was near, he buried the book in a canister. This canister was found after the end of the war and the book was published in Israel in 1960.
In one of the teachings of this last Polish Hasidic Master–as Dr. Marc tells us here–he asks himself: "What is the internal vibration of the Divine?" In Jeremiah, God speaks: "In the inner places, I cry." Yet, in another place, it is said that in God's inner places, there is joy and laughter.
Dr. Marc reminds us here that "in the inner space between the contradictions–that is where God lives." And he narrates further that the Talmud, in the Tractate Hagigah, states about this: "That is in the inner house. That is in the outer house."–without telling us which is which. Most Kabbalists read this–like a classical Vedanta, non-dual position–that in the inner places God is not affected by the world. So, in the inner places, God is all joy and laughter.
Not so, the Rebbe of Piaseczno"¦ Read the partial transcript of the story as told by Dr. Marc Gafni:
This content is restricted to site members, you need a
FREE
membership to view the full content.
If you are an existing user, please login
Click here
.
New users may register below
Click here
.
X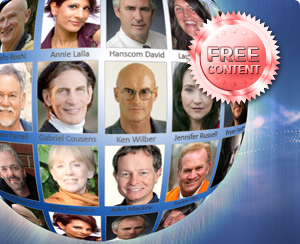 Free Membership
This week's audio wisdom meditation with Dr. Marc Gafni comes from Week 7 of the Awakening Your Unique Self 10-Week Telecourse, themed "Unique Self: A Paradigm Shift in Loving." This beautiful meditation, created by Dr. Marc for the course, takes us into the embodied taste of our own openings and closings, teaching us to recognize each moment and our relationship to it.  In this meditation, Dr. Marc says, "Your true destiny unfolds freely when you live every moment open as Unique Self and shine as your unique offering of outrageous love." So, to become Unique and Outrageous Lovers, we can learn to recognize how love is a "perception-identification complex," which allows us to see with God's eyes.  In living from an open rather than closed place, we access our purpose and greatest offerings of love.
Please sit back, relax, and prepare to experience the tastes of living open as love as part of this Wisdom for Your Week offering. You can also access the transcript to accompany the meditation below.
Marc Gafni and Sally Kempton workshop at Pacific Coast Church
Everyone of us wants to be a lover. We want to love the people in our lives. We want to love ourselves. And we want to love the world. But, what does it really mean to live as a lover? And is love something we can practice?
In this workshop, we'll explore three powerful and necessary skills that let us receive and give love–in any and all circumstances. Powered by Marc's revolutionary insights and concept-busting humor, Sally's gift for bringing meditation alive, and Marc and Sally's shared capacity for heart-to-heart transmission, this workshop will be illuminating, heart-softening, dynamic and fun.
Where: Pacific Coast Church, Pacific Grove, CA
When: Sunday, April 14, 2013 1:00PM to 4:00PM
Cost: $50.00 at the door
How do you live a life of spiritual awakening as well as outer abundance, inner freedom as well as deep intimacy? How do you serve the world selfessly, yet passionately celebrate your life?
A new book, Awakening Shakti: The Transformative Power of the Goddess of Yoga, provides a much needed and immensely valuable perspective.
The sages of Tantra have known for centuries that when you follow the path of Shakti""the sacred feminine principle personified by the goddesses of yoga"" these gifts can manifest spontaneously. Yet most of us, women as well as men, have yet to experience the full potential of our inner feminine energies.
When you know these powers for what they are, they heighten your capacity to open spiritually, love more deeply and fearlessly, create with greater mastery, and move through the world with skill and delight. In Awakening Shakti, you will learn how to recognize and invite:
Kali, bringer of strength, fierce love, and untamed freedom
Lakshmi, who confers prosperity and beauty
Saraswati, for clarity of communication and intuition
Radha, who carries the divine energy of spiritual longing
Bhuvaneshvari, who creates the space for sacred transformation
Parvati, to awaken creativity and the capacity to love
With a wealth of meditations, visualizations, mantras, teachings, and beautifully told stories, Awakening Shakti provides a practical guide for activating the currents of the divine feminine in every aspect of your life.[Read more…]
We long for something deeper; something more, a higher and more noble authenticity. We masquerade in the mask of our wholeness knowing all along that it is but a charade; that we are part of larger whole with whom we yearn to be re-united. A shard of a shattered vessel whose hidden sparks seek to be uplifted and absorbed into the one even as they retain their sacred separate identity.  "As the gazelle yearns after the stream of clear water, so does my soul long after you, my God."
Kalonymous  Kalman of Piacezna teaches in his book Holy Fire, "in response to our yearning for God, God longs and draws closer to us." [Read more…]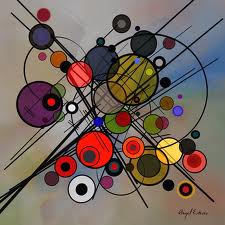 Lines and circles dance together in the hierarchy of nature. For chains for example are key to every eco-system. A chain is hierarchical, yet it is also made up of interloped circles! The balance of nature means that there is an appreciation for each, at every level. That you can't be where you are without the other being where they are!
The erotics of interconnectivity however extend beyond the community of human beings. We are not alone on this planet. A wonderful encounter is recorded both in the Zohar and in an ancient Hebrew mystical text called the Perek Shira, the Chapter of Song. The Chapter of Song is a stunning tract which knows to tell that every creature on the planet has its own unique song. Moreover, it cites a sacred text from the Torah as the source of every creature's song. The implication is radical and beautiful. The Torah, which includes all twenty-four sacred books of the Hebrew Bible, does not address humans alone. Both speak to and express in some mystical way all of creation.
Dr. Marc Gafni
The Erotic and the Holy
In Chassidut the notion of longing became essential to the Chassidic understanding of the universe.  For  my teacher  Mordecai Lanier, Teshuka, meaning innermost desire, is the most important spiritual guide.  In contradistinction to Jewish moments of piety, which tried to use the mind and will to overcome desire, the master of Izbica teaches that stripping away the superficialities to access the innermost desire of our souls is ultimately the only reliable guide on our spiritual path.
Taking this one step further, the great teacher of both  non duality and God in the second person, Levi Isaac of Berdichev, teaches that not only is holy yearning a spiritual guide, but all yearning, all desires, are spiritual guides, for in the end, all yearning is really yearning  for the one.  All roads seek to bring us back to our source.  To our highest integration and one-ness.  And even when on the face of it our innermost desires seem to be for that which is base and not yet holy, a deeper reading of the script of our lives will reveal that in fact, whenever we kneel, we are always on our knees to God.  Whenever we yearn we are ultimately yearning for integration, for one-ness, for divinity.
Dr. Marc Gafni
from: The Dance of Tears
(in press)
We begin with longing. We give expression to that yearning in tears.  Ultimately, the promise of divinity is that the crying of longing will become the crying of union.  The transformation of the crying of longing, to the crying of union is part of the Tikkun, the "˜fixing' of tears.  And this is the very process of redemption itself.
Even those who cannot cry however can find their yearning. There is a story of some Chassidim who, in the presence of the Rebbe, were dancing and singing before God, all in great devekut, in great cleaving.  And they were all crying holy tears. There was one among them, however who could not cry. He felt so terrible about this that he ran and got some onions, which he held to his eyes so he too could cry. The master, seeing this, praised his action, saying that it was very precious to God that he wanted to cry. Very often we desperately want to cry but have forgotten the language of tears. We need to be reminded that to long to cry is sometimes as precious as the cry itself.
Dr. Marc Gafni
from: The Dance of Tears
(in press)
God is waiting for us to give up the imitations in our lives so that we can receive the real thing. Imagine what would happen if we really opened up to the knowledge that there is a force holding things together without our being in control. What if we surrendered to that force and allowed it to guide us in our lives? What if we stopped to realize that the planet is constantly supporting our lives?
The very air we breathe – unless we interfere with the natural systems – is constantly made available to our lungs by plants and ocean plankton through an incredible process of photosynthesis. The universe is consciously supporting us and breathing life into our souls at every moment. For the Hebrew mystic, creation is not a one-time event. It is instead a continuous process, hinted at by modern quantum physics, in which the universe recreates itself in love at every second.
This essential giving up of control does not mean that we do not expend enormous effort and energy in trying to chart our destinies and repair the world. It does mean that we need to do so in a way where we understand that even as we labor mightily, we know that it is simply not all up to us. Knowing that, we consciously invite the universe to partner in our efforts, breathing its life and energy into and through us.
The spiritual process of giving up control is called by the Hebrew mystics bittul. Usually, this is explained as self-nullification to God. In reality, it means something quite different. Rather than abnegation, it is a way of making ourselves transparent to God. We give up lower self control because we desire the higher divine self to flow through us. This is the experience of eros modeled on the sexual. We can access it in creativity, prayer, sexuality, study and any other arena of life in which we are willing to be lovers.
Dr. Marc Gafni
The Erotic and the Holy
In the image of the Temple, we are told of the priest who hears the voice of God, praying. To whom could God be praying? The answer — to us. "Please," says the Voice. "I cannot do it alone. Please help me…"
Effectively, the gift of love which gives up unilateral control is nothing less than the gift of need. To say "I love you" is to say  "I will not or cannot do it alone."  To say "I love you" is to say "I need you." God needs our service!" is the great and radical cry of the Hebrew mystics. "I need you at my side. Are you willing to stand by me?"
Marc Gafni
The Erotic and the Holy
Whether the relationship is that of a servant to his master or a lover and his beloved or a relationship between partners or even friends, they are all "relating" to God.
The most powerful form of God in the second person is almost certainly the prayer experience. It is told that when Hassidic master Levi Yitzchak of Beridchev used to pray he would begin the standard liturgical form of blessing. "Baruch Ata Adonai," "Blessed are you God," and then break out of the mold of blessing crying out in sheer joy,  " YOU… YOU"¦ YOU"¦ YOU!" He would lose himself in these words repeatedly shouting in ecstasy, "YOU… YOU"¦ YOU!!!" This is the rapture of God in the second person.
For Levi Yitzchak the blessing is a kind of Buddhist pointing out instruction. It points however not to sunyata or emptiness but to God in the second person. Nachman of Bratzlav taught the spiritual practice of Hitbodedut.  In one form this meant walking alone in the forest "talking to God as you would to your friend."
In God in the second person we meet God and bow. In God in the second person we meet God and partner. In God in the second person we meet God and love. The key however is the encounter. It is the encounter with God in history and in the lived reality of every human being that is the essence of the God in the second person experience.
Dr. Marc Gafni
The Dance of Tears
(in press)
November 9-11, 2012
Esalen Institute, Big Sur, CA
Falling in Love with the Divine: Devotion and Tantra of the Heart
Weekend Workshop with Marc Gafni and Sally Kempton
This is a weekend of heart-awakening practice–powerful teachings and methods for opening up your hidden capacity for relationship to the Beloved–both within yourself, in the people in your life, and in the world.
It's been said that the path of love is the easiest of all paths to enlightenment. Relational spiritual practice–devotion–has been part of every spiritual tradition. There are skills to be learned if we want to walk the path of love, and we need to know how to apply them not only in ecstatic moments or times of intimate connection, but also in the moments when love seems far away and difficult to access.
Through talks, meditation, chanting, partner practice and contemplation, we'll unfold a series of practical steps to an awakened love practice.
Click here to register.
This spiritual law of the universe plays itself out in many hidden ways which you need to recognize if you truly want to return to love. I want to outline for you areas where, in order to become a lover, you need to give up control. Just as the Hebrew mystics portrayed the God lover as stepping back in order to make space for world, so do we need to step back to create space for our love to flow. First, if we love ourselves, we have to give up our need to be perfect. If you don't love yourself then you expect perfect self control. If you do love yourself, then you have to allow room for imperfection and failure. Emerson was right when he wrote, "There is a crack in everything that God has made."
Ring the bells that still can ring.
Forget your perfect offering.
There is a crack in everything.
That's how the light gets in. "" Leonard Cohen
For nothing can be sole or whole
That has not been rent.
""W. B. Yeats, "Crazy Jane Talks with the Bishop"
Marc Gafni
The Erotic and the Holy
By Marc Gafni
We are all despearate for communion. It is what makes our lives worth living. Communion is the movement from loneliness to loving. It is the experience of being held and received.
We are all systematically mis-recognized. To be recognized is to be seen. To be seen is to be loved. To be love is to be in communion. It is only when we are seen that we are called to the fullness of our glimmering beauty as unique incarnations of the the divine treasure. It is only when we are seen that we feel moved the personal evolutionary impulse that lives in us to give the unique gifts that are only ours to give and that are desperately desired by the all that is.
To be in communion is to know that Your deed is God's need. It is the realization of communion that gives us joy and calls us to evolutionary responsibility.