Last week, our initiatives were featured in different ways in two forums: Patheos.com and the Integral Church Blog.
Interview about Success 3.0 Summit on Patheos
Patheos.com is running an interview with Dr. Gafni about the Summit–on their front page. Read all about the interior vision for the Success 3.0 Summit coming up Halloween weekend in Boulder here. Patheos is the leading religion site on the World Wide Web today with seven million unique hits a month.
At the end of October, a select group of the world's leading thinkers, entrepreneurs, and change-agents are gathering in Boulder, Colorado to articulate a new, transformative vision of conscious living, innovation, and social impact. The goal? To create a new definition of Success that can lead humanity into the future.

Leo Brunnick, co-founder and CEO of Patheos.com, invited Marc Gafni—author, World Spirituality leader, and co-founder of the Center for Integral Wisdom—to share the vision of the Success 3.0 Summit.

Marc, tell me about the Success 3.0 Summit. What's it all about?

Success 3.0 Summit is an exciting gathering of the best hearts and minds around the one central issue that affects everyone: what does it mean to be successful? We all have hidden success myths that define our lives. We have a profound need to be successful, but in general we have separated being successful from being good. We have limited the criteria of success to things like money, status, or power, but have found that these things are not fulfilling or holistic or profound or joyous or energizing. In order to evolve the real source code of culture, we needed to rework this core issue.
Center for Integral Wisdom featured as key new emergent in Integral Lineage
Center for Integral Wisdom was also featured as a key new emergent in the Integral Lineage beginning with Rudolph Steiner and running all the way through Ken Wilber's seminal Integral work and then with Marc and Ken founding the Center for Integral Wisdom; this was reflected in an independent scholar's Timeline of Integral Spirituality by blogger, interfaith minister, and co-founder of the Integral Church in St. Petersburg in Florida (founded in 2012) Joran Slane Oppelt.
Starting with a lecture in Paris by Rudolf Steiner in 1906 where he commented on the "integral evolution of man," through Sri Aurobindo and the Mother, Pitirim Sorokin, Pierre Teilhard de Chardin, Aldous Huxley, Jean Gebser, Allan Watts, Arthur Koestler, Jane Loevinger, Clare Graves, Michael Murphy, Ken Wilber, et al. to the foundation of the California Institute of Integral Studies, the Integral Institute, and CIW, this timeline tracks the emergence of many strands of Integral Thought and Spirituality.
For those of you interested in the history of the Unique Self Teaching, which is one of several–in Ken's phrase–"evolutionary emergent teachings" for which Marc has been the lead theorist in the articulation of an Integral Spirituality, see here.
Unique Self was featured in a special edition of The Journal of Integral Theory & Practice (6:1), the two-volume academic treatise on Radical Kabbalah, the classic Unique Self book Your Unique Self: The Radical Path to Personal Enlightenment and a new work on Self in Integral Evolutionary Mysticism: Two Models and Why They Matter.
This Summer Festival of Love at our Teaching Center at the Integral Practice Community Venwoude in Holland has again exceeded all expectations. More than 175 participants came to love and be loved open, to break the boundaries of their smallness, and to participate in the evolution of love itself.
On a personal note, I, Kerstin, have been thoroughly cooked over the last 20 years with intense spiritual experiences at all kinds of events, retreats, and seminars. None of them have prepared me even vaguely for what I have found in retreats with Marc Gafni over the last 3 years: the depths of the dharma transmissions, the openings of hearts, minds, and souls, the embodiment of outrageous loving, the humility and audacity of his teachings, his passion and devotion that is deeply infectious, and the depths of community I have found here again and again. And although each time I think this is IT, that it cannot be any better, it always gets better. It deepens, opens, connects us to the greatest depths and highest heights, and opens the gates to heaven, flying higher and higher and higher.
In this Festival, everyone could feel the Goddess dancing among us again and again. And Marc danced her all the way, taking every one of us with him. And the wonderful community of Venwoude and of Center for Integral Wisdom created such a clear, warm holding container that new people could dive into it immediately with almost no resistance. Wow!
Let's hear from two participants:
"Actually" I just wanted to relax for 2 days, when I drove to Venwoude at the 4th day of the Center for Integral Wisdom/ Venwoude Mystery School of Love Festival (following a personal invitation).

On the other hand, I already suspected (after the experiences with Marc in 2011) that it might touch me deeper.[Read more…]
Sometimes, people wait to the last minute, and then decide to jump into a major life event because of an inward pull and calling… an impulse that is not to be denied! If you are having this calling regarding our 3rd Annual Mystery School, and our 1st Annual European Integral Wisdom Conference… now is the time to act so you can be at the Summer Festival of Love at the Venwoude Integral Practice Community in Holland, the week of July 26 – August 2.
Many are still carrying the transformative "Loving Your Way to Enlightenment" vibe from the Summer Festival and Mystery School of last year… really fantastic reports of authentic growth and change. Promotional Flyer here—>
With Marc Gafni leading, our previous Mystery Schools have attracted many participants from all over Europe and the Americas, contributing to the expansion of our European Center for Integral Wisdom faculty, and to a dramatic evolution of CIW teachings and workshop opportunities in the past year. The Summer Festival of Love is truly a signature event among all of the teachings for the year.
There are few spaces left… you may register here. Register here—>
The dialogue between Michael Murphy and Marc Gafni ends on a contemplation of the vast, infinite complexity and beauty of an ever-expanding Universe expressed also as the infinite complexity and beauty of each soul… of each irreducibly Unique Self… ever-evolving… ever-expanding.
What are the practical implications of reincarnation when we deconstruct dogma and embrace the many forms of empirical knowledge… as many as seventeen types of empirical knowing… that inform us of deeper human existential realities? Marc Gafni and Michael Murphy discuss Integral Transformative Practice.
Part 7: East-West Enlightenment and a New Empiricism
Marc and Michael continue their discussion on reincarnation, in this piece, reflecting upon the pulses of cultural transmission from east to west, and that we are now in an exciting time period of being able to evaluate all past traditions and wisdom of the global village, evolving a deepened empirical understanding and experience of the nature of God and the journey of the soul through more than one physical embodiment.
Part 6 – "God With Form, and God Without Form"
If we take all theology and dogma out of the discussion, and look at empirical evidence, where do rigorous conversations on topics such as the positive effects of prayer or the possible reality of reincarnation take us?
Part 5 – "Prayer and the Cosmic Vending Machine"
Part 4 – "Coming of Age in Relation to God"
Marc continues the dialogue with his observations on cognitive bias – how people come to believe what they believe. It takes willingness and courage to objectively look at empirical evidence, and because the conversation on reincarnation has become associated with fringe metaphysical thinking, there has been a damper on the conversation regarding reincarnation and true human potential. – SR
One Integral definition of "a postmetaphysical discussion on reincarnation" could be to attempt to integrate empirical first person transpersonal experiences with third person academic research and writing on reincarnation. Each domain has its proponents and biases. The challenge is in incorporating a phenomenological approach with credible research. It is in this spirit that Michael Murphy and Dr. Marc Gafni continue their discussion in Parts 2 and 3 of their dialogue on Reincarnation. – SR
Part 2 – Does Anything Happen After You Die?
Part 3 – The Reincarnation Research from the University of Virginia
Dr. Marc Gafni and Ken Wilber meet by phone regularly to discuss new thought on a wide range of topics, including the future unfolding of the Center and its initiatives. At the core of their work is key book that is slated for release in the Summer of 2015 on World Spirituality Based On Integral Wisdom Principles. This will be the source code book which their other books will emerge from and reference.
On this note, we'd like to share a dialogue that will appear in a different form in the book: a beautiful conversation about how the evolved and awake human being engages evil and suffering.
An excerpt:
Marc Hello everyone. Mega-Pandit Ken Wilber, it is a delight to be with you, sir.

Ken Yes, sir.

Marc Yes, sir, and we are here for our Thought Leader Dialogue Series, and I'm here with Ken Wilber who is an initiating thought leader of world spirituality based on Integral principles, and the thought leader in the Integral Movement, and a deep partner and visionary and really active in charting the course of the Center for Integral Wisdom. And we're here to talk about the word that is live spelled backwards, evil, evil, which is a topic that, friends, doesn't come up often. And, Ken, I think it would be fair to say that even in Integral Theory it hasn't gotten a lot of attention, although it's implicit in many, many conversations, but it's not that often that it's explicit, and, of course, it's one of the great questions. So, Ken and I are going to just go back and forth and really have what may be the first major Integral dialogue on this topic.

Any number of people have told me, Ken, that you and I spoke about this, and I went back to see it before we talked today, that you and I spoke about this in 2005 with Patrick Sweeney at the Integral Spiritual Center, the first meeting. If you remember, the last day was an open day for the public?

Ken Right.

Marc And a number of people asked us questions about evil, and you and I had, what people said to me, was really one of the very rare Integral exchanges on this topic. So that was way back in the day.

Ken Yeah, well, evil dropped out basically with modernity.
Listen to this vibrant dialogue and read the whole transcript>>>
The Story of Krishna
We're going to finish with a holy story that I will read you from my heart, from the mirror of the heart. It's the great story of the goddess Radah.
You know that many mortal women make love to Krishna, and Krishna is the sensuous God, the child, the lover. He was often caught stealing butter. He would walk among the villages in the hot, moist, Indian land, and he called the women to join him for an afternoon of lovemaking. Age didn't matter, the rolls of the belly didn't matter, gray hair or black hair didn't matter, curve of the breast didn't matter, marital status didn't matter. Krishna loved all women and all men, and Krishna wanted to be loved in turn.
Stream Audio here and read further below:
Working on our exciting new Web-Plex that is soon to be launched, we have just published a brand-new article by Annie Lalla & Marc Gafni about the spiritual path of "Loving Your Way to Enlightenment." It will be a part of our new World Spirituality Portal as well as the book project by Chahat Corten Loving Your Way to Enlightenment  which organizes Marc Gafni's World Spirituality teachings on love as both the path and goal of spirituality.
And don't miss Annie Lalla and Marc Gafni teaching at Kripalu Retreat Center on June 6-8, 2014 on Loving Your Way to Enlightenment: The Path of Outrageous Love – A weekend workshop with Marc Gafni & Annie Lalla: Through a set of powerful teachings, insights, meditative transmission, movement, chant, and partner work, Marc Gafni and Annie Lalla explore the path of the outrageous lover and teach you how to ignite the experience of outrageous love within yourself.
Loving Your Way to Enlightenment

by Marc Gafni and Annie Lalla

We have killed all the Gods except for Aphrodite. Aphrodite is the goddess of True Love. True Love is the altar before most of us still worship. Our new sacred credo is "I love you." Our true sacred credo is usually revealed when the stakes are the highest—at our moment of death. When planes hit the World Trade Center and people had a few seconds to live, they called home and recited the credo, I love you.

And yet somehow our spiritual world of practice has become separated from our world of love. Our enlightenment studies seem to often point us beyond personal love, which is viewed as the realm of attachment and separate self.

It is for that reason that we want to invite you to a new spiritual path: The path of Loving Your Way to Enlightenment.

Enlightenment is knowing your true nature. Your true nature however is not just one taste as some are wont to say. It is two tastes. In Yoga terms we might say that your true nature is Shiva and Shakti. Shiva is being. Shakti is becoming. Shiva is your deep sense of being. It is the deep impersonal unchanging essence that lives in and as your deepest identity. Your Shakti nature is more connected to the dynamic dance of becoming. Shakti is the love intelligence that lives awake in you and as you. The impersonal enlightenment of Shiva may be available sitting in meditation alone. But if you awake to the realization that your true nature is personal Shakti love, then just sitting meditation will not get you there. This is not the personal before the impersonal but the personal beyond the impersonal. You will have to awaken to your true nature as personal love. Or said differently you have to "love your way to enlightenment."
Read the whole article here>>>
We just completed a very special series of events at our Teaching Center at Venwoude in Holland. Dr. Marc Gafni taught two Valentine's Day events in a very beautiful church in Amsterdam. This was followed by a wonderful and very intimate two-day retreat at Venwoude on Saturday and Sunday. Capping off the 4-day weekend, we had an outstanding presentation at Nijenrode University on Conscious Capitalism with Prof. Dr. Paul de Blot, Dr. Marc Gafni, and Ken Wilber (via Skype) in front of 150 enthused Entrepreneurs.
Valentine's Day at Vondelkerk Amsterdam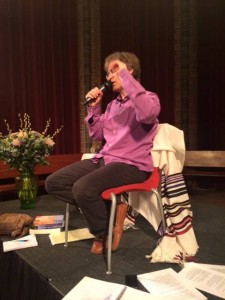 A packed house of people celebrated Valentine's Day in an old beautiful Church in Amsterdam with Dr. Marc's Dharma on Outrageous Love. It was a day of profound new dharma, deep practices, and a stunning community of Outrageous Lovers. Dr. Marc took us deeply into a practice space with dyad practices, chanting, and intimate sharing. The evening session seemed to explode–after a very quiet and subtle beginning with hearts meeting in Chant and Meditation and finally and melting open into the Inside of the Inside–with a fireworks of Dharma on Outrageous Love and Unique Intimacy.[Read more…]
Our Board of Directors members Venodhar Rao Julapalli, M.D. and Vinay Rao Julapalli, M.D., F.A.C.C. have written an exciting white paper about Unique Self and the Future of Medicine and we have just published it on our website.
There is a dire need for the integration of the art, science, and morality of medicine. This paper explores the deep implications of the Unique Self in integrating medicine. Co-authors and physicians Venu and Vinay Julapalli call on their extensive understanding of the promises and pitfalls of modern health care to reconceive the practice of medicine. The paper provides the framework to evolve medicine through the emergent Unique Self insight. At stake is no less than the future of how we care for ourselves and each other.
Read the introduction and download the whole article here.
From Shalom Mountain Wisdom School teaching by Dr. Marc Gafni. Transcribed by Adael Bullock.
Divinity is not only the infinity of power; divinity is the infinity of pain.  It is the infinity of tears.  Divinity at its core is the infinity of intimacy. The infinity of intimacy feels your pain and doesn't relegate it to separate self.  Is there part of your pain and my pain and all of our pain that comes from an obsessive grasping in the realm of separate self?  Of course.  Is that unnecessary pain?  Of course.  And can we liberate from that pain by awakening?  Of course. That doesn't end the story of pain.  That ends the unnecessary pain in the world.  But then, there is the legitimate and the real pain that comes with being incarnate.  That is where the Christ consciousness got it better than the Buddhist consciousness.  The Christ consciousness didn't say there is no pain; the Christ consciousness said, I die for your sins.  That is a very different move.  That is not the same spiritual move.  One is, "life is suffering" because your mind is fucked up, so unfuck your mind, and you will not suffer – the 4 Noble Truths.  The second is, suffering is so fucking intense, there is nothing you can do, so I am going to die for you.[Read more…]
By Joe Perez
"For most people, the move beyond loneliness requires us to share our story with a significant other. For the spiritual elite, the receiving of our own story — and the knowing that it is an integral part of the larger story of All-That-Is — is enough. But for most human beings, loneliness is transcended through contact with another person."

– Marc Gafni
Your Supreme Identity is calling to you from the essence of all things. It is your own dwelling place, your unique life story not only told but lived and constantly recreated. It is the force which not only remedies loneliness but gives us solace in our solitude.
Paul Tillich once wrote: "Language… has created the word 'loneliness' to express the pain of being alone. And it has created the word 'solitude' to express the glory of being alone."
Researchers tell us that loneliness may be painful, but it also associated with spiritual experiences and creativity. When being alone is freely chosen as an artist's duty, it becomes a normal part of life. Indeed, being alone is part of the human condition in which we are often at our saddest, full of shame or fear or anger. It does not require us to be physically isolated; we can be desperately lonely in a crowd or amid loved ones if we have been prevented from being our true selves.
This content is restricted to site members, you need a
FREE
membership to view the full content.
If you are an existing user, please login
Click here
.
New users may register below
Click here
.
By Joe Perez
At least since the early writings of Karl Marx, many public intellectuals have acknowledged some variant on the phrase "the personal is political". Not only that, but by implication it is held that "the spiritual is political". This notion actually is a reversal of the truth and invites a closer look at the connection between politics and spirituality.
Traditional religion is often intertwined with government. And various conservative, liberal and liberation theologies in the twentieth century across a spectrum of religions spelled out new ways in which religious teachings seek to influence the public sphere in secularized societies.
Read more...
This content is restricted to site members, you need a
FREE
membership to view the full content.
If you are an existing user, please login
Click here
.
New users may register below
Click here
.
By Joe Perez
Every holiday season the cultural discourse includes an especially heavy dose of anti-materialistic messaging. The excesses of consumerist culture are especially visible in distorted forms, such as the spectacle of shoppers at Black Friday and Boxing Day creating mobs which are so fierce they have resulted in violence and the trampling of shoppers. It appears to be a truism that materialism is bad.
Psychological research into materialistic values is sparse but surprisingly uniform in that the studies by and large find materialism harmful and detrimental to measures of mental health and well-being. It appears quite likely that as people have less materialistic values the happier they get. But it is not clear that researchers have gone far enough in elucidating the connection between wealth and wellness.
Informed by an Integral perspective which considers the level of consciousness at which value combinations occur, it is striking that materialistic values are concentrated at an Achievement-oriented level (orange) which is highly individualistic and acquisitive, and post-materialistic values are concentrated at a Pluralist-level (green). It is likely that existing studies of materialism have not paid attention to the importance of considering distinctions between different levels of consciousness, and therefore have come to inaccurate or at least partially true conclusions.
This content is restricted to site members, you need a
FREE
membership to view the full content.
If you are an existing user, please login
Click here
.
New users may register below
Click here
.
By Joe Perez
Although I have felt guilty since childhood for eating animals, I have not succeeded in the past at becoming vegetarian and probably will never totally give up meat or dairy products. The moral case against eating meat is strong, but that doesn't mean I have found the arguments in favor of strict vegetarianism convincing.
I was raised with a stereotypical American diet in which meat is served in nearly every meal. But I have evolved to find for myself a stance which is less absolute than Vegetarian v. Carnivore, and done so by examining my actions from a worldcentric perspective.
The bottom line is that I have gradually found myself eating significantly less meat as a personal matter and choosing meats which are farmed humanely. I have rejected approaches to diet based on mere personal preference or ideology. Instead, I've chosen an ethos of meat on a middle path, one which would please neither vegetarians nor carnivores.
As I see it, a dietary philosophy which bans meat and brands opponents as murderers or one which reduces animals to objects for domination are unnecessarily extreme. Instead, an Integral vision asks us to consider animals as worthy of respect as our co-inhabitants of the Earth with intrinsic value, but it stops short of viewing their consumption as an intrinsic evil. We are asked to maximize our compassion for animal life as an integral part of the spiral of evolution and to weigh the costs and benefits of our relationship to animals.
This content is restricted to site members, you need a
FREE
membership to view the full content.
If you are an existing user, please login
Click here
.
New users may register below
Click here
.
(part 6)
Two Faces of All That Is
This is the animating impulse that moved eastern spiritual teaching, motivated by love, to seek to free you from the illusion of separate self. Their great mistake was to jettison Uniqueness along with separateness by conflating the two in a way that was both unnecessary and wrong. This confusion of separateness and uniqueness forgot that you could be both part of the whole and a distinct part at the same time. The recovering of that memory is essential to healing the fractured and broken self. The dignity of the part can be held even as your are connected to the whole. You are part of the seamless coat of the universe. Seamless, but not featureless.  You can transcend your exclusive identification with your part nature, the ego, even as you identify with the larger whole. But that does not mean that your unique part nature is absorbed in the whole. Rather, it is integrated in the seamless coat of reality without compromising its unique features.