Enjoy this beautiful introduction and story by Dr. Marc Gafni from our recent CIW Board Retreat:
The Story of Levi Isaac of Berdichev Told by Dr. Marc Gafni
from the book Your Unique Self by Dr. Marc Gafni
When you fail to hold the personal, you may begin to engage in manipulation or possibly even psychological abuse. When you begin to see yourself as aligned with the process, which was the great teaching of Hegel, you may inadvertently give birth to the worst evils of Fascism, Communism, and Nazism, all of which were very heavily influenced by Hegel's teaching that demanded that the individual must awaken and identify with the great evolutionary process of divine unfolding in absolute spirit. In Hegel's powerful clarion call to align with the ecstatic impulse of historically unfolding evolutionary God, the holiness of the individual was somehow crushed in all the grand rhetoric, with devastating results for God and humans. The process must always remain personal.

For me it was always the Hasidic master Levi Isaac of Berdichev who radically reminded me of the primacy of the personal even when in the throes of evolutionary ecstasy. Levi Isaac was once leading the prayers at the close of Yom Kippur services. Yom Kippur is a fast day and the holiest day in the Hebrew calendar. The twilight hours at the end of the fast are filled with potency. According to the evolutionary mystics of Kabbalah, the enlightened prayer leader, during that time may potentially enter the virtual source code of reality and effect a tikkun; that is, effect a momentous leap in the evolution of consciousness for the sake of all sentient beings, in all generations. This is precisely what Levi Isaac—greatest of all enlightened evolutionary prayer leaders—was doing on that Yom Kippur. Night had already fallen, the fast was officially over, but the ecstasy of Levi Isaac was rippling through all the upper worlds. All beings held their breath in awe of the evolutionary power of Levi Isaac's consciousness. All of reality was pulsating with him towards an ecstatic evolutionary crescendo. Just as the great breakthrough was about to happen at the leading edge, Levi Isaac spotted out of the corner of his eye an old man who was thirsty. The fast had been very long and the old man needed to drink. So in the midst of his ecstasy, Levi Isaac brought the whole evolutionary process to a halt. He immediately ended the fast and personally brought the old man a drink of water.
How can you feel the pain of the world and still be empowered?
How can you become a beacon of light and love in the midst of all the pain you face – both yourself and the pain you see in the world?
How can you become a beneficial healing presence on the planet?
These are the questions that we need to answer in order to create a Politics of Love and an Integral Planet.
In the video below, CIW President Dr. Marc Gafni shares a daily practice from his tradition called participating in the pain of Eros in exile. What that means is that you open yourself up to the pain of the world without becoming dysfunctional.
That means you plug into the portal of pain in a way that's powerful rather than impotent.
In this mystical practice that Marc Gafni transmits in his video, you open up to the pain fully for 5 minutes a day. You might do it by getting silent, bringing to mind images of pain, and letting your mind dwell in it. You might do it by reading a newspaper article.
By opening yourself to the pain fully for a limited amount of time, you realize a deep mystical knowing: When you enter the pain, you find yourself participating in the sweetness of the Divine.
The alive personal intelligence of All-That-Is is both the infinity of intimacy and the infinity of pain. The Divine pain is infinite. In this sacred practice, you are entering into God's heart and are participating in the pain of the personal Eros of All-That-Is. In that participation, an infinite sweetness emerges.
Yeats wrote of this sweetness, in the understated but raw Eros of his verse:
When such as I

Cast out remorse

So great a sweetness fills my breast

We can dance and we can sing

We are blest by everything

And everything we look upon

Is blest.
When you step inside, you are blessed by everything. The contraction melts away and you feel the aliveness and awakeness of the feminine Goddess Divine – the personal embrace of the loving intelligence of the universe.
You have the power to love and dance and sing and create.
You are empowered to become a beneficial healing presence on the planet.
Enjoy this video by Dr. Marc Gafni:
View more videos by Dr. Marc Gafni on how to close the gap between our ability to feel and our ability to heal the pain here>>>
Watch this beautiful teaching from the Summer Festival of Love 2012 "Loving Your Way to Enlightenment" by Marc Gafni on Dharma and read the transcript below:
Transcript of Marc Gafni's Teaching on Dharma
Marc Gafni: When I say going into the Dharma, what do I mean? Do I mean that we are going to be in a university class? No. What I mean is Dharma. So what does it mean? Anyone?
PERSON: Teaching.
Marc Gafni: Okay, which might be true in a university class as well.
PERSONS: Deeper calling. / Vision. /Wisdom. /Transmission. /From the heart, from within. /A path. /Coming together in the Dharma.
Marc Gafni: There's a deeper calling in the teaching, and wisdom, yeah. Who said transmission?            The Dharma comes from inside, your inner-self response to it, right? And there's a coming together in the Dharma. The Dharma is spirit, living spirit, in the same way that love is living spirit, that chant is living spirit, that Shikantaza and meditation are living spirit.
Dharma is not words; Dharma is not about the mind, even though we're using the mind. There's this crazy New Age idea that spread through the Western world that "wow, we're having an experience, but for now, we're just using the mind." That's nonsense, right? Dharma is the mind part, the embodied expression of spirit. So you respond to Dharma not just with your mind; your body knows whether Dharma is true, your body can feel it. The book of Job: "Through my body I vision God." Your body knows if a Dharma's true, your heart knows if a Dharma's true, your mind can respond.
So when we engage in Dharma, like these mornings, we're not doing a university lecture, we're doing Dharma. We're engaging whole heart, body and mind in getting a sense of the story of reality, of the grand narrative of reality, of the meta picture, of the patterns that connect. Do you begin to feel that? Let me give you a sentence, tell me if this sentence works for you: "One of the great yearnings in the year 2012 is a yearning for the patterns that connect." Does that sentence make sense to you?
In order to live an awakened life, we need some wisdom to live by. It is the World Spirituality Dharma of Unique Self and Evolutionary Love that provides us with the Integral Wisdom to guide us every day. Our post-postmodern Dharma is not Dogma, but the best take on reality we have based on pre-modern, modern, and postmodern insights, weaving together what we know about the patterns that connect.
Enjoy this collection of 7 Dharma Quotes Graphics for Living an Awakened Life by Dr. Marc Gafni.
Apply these pearls of wisdom in your everyday life and become unstoppable in living and expressing the Outrageous Love at the core of your most gorgeous Unique Self.
Dharma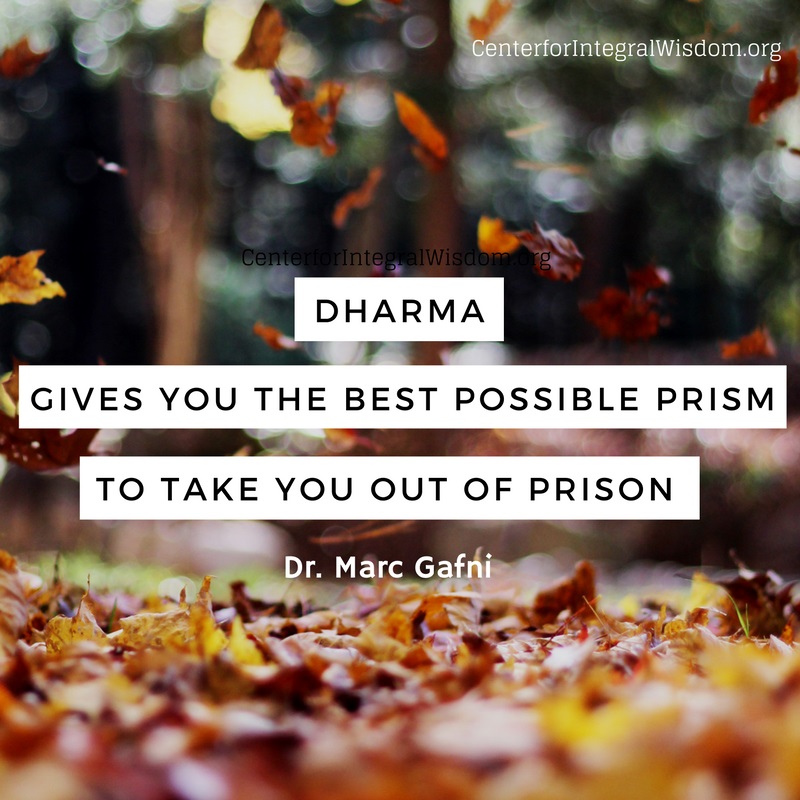 Dharma gives you the best possible prism to take you out of prison.
>> The World Spirituality Unique Self Vision of Dharma, Lineage, Students and Teachers <<
Life Is for Pleasure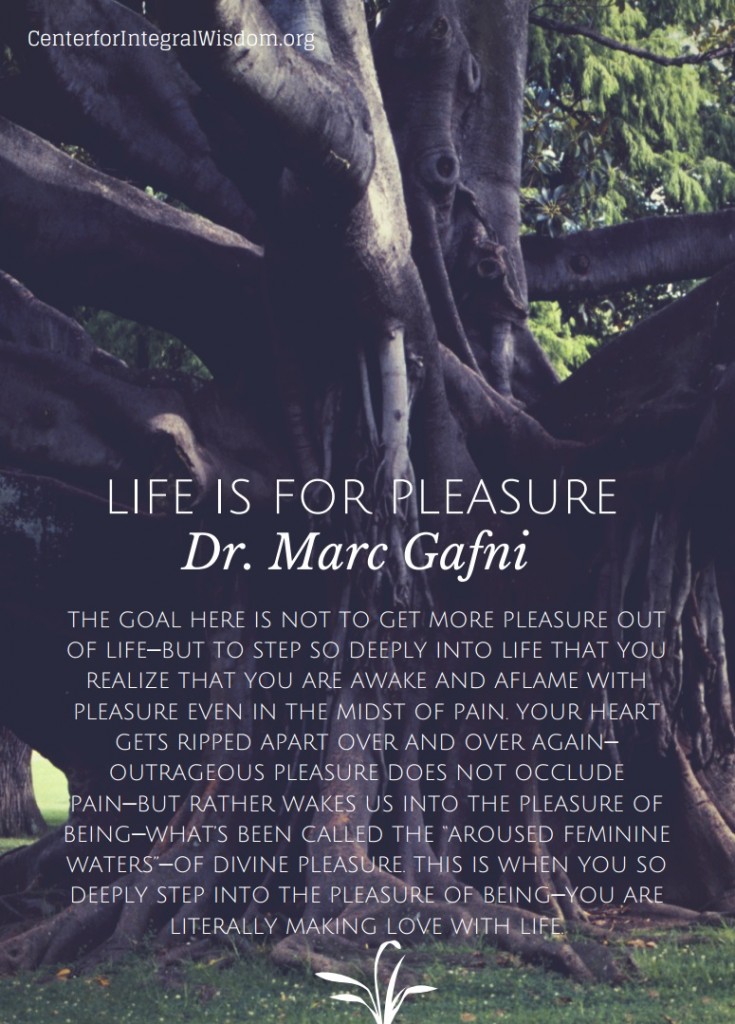 The goal here is not to get more pleasure OUT of life—but to step so deeply INTO life that you realize that you are awake and aflame with pleasure even in the midst of pain. Your heart gets ripped apart over and over again—outrageous pleasure does not occlude pain—but rather wakes us into the pleasure of being—what's been called the "aroused feminine waters"—of divine pleasure. This is when you so deeply step into the pleasure of being—you are literally making love with life.
The Highest Pleasure
The highest pleasure is to know that through my own transformation I transform the world.
As are millions around the globe, CIW Board Member Tom Goddard was trying to find his way through the density of this week. He found and slightly edited this beautiful text by Marc Gafni and started to share it with friends and family – then on his blog "The Integral Company."
He starts out with Marc's famous lines:
"We live in a world of outrageous pain.

The only response to outrageous pain is outrageous love."
And finally ends with:
"…an outrageous social vision, in which each person committing their unique outrageous acts of love participates in enacting a Unique Self Symphony that has the capacity to heal the entire story. An emergent politics of outrageous love begins to take form before our eyes. A politics of outrageous love that is as practical as it is lyrical."
It seems like more than ever we need to hear this message of hope. More than ever we need to know that we can do something… that we are needed by all-that-is… that we can co-create the beautiful world that we yearn for… a world that works for everyone.
Read the beautiful and audacious message here>>>
Let's close with R. Buckminster Fuller:
"There is a young world very ready to embrace a one world revolution to create a world that works for 100% of humanity."
Enjoy this powerful conversation between three evolutionary geniuses Barbara Marx Hubbard, Marc Gafni & Daniel Schmachtenberger. It provides a brief peek into the forthcoming Video Course "Becoming the New Human."
This is the group discussion after a Module on Becoming Fully Human with Daniel Schmachtenberger.
In this lesson you will learn:
how human history can be traced through the lens of different approaches to reconciling the split between autonomy and communion

how Unique Self is the place where the split between autonomy and communion disappears and why we must optimize for both instead of choosing one over the other

how technology can address the neural net membrane and connectivity of the human imaginal cells around the world

why both Liberals and Fundamentalists don't practice tantra very well

how certainty and uncertainty can be reconciled and how Barbara practices that in meditation

this course is a post-Liberal and post-Fundamentalist course, emergent by nature, which takes the best of both and integrates everything in a higher way
Listen to the audio and read the summary below.
At the Center for Integral Wisdom, our intention is no less than to participate in the Evolution of Love.
In the world today we look around and see that we've made love small. We have exiled love to a particular transient emotion that takes place between particular human beings of a particular gender within a particular legal context.
In our CIW Think Tank, we have an understanding that love is an expression of a much deeper source. For us, love is the animating Eros, the love-intelligence and love-beauty of all reality.
As we wake up and grow up, as we show up in our lives, we become the clearest and most powerful vessels for that love. We are participating in the evolution of love by evolving our consciousness and emerging as our Evolutionary Unique Self.
Are you ready to play a larger game?
You are invited to participate in the Evolution of Love.
Watch our beloved Co-Board Chair Barbara Marx Hubbard and CIW President Dr. Marc Gafni as they explore the Mysteries of the Evolution of Love:
This film was made in November 2015.
Read more about the Evolution of Love in the Conscious Eros Portal>>>
Read this series on the Evolutionary Unique Self, Outrageous Love & the Unique Self Symphony>>>
Listen to this 15 minute meditation on the 5 Big Bangs and the Evolution of Love, excerpted from the course, Awakening Your Unique Self, by Dr. Marc Gafni.
Barbara Rosson created the slide show with pictures and music. Here is what she wrote us:
When I did the AYUS transcription, I started seeing things.

Here's a glimse of what I saw…

Watching it still makes me cry for joy, even after seeing it over and over and over!
Enjoy!
Barbara Marx Hubbard and Marc Gafni in Dialogue during her Evolutionary Testament Webinar
We are excited to share with you the recording of this exciting webinar from Barbara Marx Hubbard's online course about her newest book The Evolutionary Testament of Co-Creation: The Promise Will Be Kept. CIW-Founder Marc Gafni was invited as a guest speaker.
In this webinar, you will learn:
Why God is not only the infinity of power but also the infinity of intimacy
How YOU are God's or evolution's unique intimacy
Why God (or reality or the universe) needs YOUR service
How evolution creates newness through joining separate parts into a larger whole
Why your birthday is the day when God decided that She couldn't do without you
How to Become the New Human by joining genius as Unique Selves
What happens in the "tomb of metamorphosis"
How Sacred Text Study can be recovered as an essential part of our Evolutionary Spirituality Practices
Within a lively Question and Answer section, Barbara and Marc express their desire to work together more deeply for the sake of the Planetary Awakening and the Unique Self Symphony coming alive. They are inviting a small group of about 25 people to Barbara's Center in Berkeley for a Sacred Retreat on Evolutionary Spirituality in May 2016.
If you are interested, please write us at support@centerforintegralwisdom.org.
Watch and listen to the webinar here:

The Three Levels of Sacred Text Study
Hach'na'ah = Submission: A total surrender to the text, where we read the text as if it was written directly by God to us. This is the way fundamentalists read sacred text as the only valid way. In Evolutionary Spirituality we recover Stage 1 as an important but not exclusive practice.
Havdalah = Separation: Here we take a step back and separate from the text to analyze it. We look at the historic context. We compare it to other pieces. We ask ourselves: "What might that mean?" This level is the scientific way of reading the text.
Hamtaka = Sweetness: This level transcends and includes the first two. The reader penetrates the text while simultaneously fully receiving the text. In the non-dual merger between the reader and text, new revelation is born. This is the way of the evolutionary mystic.
Read more about Sacred Text Study here.
We at the Center for Integral Wisdom – together with leading thought leaders and change agents – are dedicated to transform and evolve the source code of culture through application of Integral principles.
In our Activist Think Tank, we articulate, evolve and deliver a new, Integral narrative for living – which transforms each individual, culture and life itself – creating a world of Outrageous Love, through Outrageous Love. Our mission is to love outrageously, live outrageously, and create an extraordinary world.
Read more about our mission here>>>
Some of the core memes we have articulated are the memes of Unique Self and Evolutionary Love.
"We live in a world of outrageous pain. The only response to outrageous pain is Outrageous Love." – Marc Gafni
Outrageous Love is not ordinary love but Evolutionary Love.
Since the publication of Your Unique Self in 2012 by Dr. Marc Gafni and Integral Publishers, the teaching has evolved further into a coherent concept of how Evolutionary Love and the emergence of the Unique Self Symphony allows us to not only articulate a new Politics of Outrageous Love but to solve every problem that we are facing as humanity grows into the new stage of what Executive Board Member Barbara Marx Hubbard has come to call Conscious Evolution.
To give you an update on the newly emergent teaching on Evolutionary Unique Self, Outrageous Love, and the Unique Self Symphony, see our blog-series on UniqueSelf.com.
The Law of Feeling and Healing

The Law of Feeling and Healing, while simple in explanation, is quite profound. As the gateway to a seemingly impossible evolutionary shift, this law is our access to the divinity and untold amounts of love, joy, and connection.

Fifty years ago, God was experienced by the great realizers and religions as both all knowing and all potent and powerful. Only God knew of the immense pain in the world. Today, boundaries around knowledge cease to exist and images of unbearable suffering penetrate our hearts, bodies and minds hourly. Consequently, there is an enormous amount of Promethean talk about humans becoming God-like with the power we wield. Ignoring the fact that such talk does not take into account the infinite power of cosmos, these erroneous conversations forget divinity is not merely the infinity of power but also the infinity of pain. As our power of knowledge increases so does our awareness of the depth of suffering. In one way, we are potent like gods; we have the never previously known ability to acquire depths of understanding and graphic detail about the horrific pain happening across the planet. Yet, while we know an enormous amount about the reality of suffering around the globe, we experience ourselves as impotent. We feel powerless. Unlike the gods, we are rendered powerless to heal the hurt surrounding us. For most of us, the only way we are capable of responding is to close our hearts.

The Gap Between Feeling and Healing

Enlightenment teachers of all stripes say the reason we close our hearts is because our coiled ego clenches in a self-centered contraction. I don't think so. We do not close our hearts—at least not primarily—because we are bad, asleep or narcissistic. We close our hearts because the gap between our ability to feel and our ability to heal is simply too great to bear. It is so hard to open our hearts when they have been broken so many times.

These broken hearts of ours hold outrageous pain. When our hearts break we become wounded and contracted. It becomes exceedingly scary to open our hearts again. We are afraid it will bring a pain that we simply cannot bear. Our wounds are further funded by the essential contraction of being a limited, fragile and mortal being. Our mortality itself is enough to break any awake heart.  But the grief is not merely from our personal heartaches. We have more direct access to pain through unmediated images of horror and information about mass suffering than any previous generation in history. Our hearts are broken exponentially every time we log in. Facebook and Twitter offer us instant updates on happenings in every nook and cranny of the world. The moment we turn on CNN we see sickening videos from Syria, Congo and so many other crisis points. When we connect we feel utterly devastated. We also feel utterly helpless. We have never seen so much suffering and been so unable to heal it.
An unedited first draft text from the forthcoming book The Path and Practice of Outrageous Love by Marc Gafni and Kristina Kincaid
The way to awaken as an Outrageous Lover is the practice of writing Outrageous Love Letters. The ultimate awakening of the Outrageous Lover is the realization that your life itself is an Outrageous Love Letter. This path and practice will be fully described in the Outrageous Love Process in last section of the book.
Insight:
Outrageous love is awakened through the practice of writing outrageous love letters. Evolution becomes conscious to itself through your awakening to the realization that your life itself is an outrageous love letter. You are a messenger that forgot your message. Your message is You! You awaken by remembering that you are the personal face of the evolutionary impulse. Through your own evolution of consciousness you participate in the evolution of love.
To awaken as an outrageous lover is to become intimate with reality itself. You recognize that you are living in an intimate universe in which you are seen, witnessed, addressed and called. You are called to realize that existence needs you as an intimate partner. Reality needs your service. Your Outrageous Acts of Love become the text of the Outrageous Love letter which is your life.
Your life is your Outrageous Love Story. Living your life as an Outrageous Love letter comes from the realization that all of existence needs your intimate witnessing and partnership.
By awakening as the evolutionary impulse and activating your capacity for outrageous acts of love, you come into intimate union with the universe, and the universe comes into intimate union with you.
Watch and listen to this beautiful first part of a 10-part dialogue with Ervin Laszlo and Marc Gafni in Tuscany on the topic of Evolutionary Love–envisioning a new Renaissance that will take us to the future.
In the dialogue they share about the Second Shock of Existence, the New Renaissance, Evolutionary Love, and Unique Self Enlightenment as well as cutting-edge topics like super-coherence, self-organization, and the Unique Self Symphony.
You can watch the whole dialogue here if you have subscribed and are logged in to the Premium Membership.
As a gift to you, we offer you the first key part of the dialogue for free here:
Marc opens the space with this:
After we have killed all the gods except for Aphrodite, although we worship at her altar of love, we have lost the meaning of the word love.
"I love you" is our sacred word but we have forgotten what it truly means.
If we begin with a reconstruction of love and its actual meaning, maybe from there we will develop a super-coherent vision of the patterns that connect.
Ervin then sets the stage for the rest of the conversation:
Love IS reconstruction. We need to reconstruct because the world is falling apart.
Love is the longing to become one.
We need unity in diversity and Love is that element of unity. It is what holds it all together.
It is there in the quantum world, the simplest systems, the planets… What makes a system whole is the sense of belonging of its parts.
In the sentence "I love you", the YOU means everybody and everything.
Evolutionary Love is the love of reconnecting, of rebirthing the world, of becoming part of it.
Enjoy the first part of the dialogue for free here:
Sign up for the Premium Membership for only $15/month or for $129/year (a savings of $51!), and get streaming access to the rest of this dialogue and the entire archive of Integral Wisdom content, containing videos and dialogues exclusively offered through the Premium Membership.