By Joe Perez
Patriotism is often taken as the virtue of virtue by conservatives (and by politicians posing as conservatives to win right-wing votes). Mitt Romney, for example, has made patriotism the centerpiece of his book No Apology: The Case for American Greatness, his campaign, and his attacks against the president Barack Obama as "apologizer-in-chief" for statements made overseas admitting to the imperfections of the United States.
On the other hand, liberals and progressives have often demonstrated an allergy to patriotism and some of the things associated negatively with it (xenophobia, ethnocentrism, simple-minded acceptance of the ruling party, foreign policy aggression, etc.). It's almost as if patriotism is a litmus test dividing the ethnocentric from the more worldcentric views of the world.
But this isn't quite that simple. An Integral approach does not tell us that patriotism is good or bad, more developed or less developed. It tells us to honor all the ways of relating to patriotism that contribute to the greatest good for the greatest number of people. And when talking about patriotism, it is the case that progressives who can honor patriotism often make the best case for its virtues, and conservatives who argue against the downsides of patriotism are often its best critics.
This content is restricted to site members, you need a
FREE
membership to view the full content.
If you are an existing user, please login
Click here
.
New users may register below
Click here
.
By Joe Perez
One of the huge gifts that an environmentally conscious World Spirituality brings into the conversation around green living is its understanding that people are more than consumers, and that identifying with any limited conception of ourself is the bane of health spirituality. If what we value is something beyond our Self -- consumer products, for instance -- then we are headed away from our Unique Self. If what society values us for is something other than our Unique Self -- then society is leading us down the road to perdition.
But for many of us it's easier to see how we can change our own outlook, or progress in our individual consciousness. How can we possibly change the way that society drives, defines, shapes us? The answer, I think, begins with a twofold response. First, we are all leaders, and called to leadership. Of course there's a role for following in some areas of our life, but we must be leaders where it really counts -- in the ways that we are uniquely called into leadership. Through this leadership, we can do our own role to change the way that society squashes our fullest human potential.
This content is restricted to site members, you need a
FREE
membership to view the full content.
If you are an existing user, please login
Click here
.
New users may register below
Click here
.
by Joe Perez
In a World Spirituality perspective, the theologian is more like an symphony composer, with theologians from different theological traditions translating the musical notation for the musicians of different instruments. Clearly there is give and take between the symphony composer and the composer for piano, violin, drums, etc.; but ultimately they are creating new music together.
In our times, a major crisis has emerged for theology which could help to doom religion in many countries unless it is redressed: the crisis of homosexuality within the churches. No, not the crisis that gay people are religious (there have always been gay people in churches, probably in disproportionately large numbers). The issue is that our religious traditions have holy traditions and scriptures dating to pre-modern times when there was no contemporary understanding of homosexuality or modern lesbian, gay, bisexual, and transgender identities (LGBT).
This content is restricted to site members, you need a
FREE
membership to view the full content.
If you are an existing user, please login
Click here
.
New users may register below
Click here
.
Note: Adapted from content originally published in December 2011 on Awake, Alive & Aware.
Scientific research has tentatively suggested that how a person shows up online actually is very much like how they show up in real life. The same mannerisms and tics, values and qualities of character, personality traits, etc. And if you have lots of friends and are very social in the real world, you tend to also make many virtual friends, too. So we must give some credibility to the hypothesis than when we are talking about your "Online Presence" we are actually talking about a part of yourself -- that part appearing, as the Integral Theorists say, in the Lower Quadrants. Put simply, your Online Presence is really YOU.
And yet there are few guidelines telling us how to navigate the waters of social media, blogging, website and to really claim our online "self" as truly part of us. There are few guides, in any case, that really grasp deeply the interpenetration of psyche and cyberspace, philosophy and Facebook, temperance and Twitter. So several months ago, I attempted my own guide for myself to follow in helping my Unique Self show up more often than my False Self.
1. I Will Not Distract Myself. I will not use social media as a distraction to keep me from doing more pressing work in the world. I will recognize that moment when it becomes a distraction because I will begin to feel that I am procrastinating on something that is more enlivening and rewarding but which requires delayed gratification.
This content is restricted to site members, you need a
FREE
membership to view the full content.
If you are an existing user, please login
Click here
.
New users may register below
Click here
.
By Joe Perez
Despite thousands of years of prophetic religious teachings telling us to lift up the poor and identify with the outcast, and hundreds of years of Western Enlightenment teaching about that all people are created equal, we live in a world of massive social inequality. When we aren't completely ignoring the problem, scientists research the phenomenon to shed light. In "Why Low Social Status Causes Health Problems," on Big Think, comes word from the study of macaque monkeys that inequality leads to disease:
By Marc Gafni
Cross-posted from Spirit's Next Move.
Marc Gafni recently participated as a guest scholar at the Conscious Business Conclave at Esalen. Here is an excerpt from Marc's reflections on the urgent priority of articulating a narrative of Conscious Business. In Marc's words, there is no World Spirituality that does not include the spirituality of the workplace.
The world of business is becoming one of the great cathedrals of spirit. Businesses are becoming places in which meaning can be created, in which mutuality begins to happen, in which intimacy and trust become core values, in which the expression of one's unique self as part of a larger context becomes a reality.
Capitalism is the force that has lifted humanity out of poverty through voluntary exchange. Communism tried to life people out of poverty through coercion, but wound up killing 17 million collective farmers in the Ukraine and countless millions elsewhere. Business has lifted more people out of poverty than any other force in history. That is so shocking and so powerful that it makes you sit up in your chair and say "Oh my God! Could it be that evil corporations are actually responsible for lifting more people out of poverty than any other single force in the history of consciousness and the history of the planet?"
This content is restricted to site members, you need a
FREE
membership to view the full content.
If you are an existing user, please login
Click here
.
New users may register below
Click here
.
By Joe Perez
Some say the world needs more peace and others say the world needs less complacency.
Some say the world needs fewer carbon emissions and others say the world needs more jobs.
Some say the world needs less hunger and poverty and others say the world needs more gratitude.
Some say the world needs a cure for terrible diseases and others say all disease is in the mind.
Some say the world needs equal rights for women, racial, ethnic, and sexual minorities... and others say the world needs to recover a social order from ages past.
Some say the world needs more conservative solutions to problems, and definitely more individual liberty. But others say the world needs more progressive solutions to problems, and definitely more cooperation.
Some say the world needs people to feel more and get "out of our heads." But others say the world needs people to be smarter, more rational, and moved less by irrational feelings.
Some say the world needs nothing: that it is perfect just the way it is.
So... What does the world most need now?
This content is restricted to site members, you need a
FREE
membership to view the full content.
If you are an existing user, please login
Click here
.
New users may register below
Click here
.
By Marc Gafni
Recently people have been asking me what I mean by the phrase, "Answering the Call," which I have been talking about so often during my talks about the democratization of enlightenment teachings in these past years. So when I woke up this morning, before I was fully awake, I jotted down a couple of words on this topic"¦
Once you understand that your uniqueness is not a historical accident but an intentional expression of essence, then your realize that enlightenment is a genuine option for every human being. Including You. When you realize that your Unique Self is the God having a You experience, everything in your experience of your life changes.
Once you understand that your uniqueness is not the haphazard result of your cultural social or psychological conditioning, but all of these are necessary conditions for the emergence of the personal face of essence which is You, your essential experience of your life transforms. You move from a desperate need to escape your life to the radical embrace of your life.
by Leyna Roget
Terry Patten is a firecracker of a teacher, and yet every bit of the exuberant knowledge he imparts on us is lined with love. For him, integral living is about formulating a commitment to the social framework of humanity through raw honesty and integrity. Patten leads us in a series of yogic moves to enter into the sacred space of our bodies. Our three body centers (head, heart, center) are the three faces of God through which we can awaken to the "˜I AM-ness' of the divine and one another. We tap each limb of our body alive and our mind and heart follow.
Patten has such a poignant way of recognizing the mind-body connection as integral to realizing our full life force – individually and collectively. Through "˜involution' our human, personal experience is accessed and is able to evolve, because really, our "˜involutionary given' is that we are human AND humanity. With the birth of the cosmos, the big bang (or "˜holy yes' as Patten puts it, haha) "evolution is a single story line that unites all of human knowledge". Maybe the big bang knew what it was doing because once we came to be complex forms of life we were able to see the process by which we came to be. So, evolution has become self aware through us, and we are witnesses to our involution of self. Think about the universe having the gift of life, but not realizing it until billions of years later. Now think about your birth and being written a check by the universe, totaling the infinite sum of your worth to the world, and now, to be present means cashing it in yourself for all you have always been worth. OMG.
It wasn't enough for Patten to be enthusiastic in his delivery, there was a certain amount of tenacity to his urging us to "make a contribution, be a part of that which is a healthy human adaptive response to this moment"¦anything less than that is unacceptable and you know it in your heart"¦you have to find a way to validate your own existence". Amen. What's the first step to validating our BEING-ness? "Be willing to feel all of it un-buffered, and be seen in it" – in that gritty, scary, revealing, shameful, beautiful, honest, unique you.
Patten gets to the heart of this breathtaking dialogue by asking, "what does it take for us to be real with one another"¦to touch and be touched"¦to be trustworthy?" This leads us into a series of group exercises that entreat us play and share in a space of vulnerability, with interpersonal communication anchored in love. We sit intimately close, in circles of four people. Being utterly present, we take rounds to concisely address a single question or statement: How are I feeling? … What is something that will allows others to know me better? "¦ What I'm ashamed of is "¦ The tension I'm living with is "¦ A commitment I'm willing to make right now is"¦ Wow. What a remarkable exercise in letting down your guard and TRULY getting to know people! We connect through these fears, evolutionary questions, and the desire to take our "involution" seriously.
I'll forever cherish the challenge to take a chance with presence by "being dangerously real" and "listening with a beginners mind". We are reminded to author and narrate our divine reality. Patten's invigorating approach to human / humanity wholeness is energizing. What happens matters, what you do matters, in this moment – own it!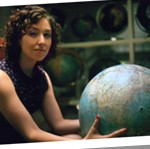 Leyna Roget networks with community organizations and businesses to introduce the inspiring stories of Planet Progress and the developing works of iNDIGO PROjECT MEDIA. She captures on and off camera images for Blog posts, Twitter updates, and various other engaging platforms to bring the viewer into the company's interconnected sphere. Leyna creates new outlets and sustainable community events that invite the public to interact with iPM.
by Marc Gafni & Mariana Caplan
Below are a few thoughts we would like to share in simple and clear terms in regard to why evolving a World Spirituality is the urgent need and great adventure of our time. We have jotted these thoughts down, also catalyzed by in-depth conversations with Ken Wilber and Tami Simon, who we are working closely with in catalyzing, articulating, and serving the emergence of the an authentic World Spirituality that has the potential to provide a context of meaning for hundreds of millions of people. This is a work in progress, but here are some preliminary thoughts.
Let us begin with a bold and audacious statement""not on our personal behalf, but on behalf of an incredible group of committed individuals from around the world who are coming together to catalyze and incarnate a new movement of spirit: World Spirituality. We believe that we are being called to articulate a vision of World Spirituality that speaks compellingly to the hundreds of millions of people who have moved beyond the religions or beyond exclusive identification with any one tradition. We believe that this may be one of the vital next moves in the evolution of consciousness.
We believe that World Spirituality is a desperately needed unifying principle which remembers and reminds us that what unites us is so much greater then what divides us.