The first participants in the Unique Self Coaching Collective have successfully completed the 9-month certification program that masterfully weaves Integral Coaching and Unique Self Realization into a new and beautiful program of deep Self-Inquiry practices that is very teachable to other coaches for use with their clients.
Unique Self Coaching was developed by Integral Master Coaches Barbara Alexander and Claire Molinard with the support of Dr. Marc Gafni. They have upcoming 9-month certification programs in Europe and the U.S., and you'll find more information on their website.
"We believe that everyone has a unique purpose and that joy arises naturally when one lives in the reality of their unique calling as a gift to the world. This is what it is means to be living as a Unique Self. Our vision and greatest hope is that Unique Self Coaching may serve as a skillful means to facilitate the emergence of the Unique Self in men and women of all ages so they may live happier, more successful and purposeful lives in service to the world."
Integral Master Coaches and Founders of the Unique Self Coaching Collective, Barbara Alexander and Claire Molinard
Richard Barrett's long awaited book The Metrics of Human Consciousness has been released on amazon.
This book has been a major CIW Think Tank project over the course of last year.
From the Foreword by Dr. Marc Gafni, Co-Founder and Director, Center for Integral Wisdom and Dr. Zachary Stein, Academic Director, Center for Integral Wisdom:
The genesis of this book dates back to the time when Richard met Marc at a conference on Conscious Capitalism, held at the Esalen Institute in Big Sur, California in 2012. Richard was at the conference to present a paper on measuring the consciousness of leaders and organizations. Marc was at the conference to present a paper on the concept of the Unique Self. Very quickly, the conversation between the two of them turned to developing a metric for measuring the consciousness of the Unique Self.

After the conference Marc broadened the conversion with Richard to involve Zak Stein, the Academic Director of the Center for Integral Wisdom, and Ken Wilber, on of the co-founders of the Center. After several conversations, we (Marc and Zak) asked Richard to begin to explore the possibility of constructing a Unique Self metric. Richard accepted the challenge and joined the board of the Center as senior scholar. This books represents the first output of this exercise.

…

Richard Barrett offers us an exciting new direction for measuring consciousness. He has proven that the insights these measures bring can significantly improve our individual, organisational and societal performance. The work of the Barrett Values Centre stands as a testament to what can be achieved by seriously applying ourselves to the measurement of conscious.
Part of the ongoing conversation on these topics was this beautiful dialogue between Ken Wilber, Richard Barrett and Marc Gafni on the nature and necessity of Personal and Societal Transformation:
Master Integral Coaches Barbara Alexander and Claire Molinard are offering a 12-week online Unique Self coaching program beginning February 28, 2015. This is a 6-session live-call program designed to help you learn practices that loosen the grip of False Self distortions and beliefs, and give you a strong introduction into Unique Self teachings. The program is limited to ten participants.
During the period between each bi-weekly session, you will be engaged in daily practices that progress throughout the 12-weeks. Participants from the Unique Self Coaching Collective have been very enthused about these practices for bringing a stabilized focus, clarity, awakened heart and connectedness to the higher dimensions of Being.
"We believe that everyone has a unique purpose and that joy arises naturally when one lives in the reality of their unique calling as a gift to the world. This is what it means to be living as your Unique Self. Learning practices to loosen the grip of False Self will serve you throughout your life."
This is part 3 of this series, click here for part 1 and part 2. The following passage is a paraphrased summary of some of this weekend's teachings.
Changing the Game: a New Outrageous Love Story
"The only community of people that has ever changed the story, is a community of people coming together and saying: We are going to love each other outrageously," said Marc Gafni during the 5th annual World Spirituality Retreat at Esalen 2014 and "There is not only a covenant between God and the children of Israel but also a covenant between the children of Israel and their children and their children… a covenant between the generations. Israel are 'those who wrestle with God.' That is us. Every generation is responsible for the evolution of consciousness. It is our turn now."
The transformation of the all includes our own transformation: If you work your issues just for yourself, transformation is difficult to achieve. If you work your issues for the sake of the evolution of love, that changes the entire game. The energy you now have available for your own transformation is huge. It is fueled by the evolutionary impulse itself that is living in you, as you, and through you.
But it doesn't stop there. Seeing someone living their Unique Self, we cannot help but fall in love with them. That doesn't mean we will engage them in a romantic sense, but it will inspire us and others to live their Unique Self as well.
That is what creates what Marc calls a "Unique Self symphony."[Read more…]
CIW and Shalom Mountain leaders Adael Bullock, Tom Goddard, Jeff Hilliard, & Shelly Reichenbach are offering a retreat on December 4-7 that they have been developing over the past year under the guidance of Marc Gafni based on his Unique Self Dharma. This post is from Shalom Stories, a publication of Shalom Mountain Retreat Center.
Awakening As Your Unique Self –
A Shalom Mountain Retreat
December 4-7, 2014
Sandie & Gerry Rumold in Sedona, AZ

Sandie writes of her 'Awakening' Experience:

My journey into the Unique Self retreat began at the end of last summer as several of us were finishing up leading the couple's intimacy camp retreat. I got a casual invitation that went out to ten folks to be included in the pilot that Tom, Adael, Jeff, and Shelly had created melding Shalom process with Marc Gafni's teachings. Having attended many of Marc's Wisdom School weekends at Shalom and a few brainstorming sessions with this group of leaders and Marc, I was deeply curious and in full support of what my friends were creating. The answer to the invitation was a resounding, "yes"!

The weekend turned out to be a journey into a deep and personal map of my history of wounds and life experiences that have formed the images I hold of who I am. It was fascinating to uncover some profound yet underground judgments I have held about myself for the better part of my life. It was actually kind of fun discovering it all. The remarkable part for me came as we each had our individual space with the group as witness and the guidance of one leader.

The format was similar to our beloved mat trip, but this was a new process with a clear and deliberate map to illuminate the way through the old image. What happened for me, as Tom led me through, was unexpectedly and genuinely altering. The session reached into a hard and unforgiving place in my being and broke it wide open. Tears come to my eyes months later as I remember the impact of the work. It is rare that I come away from a weekend where I feel something imperative has shifted. I call myself back to the learning again and again as I work to make it a permanent part of me.

The group of leaders set out to create process around Marc Gafni's sangha teachings. They did a remarkable job of bringing Marc's work into the body, psyche, and cells! I am truly and gratefully changed.

Awakening As Your Unique Self –

A Shalom Mountain Retreat

December 4-7, 2014

What would it be like to live your life as the unfolding of Love itself, refracted through the unique prism of your embodied being? This is possible, not just as a metaphor or as a reframing, but as an enactment of reality itself. In this process-based retreat, rooted in Shalom Mountain's Skills and Principles of Loving and the Wisdom School teaching of Marc Gafni, you'll have a chance to reweave your life's story. Through teachings, journaling, small group exercises and individual process work, you will make the journey from the feeling of separation to the discovery of the Unique Self that you are, utterly essential to the evolution of Love.

Led By: Jeff Hilliard, Shelly Reichenbach, Tom Goddard, Adael Bullock

"Would that you could

know yourself for a time,

You will be shocked by your delight."

~Rumi

Kai Carol Jud Writes …

"Run, don't walk to this invitation to your evolutionary edge. The time is now!"

Mapping Consciousness for our Unique Selves

For many years, I have been awaiting a retreat that would be the next initiatory step after the Shalom Retreat. I am delighted to say that this evolutionary leap has come to Shalom Mountain. I found that Awakening as Your Unique Self was a powerful retreat, designed for those of us who are ready to move even deeper into our hearts and into the expansion and unfolding of our Unique Selves into a world that desperately needs the gift of our Unique and Outrageous Love.

I was fortunate enough to be invited to the beta version of this retreat in October. Although some of the elements of this retreat may be familiar to many Shalomers, the focus and depth of this retreat were centered, not on healing the wounds, but on helping us to bring our whole being — wounds, gifts, essence and experience to a fuller embodiment of our Unique Selves. Even after years of leading Shalom Retreats, I experienced many aha moments and months later, I am still digesting.

A richly textured offering of individual, group, small group and dyadic processes helped us walk through various states of consciousness — the False Self, the True Self and the Unique Self so that we could more easily navigate our way through these new passageways. The container was safe and deep and allowed intimacy, vulnerability and fellowship to develop.

It is clear that we need each other in this new world that we are entering and that we need new tools for the challenges ahead. I left this retreat feeling that my toolbox was overflowing and that I had good companions to walk this new path with me. I am grateful to Jeff, Shelly, Tom, and Adael for inviting us to stretch into our Unique Evolutionary selves in this way.

Run, don't walk to this invitation to your evolutionary edge. The time is now!

THE CHOICE TO LIVE FROM UNIQUE SELF instead of merely ego is the only true choice a human being ever makes. Every other choice flows from this pivotal point in a person's life. It is in this moment, which recurs again and again at deeper levels, that you choose to say Yes or No to life. You can choose to identify with your Unique Self instead of your ego.Emerson said, "Love is the universe shouting out a joyful yes when our names are called.""Yes" is the ultimate affirmation of our integrity.The question for your existence is whether you can say "Yes" to the unique destiny and adventure that is your life. That is self-love! From the place of ego you remain perpetually unsatisfied. Located in Unique Self, everything fills you.From Marc Gafni's Your Unique Self: The Radical Path to Personal Enlightenment
Editor: Adael Bullock – Graphic Design: Rosemary Tarcza
The Success 3.0 Summit, this amazing gathering from October 30th to November 2nd, 2014 in Boulder, Colorado of the world's leading thinkers, entrepreneurs, and change-agents that was co-initiated by the Center for Integral Wisdom was a wild success.
Among the speakers were thought leaders like Tony Hsieh (CEO, Zappos Inc), Arianna Huffington (Editor in Chief, Huffington Post), Alanis Morissette (Singer/Songwriter & Activist), Blake Mycoskie (Founder, TOMS Shoes), Barbara Marx Hubbard (Author, Social Innovator, Evolutionary Thought Leader), Casey Sheahan (former CEO, Patagonia), Lynne Twist (Global Activist & Author), Adam Bellow (Vice President, Harper Collins), Ibrahim Husseni, Business leader, Ben Jealous (former President & CEO of the NAACP), DJ Spooky (Composer, Musician & National Geographic Emerging Explorer), Tom Chi (Innovator & Founder, Google Glass), Jack Canfield (Author, Chicken Soup for the Soul), and many others.
The goal of the summit was to articulate a new, transformative vision of conscious living, innovation, and social impact and to create a new definition of Success that can lead humanity into the future. And that was exactly what happened. The partnership between Marc Gafni, the President of Center for Integral Wisdom, John Mackey, the board chair, Kate Maloney the co-board chair and Ken Wilber the Co-Founder of the Center was so clear and beautiful that it naturally manifested this powerful event which so many people in the room felt was perhaps the most powerful event of this kind that had ever attended in their lives. I want to particularly note the love and respect between Marc and Kate that was subtle and quiet in the space but clearly lit up the room.
In the Media
About 600 people attended the event live and thousands of people watched at least part of it through the live stream. The event was wildly shared through social media with many thousand tweets on twitter alone. Gaiam TV will screen the videos of it by the end of the month. And last but not least, many of the speakers and attendees were recorded alongside the event as part of a movie that will emerge from this. So, stay tuned.
Second Simplicity of Dharma
It was gorgeous to see the many ways the Dharma of Unique Self, Eros, Outrageous Love, and World Spirituality, that Dr. Marc Gafni has been articulating and outrageously transmitting for the last several years, has played a role in this amazing happening.
Most of the speakers started to use the 6-word Mantra Wake Up, Grow Up, Show Up. Dr. Marc Gafni, Visionary Scholar, Wisdom Teacher, and Co-Founder and President of CIW, brilliantly transmitted these thought forms in his opening speech. He suggested that every generation needs to participate in the evolution of consciousness. And:
"It is our turn. We are here to articulate an ethics of success that is rooted in Outrageous Love. Outrageous Love demands a new vision of success."
He also introduced one of his key terms, the word Second Simplicity. Second Simplicity is what he calls the Simplicity that comes after Complexity. After having really grasped the complex concepts, we can get to a stage where we can express them in a compellingly simple way–thereby reaching people from all stages of consciousness.[Read more…]
John Mackey, Co-CEO of Whole Foods, and Marc Gafni on 'The Unique Self of Business'
Author: Michael Ellsberg
As featured on Forbes.
John Mackey, the co-CEO of Whole Foods, is the author (with Raj Sisodia) of Conscious Capitalism: Liberating the Heroic Spirit of Business of Capitalism. Philosopher Marc Gafni, Ph.D., president of the Center for World Spirituality, is the author of Your Unique Self: The Radical Path to Personal Enlightenment.
While these are very different books, the authors have been in dialogue for years now about interesting crossovers in their thinking. In this dialogue, we captured some of the new ideas the two thinkers are pioneering for the future of business, centering around their concept of "The Unique Self Business."
We are multidimensional human beings… When we pray, from what part of our Being are we praying from? The discussion continues learning the practice of prayer not as dogma, but as an empirical and experiential practice that has proven results. Learning to pray not from our small and separate ego drives, but from our Unique Self, is consciousness changing and transformative.
What are the practical implications of reincarnation when we deconstruct dogma and embrace the many forms of empirical knowledge… as many as seventeen types of empirical knowing… that inform us of deeper human existential realities? Marc Gafni and Michael Murphy discuss Integral Transformative Practice.
Part 7: East-West Enlightenment and a New Empiricism
Marc and Michael continue their discussion on reincarnation, in this piece, reflecting upon the pulses of cultural transmission from east to west, and that we are now in an exciting time period of being able to evaluate all past traditions and wisdom of the global village, evolving a deepened empirical understanding and experience of the nature of God and the journey of the soul through more than one physical embodiment.
Part 6 – "God With Form, and God Without Form"
If we take all theology and dogma out of the discussion, and look at empirical evidence, where do rigorous conversations on topics such as the positive effects of prayer or the possible reality of reincarnation take us?
Part 5 – "Prayer and the Cosmic Vending Machine"
Part 4 – "Coming of Age in Relation to God"
Marc continues the dialogue with his observations on cognitive bias – how people come to believe what they believe. It takes willingness and courage to objectively look at empirical evidence, and because the conversation on reincarnation has become associated with fringe metaphysical thinking, there has been a damper on the conversation regarding reincarnation and true human potential. – SR
One Integral definition of "a postmetaphysical discussion on reincarnation" could be to attempt to integrate empirical first person transpersonal experiences with third person academic research and writing on reincarnation. Each domain has its proponents and biases. The challenge is in incorporating a phenomenological approach with credible research. It is in this spirit that Michael Murphy and Dr. Marc Gafni continue their discussion in Parts 2 and 3 of their dialogue on Reincarnation. – SR
Part 2 – Does Anything Happen After You Die?
Part 3 – The Reincarnation Research from the University of Virginia
Dr. Marc Gafni and Michael Murphy held an evening dialogue at a recent leadership meeting. The topic was on reincarnation, and the inquiry was, "How does a think-tank hold a credible post-metaphysical discussion on reincarnation?" What do we really think about reincarnation, and what is the narrative we want to evolve within a framework of Integral Theory, Evolutionary Love, Conscious Capitalism, and changing the source code of human consciousness, a few among the many think-tank concerns and initiatives?
This is Part 1 of a 9-part video series of that very entertaining and excellent discussion between Marc and Michael. Since his founding of the Esalen Institute in 1962, Michael has directly witnessed and experienced the modern exploration of reincarnation through transpersonal and spiritual processes, and Marc's lifelong exploration of the nature of human existence and his evolution of Unique Self theory and practice compels him to discern the most credible philosophic framing for reincarnation possible.
Marc's and Michael's discussion was of particular interest to me because I worked for many years as an intensive care registered nurse, with seven years in AIDS units during the early days when death was inevitable. I was strongly called to Presence with patients and families facing death, and to evolve a gentler, more psychologically and spiritually mature approach to death within our culture. During those years I met many people who spoke quite convincingly about their near-death experiences. Later I became the training director for a transpersonal therapy association with past life therapy and pre-and perinatal regressions as central therapeutic processes, where I spent many years in private practice in dimly lit rooms bringing people through ostensible past life experiences. I have thought a great deal about these existential questions, and I loved that Marc and Michael tackled this topic from the angle of credibility because discussions of reincarnation are so easily swamped by metaphysical vagaries expressed with certainty. I know you will enjoy this entertaining and engaging evening dialogue between Marc and Michael, "True Self, Unique Self, and the Infinity of Intimacy."
Steve Raymond
In her recent white paper from January 2014 Kathy Brownback, Instructor in Religion and Philosophy at the highly respected Phillips Exeter Academy, discusses how the Unique Self teaching goes to the heart of the deepest questions that students have asked her throughout the years. In her words:

Most likely you've asked yourself some of the same questions I've been asked by […] students:

"People keep telling me to be myself, but I don't really know who that is. I feel pulled in so many directions."
Do we have free will, at all? Or are we totally determined by our genes, and conditioned by our environment?"
"Why, in the midst of all they have, are so many people angry and dissatisfied? Can I hope to avoid this? Why is there so much addiction? Why depression, among people who have so much to offer?"
"I haven't found any kind of God I can believe in, yet I somehow feel there is something more to life. Your thoughts?"
"Are science and religion looking at the same world? They seem so contradictory. Your husband is a physicist. Do you argue about this?"
"Is there such a thing as truth? Is there anything I can be certain of?"
"Do you think life has some kind of point, or meaning? Or is it, as Shakespeare said, 'a tale told by an idiot'? It really feels that way. Then all of sudden, even though I have no real answers, the feeling goes away."
She also asks what role contemplative practices should play in education and academic life and what they might have to do with the study of science, or the humanities and the arts. Should they have a place in the curriculum?[Read more…]
We just completed a very special series of events at our Teaching Center at Venwoude in Holland. Dr. Marc Gafni taught two Valentine's Day events in a very beautiful church in Amsterdam. This was followed by a wonderful and very intimate two-day retreat at Venwoude on Saturday and Sunday. Capping off the 4-day weekend, we had an outstanding presentation at Nijenrode University on Conscious Capitalism with Prof. Dr. Paul de Blot, Dr. Marc Gafni, and Ken Wilber (via Skype) in front of 150 enthused Entrepreneurs.
Valentine's Day at Vondelkerk Amsterdam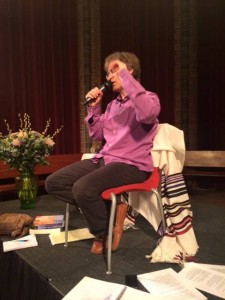 A packed house of people celebrated Valentine's Day in an old beautiful Church in Amsterdam with Dr. Marc's Dharma on Outrageous Love. It was a day of profound new dharma, deep practices, and a stunning community of Outrageous Lovers. Dr. Marc took us deeply into a practice space with dyad practices, chanting, and intimate sharing. The evening session seemed to explode–after a very quiet and subtle beginning with hearts meeting in Chant and Meditation and finally and melting open into the Inside of the Inside–with a fireworks of Dharma on Outrageous Love and Unique Intimacy.[Read more…]
Our Board of Directors members Venodhar Rao Julapalli, M.D. and Vinay Rao Julapalli, M.D., F.A.C.C. have written an exciting white paper about Unique Self and the Future of Medicine and we have just published it on our website.
There is a dire need for the integration of the art, science, and morality of medicine. This paper explores the deep implications of the Unique Self in integrating medicine. Co-authors and physicians Venu and Vinay Julapalli call on their extensive understanding of the promises and pitfalls of modern health care to reconceive the practice of medicine. The paper provides the framework to evolve medicine through the emergent Unique Self insight. At stake is no less than the future of how we care for ourselves and each other.
Read the introduction and download the whole article here.
I met a lovely woman not much older than me in a coffee shop. She said something humorous, and we began a conversation that emotionally moved me because she was quite open with the fact that she is in Early Stage Alzheimer's disease. She carried it well and very lightly, and shared her personal story with me quite eloquently.
In Monterey, I volunteered for too-short-a-time with the Alzheimer's Association as a facilitator for a support group for people with Early Stage Alzheimer's. The people in our group were mostly younger, ranging from 54 to 78, with three younger than 60. So, they were not just Early Stage, but also Early Onset. I say "too-short" because life changes brought me away from that work, and I felt very incomplete about it.
There are lots of sobering statistics and valuable information that are readily available at the National Alzheimer's Association, with great advice for PWD's (People with Dementia), and their caregivers. I have a somewhat different perspective to share.
Everyone in our Monterey group had clearly life-altering diminishment in their functional capacity. And yet, each person could be so acutely Present emotionally, and so aware of what was happening in their life and to their life.
One common thread in our conversations was the perceived stigma attached to the dementia. Very painfully, each described the experience of being stigmatized by the disease, as though they were now second-class citizens that are essentially written off by society as a hopeless case. This was what always brought forth the most visceral emotions, almost more than the experience of loss of abilities.
This prompted me to teach meditation to our group. In guided meditations, I would begin by having us find a place of calm centered Being-ness that existed separately from the false perceptions and judgements of others, and we would focus upon breathing in Self-Love, and owning the Truth that the dementia is a disease that is affecting their life, but that they could experience the Essence of Being entirely separate from the disease. I was always surprised that attention-span was not a problem. The group settled in comfortably for 20-minutes, and would emerge feeling a very peaceful and gentle sense of True Self Realization.
[Read more…]
By Joe Perez
At least since the early writings of Karl Marx, many public intellectuals have acknowledged some variant on the phrase "the personal is political". Not only that, but by implication it is held that "the spiritual is political". This notion actually is a reversal of the truth and invites a closer look at the connection between politics and spirituality.
Traditional religion is often intertwined with government. And various conservative, liberal and liberation theologies in the twentieth century across a spectrum of religions spelled out new ways in which religious teachings seek to influence the public sphere in secularized societies.
Read more...
This content is restricted to site members, you need a
FREE
membership to view the full content.
If you are an existing user, please login
Click here
.
New users may register below
Click here
.
Steven Raymond is a student of Marc Gafni and of Integral theory. For the Center for World Spirituality, Steve serves as a Unique Self teacher and a Board of Trustees member, and is delighted to be bringing Unique Self dharma to the New England states in collaboration with other teachers. His focus is on the integration of group experiential processes with Unique Self training for individuals and healthcare professionals, with a particular interest in the fields of conscious birthing and conscious dying.
Steve has broad experience in deep experiential transpersonal processes and therapies, and is a master of assisting others with shadow work. Steve has a private coaching/teaching practice, and provides transformative consultation to individuals, groups and small entrepreneurs. He is also a leader in foundational men's work, is an Alumni of the Breakthrough Men's Community in Carmel, CA, and is now setting up a men's community group and an Awakening Your Unique Self study group in Portland, ME. He is the parent of an adult son and daughter, and the grandparent of three children, who love him as a jokester and as a mythological god on the ping pong table.
Steve writes, "The essence of my spiritual practice, my Unique Self practice, is to live a fully embodied and passionate life of joy, clarity and purpose. This is how I Show Up for my family, friends, clients and students."

My First Unique Self Encounter: The First Time I Ever Fell Really in Love
by Steven Raymond


My Unique Self in the Third Person

The first time I ever fell really in love, I was an emotionally damaged 23-year-old man finding my way through the complex maze of my early life. My first real love was a dying 70-year old woman, and the radically Outrageous Love I shared with her transformed my life and revealed a path forward that 37 years later I assess as the discovery of my Unique Purpose, and a life-altering revelation""my Unique Self.

This content is restricted to site members, you need a

FREE

membership to view the full content.

If you are an existing user, please login

Click here

.

New users may register below

Click here

.