What do we need to give "our children" so they can prosper and grow into their highest potential—even though we don't know what kind of challenges they will face in their lives?
That's the real question underlying this beautiful talk by our Academic Director Zak Stein.
Watch and listen to this fascinating thought experiment:
What would be a "seed bank" of ideas that—if preserved—would allow us to recreate civilization from the ground up, in case humanity survived some sort of an apocalypse?
Playing off of Noah's Arc, Zak calls it the "Nous Arc."
Engaging in this thought experiment a bunch of questions arise:
Who gets to decide what should be in there?
What should be the content of this "Great Library?" or in other words:
How can we assure that we give the next generation everything they need?
The Need for Meta-Theories
In order to engage these questions, we need Meta-Theories. What are Meta-Theories?
While theories take the world as data, Meta-Theories take theories as data. Meta-Theories norm the norms of discourse.
Listen to this exciting 20-minute talk and learn:
What a new legitimate model of teacherly authority and intergenerational transmission could be
How our image of the ideal human looks like that we can teach into
Why we need a theory of Cosmos and Self
Which

educational

environments we need to create—in contrast to the

informational

environments that are stressful for most nervous systems
Enjoy the talk:
Enjoy this beautiful introduction and story by Dr. Marc Gafni from our recent CIW Board Retreat:
The Story of Levi Isaac of Berdichev Told by Dr. Marc Gafni
from the book Your Unique Self by Dr. Marc Gafni
When you fail to hold the personal, you may begin to engage in manipulation or possibly even psychological abuse. When you begin to see yourself as aligned with the process, which was the great teaching of Hegel, you may inadvertently give birth to the worst evils of Fascism, Communism, and Nazism, all of which were very heavily influenced by Hegel's teaching that demanded that the individual must awaken and identify with the great evolutionary process of divine unfolding in absolute spirit. In Hegel's powerful clarion call to align with the ecstatic impulse of historically unfolding evolutionary God, the holiness of the individual was somehow crushed in all the grand rhetoric, with devastating results for God and humans. The process must always remain personal.

For me it was always the Hasidic master Levi Isaac of Berdichev who radically reminded me of the primacy of the personal even when in the throes of evolutionary ecstasy. Levi Isaac was once leading the prayers at the close of Yom Kippur services. Yom Kippur is a fast day and the holiest day in the Hebrew calendar. The twilight hours at the end of the fast are filled with potency. According to the evolutionary mystics of Kabbalah, the enlightened prayer leader, during that time may potentially enter the virtual source code of reality and effect a tikkun; that is, effect a momentous leap in the evolution of consciousness for the sake of all sentient beings, in all generations. This is precisely what Levi Isaac—greatest of all enlightened evolutionary prayer leaders—was doing on that Yom Kippur. Night had already fallen, the fast was officially over, but the ecstasy of Levi Isaac was rippling through all the upper worlds. All beings held their breath in awe of the evolutionary power of Levi Isaac's consciousness. All of reality was pulsating with him towards an ecstatic evolutionary crescendo. Just as the great breakthrough was about to happen at the leading edge, Levi Isaac spotted out of the corner of his eye an old man who was thirsty. The fast had been very long and the old man needed to drink. So in the midst of his ecstasy, Levi Isaac brought the whole evolutionary process to a halt. He immediately ended the fast and personally brought the old man a drink of water.
From an unedited draft of the forthcoming book Towards a New Politics of Evolutionary Love
by Dr. Marc Gafni & Dr. Zachary Stein
The core structural principle from Integral Meta-Theory involved in the formation of a Unique Self Symphony is the scientific principle of self-organization. The idea of self-organization is according to many the single most important scientific idea to emerge in the last sixty years. It exists at every level of reality and across all four quadrants. While many scientific accounts focus only on self-organization in systems and structures in biology or cybernetics (i.e., Lower-Right reductionism), there is a whole history of work in psychology and social theory dedicated to modeling how minds and cultures are complex dynamical systems, that evolve and self-organize in remarkable ways.
Multiple scientific fields, when held in an Integral embrace, tell us that self-organization is a basic principle of reality at all levels. Most forms of evolutionary emergence are a function of this ubiquitous tendency of all life and matter toward self-organization. This leads to the idea of an inherently creative cosmos, always evolving and organizing at higher and higher levels. Throughout the evolution of the world it appears that self-organization is often catalyzed via the leveraging of uniqueness. When you look at the emergence of complex processes in nature that display remarkable forms of self-organization, such as an ecosystem like swamp or rainforest, they are always complex symbiotic systems in which there are an endless number of unique niches.
This is why one of the core ideas behind the new politics of outrageous love is enabling self-organization at the level of human culture. So we must ask, what enables self-organization at the level of human culture? The answers is clear and in keeping with both the best of what we know about evolutionary theory and the best of our ideas for political and personal Enlightenment: the catalyst of self-organization in human socio–cultural systems is the Unique Self. Paradoxically, this means that the "shape" every human needs to assume in order to contribute to the creation of a healthy social organism is unique. Strange as it may sound, a just and healthy society needs to "socially engineer" for uniqueness, especially the institutions that shape human personalities and self-understandings: schools, news media, entertainment industries, computer technologies industries, etc. The whole social system would be like an incubator for uniqueness.
In order to live an awakened life, we need some wisdom to live by. It is the World Spirituality Dharma of Unique Self and Evolutionary Love that provides us with the Integral Wisdom to guide us every day. Our post-postmodern Dharma is not Dogma, but the best take on reality we have based on pre-modern, modern, and postmodern insights, weaving together what we know about the patterns that connect.
Enjoy this collection of 7 Dharma Quotes Graphics for Living an Awakened Life by Dr. Marc Gafni.
Apply these pearls of wisdom in your everyday life and become unstoppable in living and expressing the Outrageous Love at the core of your most gorgeous Unique Self.
Dharma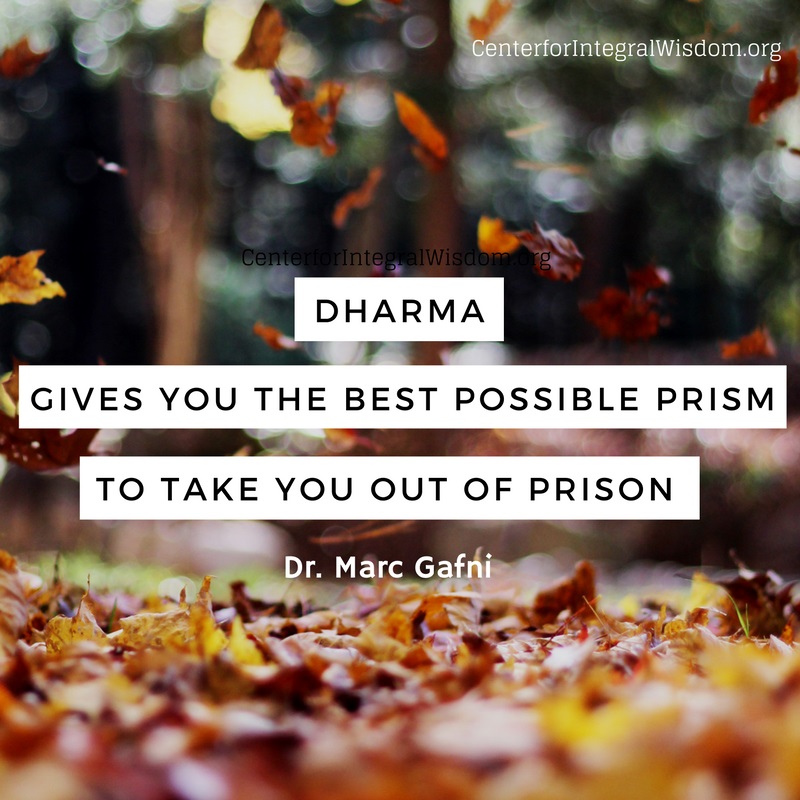 Dharma gives you the best possible prism to take you out of prison.
>> The World Spirituality Unique Self Vision of Dharma, Lineage, Students and Teachers <<
Life Is for Pleasure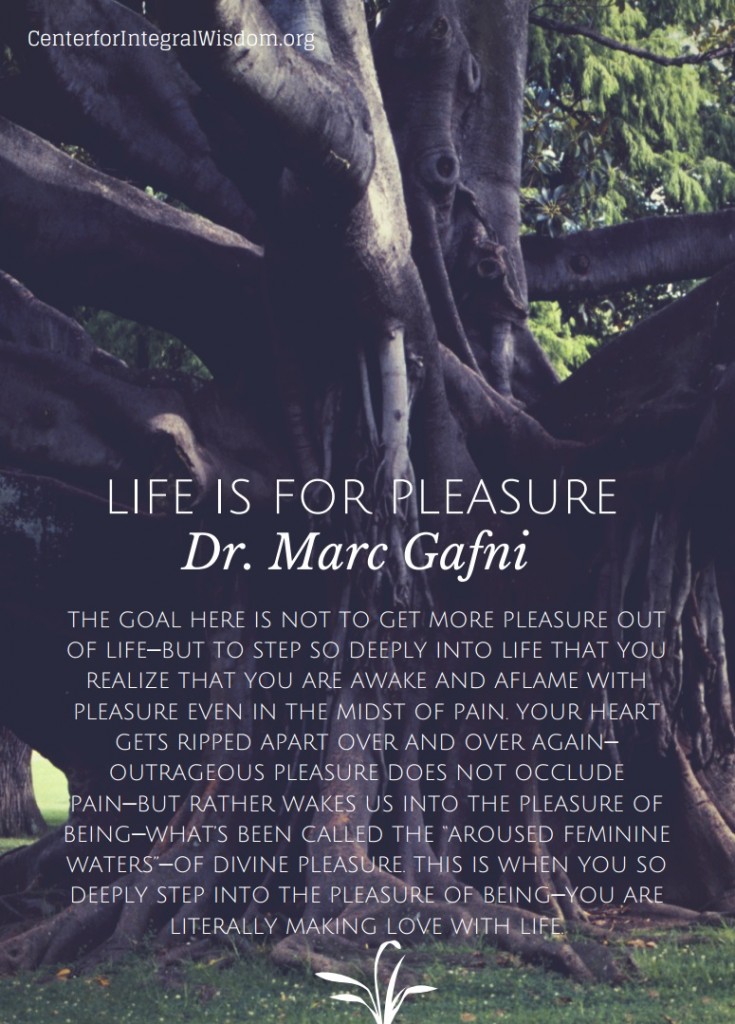 The goal here is not to get more pleasure OUT of life—but to step so deeply INTO life that you realize that you are awake and aflame with pleasure even in the midst of pain. Your heart gets ripped apart over and over again—outrageous pleasure does not occlude pain—but rather wakes us into the pleasure of being—what's been called the "aroused feminine waters"—of divine pleasure. This is when you so deeply step into the pleasure of being—you are literally making love with life.
The Highest Pleasure
The highest pleasure is to know that through my own transformation I transform the world.
Enjoy this powerful conversation between three evolutionary geniuses Barbara Marx Hubbard, Marc Gafni & Daniel Schmachtenberger. It provides a brief peek into the forthcoming Video Course "Becoming the New Human."
This is the group discussion after a Module on Becoming Fully Human with Daniel Schmachtenberger.
In this lesson you will learn:
how human history can be traced through the lens of different approaches to reconciling the split between autonomy and communion

how Unique Self is the place where the split between autonomy and communion disappears and why we must optimize for both instead of choosing one over the other

how technology can address the neural net membrane and connectivity of the human imaginal cells around the world

why both Liberals and Fundamentalists don't practice tantra very well

how certainty and uncertainty can be reconciled and how Barbara practices that in meditation

this course is a post-Liberal and post-Fundamentalist course, emergent by nature, which takes the best of both and integrates everything in a higher way
Listen to the audio and read the summary below.
At the Center for Integral Wisdom, our intention is no less than to participate in the Evolution of Love.
In the world today we look around and see that we've made love small. We have exiled love to a particular transient emotion that takes place between particular human beings of a particular gender within a particular legal context.
In our CIW Think Tank, we have an understanding that love is an expression of a much deeper source. For us, love is the animating Eros, the love-intelligence and love-beauty of all reality.
As we wake up and grow up, as we show up in our lives, we become the clearest and most powerful vessels for that love. We are participating in the evolution of love by evolving our consciousness and emerging as our Evolutionary Unique Self.
Are you ready to play a larger game?
You are invited to participate in the Evolution of Love.
Watch our beloved Co-Board Chair Barbara Marx Hubbard and CIW President Dr. Marc Gafni as they explore the Mysteries of the Evolution of Love:
This film was made in November 2015.
Read more about the Evolution of Love in the Conscious Eros Portal>>>
Read this series on the Evolutionary Unique Self, Outrageous Love & the Unique Self Symphony>>>
Responding to the Second Shock of Existence
Paper by Academic Director of CIW Zachary Stein & President Marc Gafni Published at World Future Review.

Abstract: Foreshadowing arguments from the forthcoming book, Towards a New Politics of Outrageous Love, this paper suggests that humanity is in the throes of a species wide identity crisis, precipitated by a broadening awareness of our impending self-inflicted extinction. This growing awareness that humanity is responsible for its own fate and the fate of the planet is referred to as the second shock of existence. The second shock has spawned a great deal of discussion about the need for revolutions in technological, economic, and ecological infrastructures, yet this focus on exteriors addresses only half the picture. Comparable revolutions of our interiors must also take place—radical transformations in the very structure of our consciousness and species-wide self-understanding. This is a call for attending to the interior dimensions of the current global crises, recommending in the strongest possible terms that tremendous energy and resources be rechanneled into planning for the vast educational reconfigurations facing humanity in the coming decades.

Keywords: Global crises; Integral Theory; Human Identity; Unique Self Theory; Cultural Evolution

Because of the current state of copyright law we only provide a pre-publication draft of this paper. There are bound to be errors that were corrected as the manuscript went through to press, so please track down the published version before citing any of this material or contact us for permission.
Stein, Z. & Gafni, M. (2015). Reimagining humanity's identity: responding to the second Shock of existence. World Future Review. 7(1) 1-10. [pdf]
From the paper:
Today, in the maelstrom of post-modernity we are collectively facing the second shock of existence*, which is the realization that the survival of the entire human race is in danger.Moreover, we now face this second shock—this awareness of the mortality of the species—precisely because of the actions that followed in the wake of the first shock. Our attempts to build a world that would insulate us from death have brought us to a point where we must now face death on a scale that is almost unimaginable. The more perceptive among us know that it is our own actions that brought us to this point, and we know that it is only by our own actions that we might avoid the apocalyptic scenarios that haunt our collective imagination. Nothing defines our era more than the dawning awareness of the possibility of the self-inflicted extinction of the human race.   

We suggest that, in fact, the second shock of existence is an important, necessary, and world-historical millstone in the evolution of consciousness and culture. The first shock made us aware that death threatens the meaning of each individual's existence; the second shock teaches that self-inflicted extinction threatens the meaning of the whole species' existence. Just as the first shock was necessary in furthering humanity's mature and complex relation to the universe, so the second shock is necessary as a further impetus toward greater maturity and complexity. However, whereas the first shock served to separate us from nature and each other, the second shock will serve to reunite us with the natural world and weave the diverse strands of our now fragmented global culture into a common humanity. The second shock is awakening us to the patterns that connect all of humanity as part of a common destiny, a destiny intimately tied into the future of the biosphere. The second shock is a deepening of humanity's awareness of its place in the universe; it results in the dawning awareness of our profound ethical obligations as the sole stewards of humanity and the planet.

Humanity is now in a situation where we recognize (for the first time, really) that our ability to exploit nature is profoundly limited—we have run up against very real physical boundaries to our continued existence. At the same time, in some sectors, there is a dawning realization that we are already in possession of an unlimited resource—the power of human creativity and innovation, a realm in which there is no scarcity. The tensions between these two realities—dangerous scarcity alongside inspiring plentitude—define our age. It is an age in which heaven competes with hell for a chance to be born. Culturally, this has given us two camps: the pessimists and the optimists, both focused on the state of our techno-economic-ecological exteriors. Techno-Optimists see a future in which our current techno-economic systems are salvaged, re-designed, and made increasingly scientific, efficient, and profitable; we will avert ecological disaster by creating a hyper-scientific, human controlled Heaven on Earth. Pessimists see these very attempts at continued scientific control and economic growth as the problem, sensing that the technologically wrought future they yield will give us more of what we've already had for nearly a century: a techno-economic system that decimates communities and ecosystems, and that will eventually degrade the Earth until the biosphere is simply unable to sustain life. Both pessimists and optimists focus on external systems, processes, resources, technologies, and economies. When they speak of crises they refer to broken or scarce things (broken ecosystems, unhealthy food, toxic air, failing schools, etc.). When they speak of innovation, they mean the creation of new and better things (healthy forests, organic food, new energy technologies, fresh air, good schools, etc). The future is in the balance for both camps, no doubt, and they both set their focus on the impacts of science, with a focus on sustainability and the physical continuity of life as we know it.
*The term Second Shock was coined by Mauk Pieper, see Pieper, M. Humanity's Second Shock and Your Unique Self. (Independent Publishing, 2014).
Listen to this 15 minute meditation on the 5 Big Bangs and the Evolution of Love, excerpted from the course, Awakening Your Unique Self, by Dr. Marc Gafni.
Barbara Rosson created the slide show with pictures and music. Here is what she wrote us:
When I did the AYUS transcription, I started seeing things.

Here's a glimse of what I saw…

Watching it still makes me cry for joy, even after seeing it over and over and over!
Enjoy!
Academic Director of CIW, Dr. Zachery Stein has been interviewed by PatternDynamics founder, Tim Winton.
"Zak and Tim discuss complexity, how to see it, how to manage it, and the power of values aligned with a 'systems view' in creating a more generative humanity. Zak is Chair of the Education Program at Meridian University. He received his Bachelor's from Hampshire College, and his Master's and Doctorate from Harvard University Graduate School of Education. Zak co-founded Lectica, Inc., a non-profit dedicated to promoting social justice through the reform of large-scale standardized testing, where he worked for over a a decade. Zak's publications have bridged topics in the philosophy of education, neuroscience, developmental psychology, and psychometrics. He has recently completed a forthcoming book: Social Justice and Educational Measurement: John Rawls, the History of Testing, and the Future of Education (Routledge 2016)."
In the recording, Tim and Zak discuss the following:
Barbara Marx Hubbard and Marc Gafni in Dialogue during her Evolutionary Testament Webinar
We are excited to share with you the recording of this exciting webinar from Barbara Marx Hubbard's online course about her newest book The Evolutionary Testament of Co-Creation: The Promise Will Be Kept. CIW-Founder Marc Gafni was invited as a guest speaker.
In this webinar, you will learn:
Why God is not only the infinity of power but also the infinity of intimacy
How YOU are God's or evolution's unique intimacy
Why God (or reality or the universe) needs YOUR service
How evolution creates newness through joining separate parts into a larger whole
Why your birthday is the day when God decided that She couldn't do without you
How to Become the New Human by joining genius as Unique Selves
What happens in the "tomb of metamorphosis"
How Sacred Text Study can be recovered as an essential part of our Evolutionary Spirituality Practices
Within a lively Question and Answer section, Barbara and Marc express their desire to work together more deeply for the sake of the Planetary Awakening and the Unique Self Symphony coming alive. They are inviting a small group of about 25 people to Barbara's Center in Berkeley for a Sacred Retreat on Evolutionary Spirituality in May 2016.
If you are interested, please write us at support@centerforintegralwisdom.org.
Watch and listen to the webinar here:

The Three Levels of Sacred Text Study
Hach'na'ah = Submission: A total surrender to the text, where we read the text as if it was written directly by God to us. This is the way fundamentalists read sacred text as the only valid way. In Evolutionary Spirituality we recover Stage 1 as an important but not exclusive practice.
Havdalah = Separation: Here we take a step back and separate from the text to analyze it. We look at the historic context. We compare it to other pieces. We ask ourselves: "What might that mean?" This level is the scientific way of reading the text.
Hamtaka = Sweetness: This level transcends and includes the first two. The reader penetrates the text while simultaneously fully receiving the text. In the non-dual merger between the reader and text, new revelation is born. This is the way of the evolutionary mystic.
Read more about Sacred Text Study here.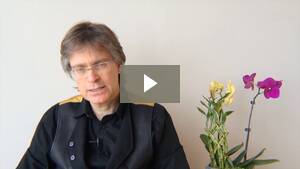 The goal of an "integral psychology" is to honor and embrace every legitimate aspect of human consciousness by embracing what is true in each of them. This portal on the Center for Integral Wisdom multi-plex presents an integrative view of consciousness, psychology, and therapy.
The rise of an Integral Psychology is one of the greatest invitations of the century. It draws on pre-modern, modern, and postmodern psychological models to find patterns which are healing, transformational, and integrated in a model that includes mind, soul, and spirit.
The psychological models also include interior and exterior distinctions, levels or structures of consciousness, typologies, and states of consciousness. Integral Psychology is the understanding that we have this great new source of wisdom in the world which emerged.
There has been a huge contribution to thought in the past couple hundred years with Freud but also with our new understanding of the human mind which says that we hold in our conscious selves what we make unconscious, including the early drivers (wounds) that shape our personality and deconstruct the vital eros within us.
Integral Psychology offers maps, each of which offer a set of healings or techniques to return the human being to fuller human existence, a more effective being and becoming.
Each of the 11 or 12 major schools of psychology has a somewhat different map of existence, of the human mind, and distinct suggestions for what the best method is for transformation. What Integral psychology seeks to do is to recognize what is true in each of these seemingly exclusive models. Specifically, it recognizes that each of them is true but partial.
Each school of psychology speaks to and addresses a different level of human existence or consciousness. All of them are healing and need to be integrated into the healing wisdom of humanity.
In trying to evolve a global ethic for a global civilization, we need to integrate them into a seamless psychological model that includes all the elements of mind, soul, and spirit. Likewise all the interior and exterior dimensions must be included.
Finding the best practices of all the schools of psychology is one of the great invitations of this century.
In the Integral Psychology portal you find media, essays, and blogs on Unique Self & Psychology, Unique Shadow, Integral Psychology, and much more. Enjoy!
We at the Center for Integral Wisdom – together with leading thought leaders and change agents – are dedicated to transform and evolve the source code of culture through application of Integral principles.
In our Activist Think Tank, we articulate, evolve and deliver a new, Integral narrative for living – which transforms each individual, culture and life itself – creating a world of Outrageous Love, through Outrageous Love. Our mission is to love outrageously, live outrageously, and create an extraordinary world.
Read more about our mission here>>>
Some of the core memes we have articulated are the memes of Unique Self and Evolutionary Love.
"We live in a world of outrageous pain. The only response to outrageous pain is Outrageous Love." – Marc Gafni
Outrageous Love is not ordinary love but Evolutionary Love.
Since the publication of Your Unique Self in 2012 by Dr. Marc Gafni and Integral Publishers, the teaching has evolved further into a coherent concept of how Evolutionary Love and the emergence of the Unique Self Symphony allows us to not only articulate a new Politics of Outrageous Love but to solve every problem that we are facing as humanity grows into the new stage of what Executive Board Member Barbara Marx Hubbard has come to call Conscious Evolution.
To give you an update on the newly emergent teaching on Evolutionary Unique Self, Outrageous Love, and the Unique Self Symphony, see our blog-series on UniqueSelf.com.
The Law of Feeling and Healing

The Law of Feeling and Healing, while simple in explanation, is quite profound. As the gateway to a seemingly impossible evolutionary shift, this law is our access to the divinity and untold amounts of love, joy, and connection.

Fifty years ago, God was experienced by the great realizers and religions as both all knowing and all potent and powerful. Only God knew of the immense pain in the world. Today, boundaries around knowledge cease to exist and images of unbearable suffering penetrate our hearts, bodies and minds hourly. Consequently, there is an enormous amount of Promethean talk about humans becoming God-like with the power we wield. Ignoring the fact that such talk does not take into account the infinite power of cosmos, these erroneous conversations forget divinity is not merely the infinity of power but also the infinity of pain. As our power of knowledge increases so does our awareness of the depth of suffering. In one way, we are potent like gods; we have the never previously known ability to acquire depths of understanding and graphic detail about the horrific pain happening across the planet. Yet, while we know an enormous amount about the reality of suffering around the globe, we experience ourselves as impotent. We feel powerless. Unlike the gods, we are rendered powerless to heal the hurt surrounding us. For most of us, the only way we are capable of responding is to close our hearts.

The Gap Between Feeling and Healing

Enlightenment teachers of all stripes say the reason we close our hearts is because our coiled ego clenches in a self-centered contraction. I don't think so. We do not close our hearts—at least not primarily—because we are bad, asleep or narcissistic. We close our hearts because the gap between our ability to feel and our ability to heal is simply too great to bear. It is so hard to open our hearts when they have been broken so many times.

These broken hearts of ours hold outrageous pain. When our hearts break we become wounded and contracted. It becomes exceedingly scary to open our hearts again. We are afraid it will bring a pain that we simply cannot bear. Our wounds are further funded by the essential contraction of being a limited, fragile and mortal being. Our mortality itself is enough to break any awake heart.  But the grief is not merely from our personal heartaches. We have more direct access to pain through unmediated images of horror and information about mass suffering than any previous generation in history. Our hearts are broken exponentially every time we log in. Facebook and Twitter offer us instant updates on happenings in every nook and cranny of the world. The moment we turn on CNN we see sickening videos from Syria, Congo and so many other crisis points. When we connect we feel utterly devastated. We also feel utterly helpless. We have never seen so much suffering and been so unable to heal it.
"Culture is a gadget; it's something we inherit. And you can fix it the way you can fix a broken oil burner." – KURT VONNEGUT
I started this blog after the shootings at Umpqua College in Oregon. I realized that to discuss the "source code" that underlies our delusional gun culture I would first have to offer a Unique Self Psychology "take" on culture in general. As Kurt Vonnegut's words remind us, the contents of culture are not a destined reflection of human nature. Culture is a gadget that can be fixed by human nature once the ocean of culture we are swimming in becomes an object of awareness.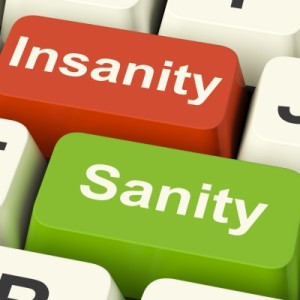 As I write this I am realizing that the phrase "object of awareness" is drier than a California reservoir. I've been using the phrase "object of awareness" for years in my writing about psychology. Time for a change. Making culture (or anything) an object of awareness doesn't take the fun out of it like the dryness of the phrase implies. In that spirit I have made up the word "psychaflower" to denote making something an object of awareness as in "I psychaflowered my anger in therapy" or "As a culture we are psychaflowering our attitude toward marriage equality." Isn't that more fun? It's sort of like the grammatical difference between a scientific discussion of urgency in mammalian reproduction and watching the neighbor's dog try to hump the mailman's leg. And of course what is psychaflowered can be pollinated but more on that later. Now that I've invented a wonderful new word (unlikely to show up in peer-reviewed journals anytime soon), back to business (or "busyness" if you prefer).
Unique Self Psychology begins discussion of "mental illness" by outlining what is meant by "mental." In my last blog I offered a Unique Self Psychology description of "mind" that includes not only self-awareness, but our embodiment (including all the neuroscience bells and whistles), our environment, our interactions with others and of course our culture. "Mental" also includes our field of awareness and the things that arise in our field of awareness – the things we can psychaflower. Psychaflowering offers not just understanding but a toy chest of ways to change what was psychaflowered (again, fun everywhere you look!).
That which a "people" agree to focus on in large part form our various "cultures." "Culture" is an artifact of what a "people" choose as important from things arising in their field of awareness. They may then psychaflower that which they have said is important or simply go with the flow on psychological autopilot. Mind you the default position in all of us for this process is autopilot. We usually have to practice observing, questioning and ultimately psychaflowering. We only begin to master our awareness some years after we are born and by then we have been bathed in the cacophony of what our "people" considered our "culture." Occasionally one of our people will be good at teaching us to psychaflower cultural assumptions that have been foisted on us but this is usually pure luck if it happens (though many of us were blessed with a "crazy" Aunt or Uncle or laughed at and questioned everything).
A very funny (funny as in "ha-ha" and as in "strange") thing about culture is that it is reified in 20th -21st century psychologies. This leads to both irony and suffering. Here is an experiment you can do: go to a psychology conference and sanctimoniously invoke the word "culture." Within minutes you'll have a strange collection of graduate students and assistant professors groveling at your feet (really – try this – it is amazing). They can't explain this reflex of course because they have not psychaflowered their conception of culture – they have merely turned it into a monstrous god who rules their intellect with all the compassion of a rabid groundhog. So in Unique Self Psychology we begin by slaughtering this "Golden Calf" (or "Plastic Groundhog" if you like) of culture. We do it humanely of course, like cruelty-free beef where all cows go to Disneyland before going to the butcher.
From a Unique Self Psychology perspective, culture is an artifact of humanness that can range from a rich, fulfilling context for growth to a dung heap of aggression, repression and cruelty. The only "given" or destiny about culture is that humans will create cultures as surely Republican politicians will pray before first kickoff of the Super Bowl. By psychaflowering our culture we become aware of the source code underlying it. We are then free to pollinate the psychaflowered source code so that it increasingly produces cultural artifacts that guide each person toward their Unique Self. These cultural artifacts are the "blossoms" of a Unique Self source code and become increasingly concerned with the preservation of life rather than the ruthless control of life.
Now having established (I hope) a basic understanding of source code in relation to culture, my next blog will specifically examine what a people have to believe to allow a parade of senseless gun violence and mass killing. And of course I will discuss what the source code would have to be for people to believe that a senseless parade of gun violence is inevitable. I will also discuss how 20th and 21st century psychologies do little to dissuade such atrocities. I will not, however merely "muckrake." I will then go on to discuss how a Unique Self Psychology can liberate each of us from the bleak vision of mental health forged in the 20th century. In this vision, as Alan Watts wrote, mental health is the state of mind you are in driving to work Monday morning. A Unique Self Psychology vision of mental health is more akin to the afterglow of sexual embrace or the laughter of children playing senseless games. I will discuss how this vision of mental health, and the cultural artifacts that promote it, can be written into the source code of our species and how this can alleviate so much of the senseless suffering related to things like gun violence.
Read More by Elliott Ingersoll on his CIW Unique Self Psychology and the New Enlightenment Blog
Watch and listen to this beautiful first part of a 10-part dialogue with Ervin Laszlo and Marc Gafni in Tuscany on the topic of Evolutionary Love–envisioning a new Renaissance that will take us to the future.
In the dialogue they share about the Second Shock of Existence, the New Renaissance, Evolutionary Love, and Unique Self Enlightenment as well as cutting-edge topics like super-coherence, self-organization, and the Unique Self Symphony.
You can watch the whole dialogue here if you have subscribed and are logged in to the Premium Membership.
As a gift to you, we offer you the first key part of the dialogue for free here:
Marc opens the space with this:
After we have killed all the gods except for Aphrodite, although we worship at her altar of love, we have lost the meaning of the word love.
"I love you" is our sacred word but we have forgotten what it truly means.
If we begin with a reconstruction of love and its actual meaning, maybe from there we will develop a super-coherent vision of the patterns that connect.
Ervin then sets the stage for the rest of the conversation:
Love IS reconstruction. We need to reconstruct because the world is falling apart.
Love is the longing to become one.
We need unity in diversity and Love is that element of unity. It is what holds it all together.
It is there in the quantum world, the simplest systems, the planets… What makes a system whole is the sense of belonging of its parts.
In the sentence "I love you", the YOU means everybody and everything.
Evolutionary Love is the love of reconnecting, of rebirthing the world, of becoming part of it.
Enjoy the first part of the dialogue for free here:
Sign up for the Premium Membership for only $15/month or for $129/year (a savings of $51!), and get streaming access to the rest of this dialogue and the entire archive of Integral Wisdom content, containing videos and dialogues exclusively offered through the Premium Membership.