by Kerstin Zohar Tuschik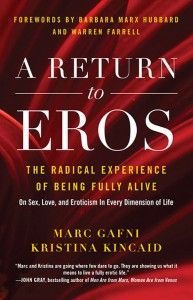 Without any marketing or press, one of our key think tank projects at the Center for Integral Wisdom, A Return to Eros: The Radical Experience of Being Fully Alive – co-authored by Dr. Marc Gafni and Dr. Kristina Kincaid – is already #1 New Release on amazon.com in Sacred Sexuality right now. Many of our American friends have already received their copy.
Here is the review I wrote – since I had the pleasure of reading it already pre-publication – which amazon wouldn't allow me to post:
Dr. Marc Gafni and Dr. Kristina Kincaid have written a very important book for our times. The way they talk about Eros, it takes it out of the bedroom and the context of our most intimate relationships into the largest context there is. Eros, as they understand it, is the interior of all the forces of attraction in our universe, the very forces that drive evolution to more and more complexity, more and more consciousness, and the potential for more and more and deeper and deeper love. In human beings, that same Eros manifests as a sense of radical aliveness, creativity, and wonder.
What becomes crystal clear upon reading: It is a failure of Eros that lies at the core of so many of our contemporary collective crises that threaten our very survival as a species. When we repress our sexuality, Eros breaks down, which is followed by a breakdown of ethics. When, on the other hand, we expect the sexual to fulfill all of our erotic needs, sexuality breaks down under the burden it cannot bear.
So, read this book and be amazed of the depth of insight and realization that awaits you by truly engaging its content.
If you feel numbed out and not able to access your full aliveness, read this book.
If you feel shamed about your sexuality and haven't found a way out of it yet, read this book.
If you are an activist feeling more and more hopeless in your desire to make a real difference in the world, read this book.
If you are a spiritual seeker wondering about the relationship between sexuality and spirituality, this book is for you.
Kerstin Zohar Tuschik
Some Editorial Reviews
"Marc and Kristina are going where few dare to to go and showing us what it means to live a fully erotic life!"
–Dr. John Gray, author of Beyond Venus and Mars