"Culture is a gadget; it's something we inherit. And you can fix it the way you can fix a broken oil burner." – KURT VONNEGUT
I started this blog after the shootings at Umpqua College in Oregon. I realized that to discuss the "source code" that underlies our delusional gun culture I would first have to offer a Unique Self Psychology "take" on culture in general. As Kurt Vonnegut's words remind us, the contents of culture are not a destined reflection of human nature. Culture is a gadget that can be fixed by human nature once the ocean of culture we are swimming in becomes an object of awareness.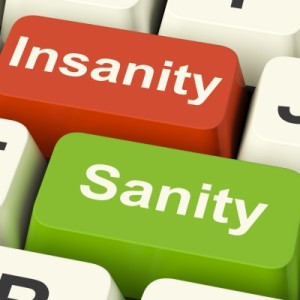 As I write this I am realizing that the phrase "object of awareness" is drier than a California reservoir. I've been using the phrase "object of awareness" for years in my writing about psychology. Time for a change. Making culture (or anything) an object of awareness doesn't take the fun out of it like the dryness of the phrase implies. In that spirit I have made up the word "psychaflower" to denote making something an object of awareness as in "I psychaflowered my anger in therapy" or "As a culture we are psychaflowering our attitude toward marriage equality." Isn't that more fun? It's sort of like the grammatical difference between a scientific discussion of urgency in mammalian reproduction and watching the neighbor's dog try to hump the mailman's leg. And of course what is psychaflowered can be pollinated but more on that later. Now that I've invented a wonderful new word (unlikely to show up in peer-reviewed journals anytime soon), back to business (or "busyness" if you prefer).
Unique Self Psychology begins discussion of "mental illness" by outlining what is meant by "mental." In my last blog I offered a Unique Self Psychology description of "mind" that includes not only self-awareness, but our embodiment (including all the neuroscience bells and whistles), our environment, our interactions with others and of course our culture. "Mental" also includes our field of awareness and the things that arise in our field of awareness – the things we can psychaflower. Psychaflowering offers not just understanding but a toy chest of ways to change what was psychaflowered (again, fun everywhere you look!).
That which a "people" agree to focus on in large part form our various "cultures." "Culture" is an artifact of what a "people" choose as important from things arising in their field of awareness. They may then psychaflower that which they have said is important or simply go with the flow on psychological autopilot. Mind you the default position in all of us for this process is autopilot. We usually have to practice observing, questioning and ultimately psychaflowering. We only begin to master our awareness some years after we are born and by then we have been bathed in the cacophony of what our "people" considered our "culture." Occasionally one of our people will be good at teaching us to psychaflower cultural assumptions that have been foisted on us but this is usually pure luck if it happens (though many of us were blessed with a "crazy" Aunt or Uncle or laughed at and questioned everything).
A very funny (funny as in "ha-ha" and as in "strange") thing about culture is that it is reified in 20th -21st century psychologies. This leads to both irony and suffering. Here is an experiment you can do: go to a psychology conference and sanctimoniously invoke the word "culture." Within minutes you'll have a strange collection of graduate students and assistant professors groveling at your feet (really – try this – it is amazing). They can't explain this reflex of course because they have not psychaflowered their conception of culture – they have merely turned it into a monstrous god who rules their intellect with all the compassion of a rabid groundhog. So in Unique Self Psychology we begin by slaughtering this "Golden Calf" (or "Plastic Groundhog" if you like) of culture. We do it humanely of course, like cruelty-free beef where all cows go to Disneyland before going to the butcher.
From a Unique Self Psychology perspective, culture is an artifact of humanness that can range from a rich, fulfilling context for growth to a dung heap of aggression, repression and cruelty. The only "given" or destiny about culture is that humans will create cultures as surely Republican politicians will pray before first kickoff of the Super Bowl. By psychaflowering our culture we become aware of the source code underlying it. We are then free to pollinate the psychaflowered source code so that it increasingly produces cultural artifacts that guide each person toward their Unique Self. These cultural artifacts are the "blossoms" of a Unique Self source code and become increasingly concerned with the preservation of life rather than the ruthless control of life.
Now having established (I hope) a basic understanding of source code in relation to culture, my next blog will specifically examine what a people have to believe to allow a parade of senseless gun violence and mass killing. And of course I will discuss what the source code would have to be for people to believe that a senseless parade of gun violence is inevitable. I will also discuss how 20th and 21st century psychologies do little to dissuade such atrocities. I will not, however merely "muckrake." I will then go on to discuss how a Unique Self Psychology can liberate each of us from the bleak vision of mental health forged in the 20th century. In this vision, as Alan Watts wrote, mental health is the state of mind you are in driving to work Monday morning. A Unique Self Psychology vision of mental health is more akin to the afterglow of sexual embrace or the laughter of children playing senseless games. I will discuss how this vision of mental health, and the cultural artifacts that promote it, can be written into the source code of our species and how this can alleviate so much of the senseless suffering related to things like gun violence.
Read More by Elliott Ingersoll on his CIW Unique Self Psychology and the New Enlightenment Blog