In order to live an awakened life, we need some wisdom to live by. It is the World Spirituality Dharma of Unique Self and Evolutionary Love that provides us with the Integral Wisdom to guide us every day. Our post-postmodern Dharma is not Dogma, but the best take on reality we have based on pre-modern, modern, and postmodern insights, weaving together what we know about the patterns that connect.
Enjoy this collection of 7 Dharma Quotes Graphics for Living an Awakened Life by Dr. Marc Gafni.
Apply these pearls of wisdom in your everyday life and become unstoppable in living and expressing the Outrageous Love at the core of your most gorgeous Unique Self.
Dharma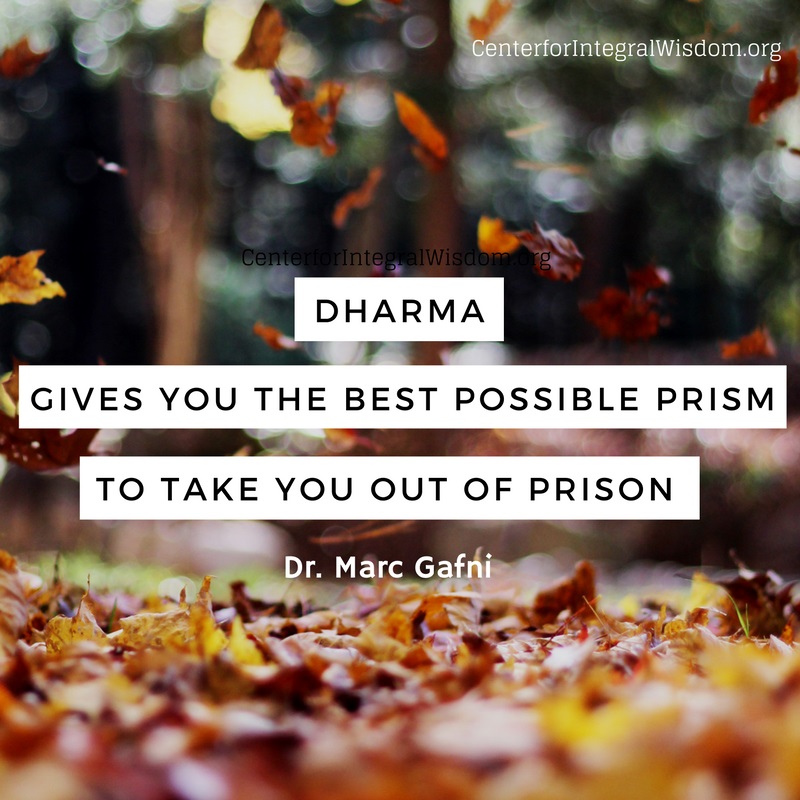 Dharma gives you the best possible prism to take you out of prison.
>> The World Spirituality Unique Self Vision of Dharma, Lineage, Students and Teachers <<
Life Is for Pleasure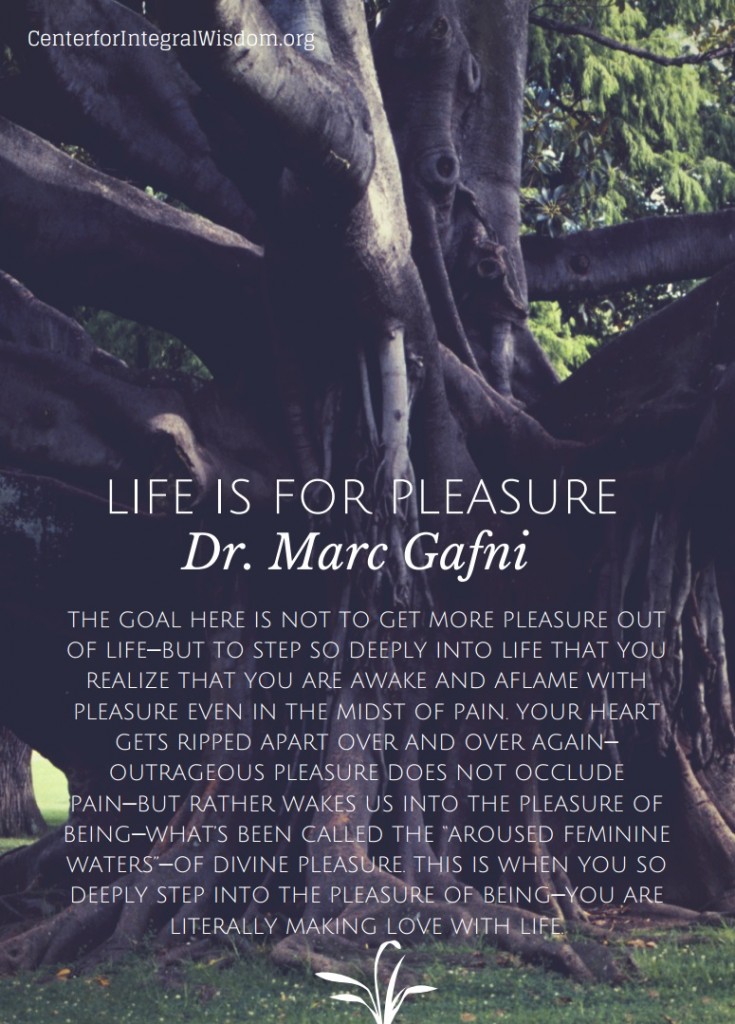 The goal here is not to get more pleasure OUT of life—but to step so deeply INTO life that you realize that you are awake and aflame with pleasure even in the midst of pain. Your heart gets ripped apart over and over again—outrageous pleasure does not occlude pain—but rather wakes us into the pleasure of being—what's been called the "aroused feminine waters"—of divine pleasure. This is when you so deeply step into the pleasure of being—you are literally making love with life.
The Highest Pleasure
The highest pleasure is to know that through my own transformation I transform the world.
After a truly magical trip along the Pacific Coast from LA to Big Sur, with Elephant Seals, Sunshine, and last but not least my dear friends Liza Braude-Glidden (CIW Board Member, Scholar and Senior Teacher for Unique Self) and her husband Reed, we arrived there early enough to wander around a bit and see the myriads of Monarch Butterflies and a stunning sunset. Yes, Esalen IS a magical place.
Yet, the best was still to come.
Seeing these two master teachers, Dr. Marc Gafni, Co-Founder, Lead Scholar, and President of CIW, and Sally Kempton, Co-Founder, Vice-President, and Senior Fellow of CIW, teach together, "Two Tastes of the Same Voice" as Marc said so beautifully, was what I would call Third Tier Magic. They gorgeously modeled for us how two strong teachers from different lineages can come together, make room for each other, and teach together.[Read more…]
Mariana Caplan, PhD, co-founder of Center for World Spirituality, psychotherapist, professor of yogic and transpersonal psychologies, and the author of seven books in the fields of psychology and spirituality, has reviewed Your Unique Self:
"Your Unique Self is a great gift to the modern spiritual world. The author, Marc Gafni, has been immersed in spiritual study and practice for over three decades, and his work comes to a full flowering in this beautiful book.
In this way, Your Unique Self is both a philosophy and a practice that is relevant to seekers and practitioners of all traditions, both traditional and modern. The radical but grounded theory and method Gafni articulates offers the reader a chance to experience not only his or her unique gifts to the world, but to recognize uniqueness itself as an enlightened expression of our own inherent divinity. Unique Self in Gafni's realization is the expression of the irreducibly unique "personal face of essence". Here is a direct taste of the book itself."
You can buy the book and more books by Dr. Marc Gafni at Amazon>>>