The Difference Between Ordinary Love and Outrageous Love
Watch this awesome dialogue between Nijole Sparkis and Marc Gafni from her awesome interview series "Heal the Shadow in Your Relationships 2!" Read the beautiful introduction Nijole wrote in her email to the participants of this series announcing this interview:
Click here to learn more about this powerful interview series!

GET BLOWN OPEN to the irreducible unique expression of Love Intelligence awakening as YOU. The clarion call to Shadow integration is much more than just knowing that you have drives that are darker than you want on the front page of the New York Times, and being aware of it. Shadow integration is actually an expression of profound enlightened consciousness.

Beloved cutting edge wisdom teacher Dr. Marc Gafni says your Shadow is your unlived life. And when you don't live part of your life, you lose a critical dimension of your own Life Force. When you lose your Life Force, your energy devolves, your whole system protests & says "Give me back my essence!" Live your story! Live the missing piece of your story. And when you don't do it, your system acts out. It acts out with Shadow qualities - pettiness, anger, contraction, rage, jealousy, or promiscuity which violates your own interior values.

Dr. Marc shares with us:

The huge distinction between Shadow and Shadow qualities
How the Oneness of the Universe may be seamless, but not featureless
A live case study of how to follow your Shadow back to the Light!
The solution for women who attract abandoning or non-committal men
The solution for men who attract non-receptive or angry women
The difference between love, romance, and infatuation
How to live from Outrageous Love rather than Ordinary Love

... and so much more!

You CAN re-connect with your True Self, be nurtured by your aliveness, and create LONG love lists!

Wishing you Blown-Open, Outrageous Love,

Nijole (Neola)

P.S. Some of what I LOVE about Dr. Marc Gafni: He has inspired many, comforted the afflicted, and afflicted the comfortable. He reflects back to people their most gorgeous selves, shares teachings of love, pricks egos, and calls others, by his very being, to truth and integrity. For some Marc is a teacher, for others a spiritual friend, for still others a spiritual artist, and for still others a revolutionary catalyst of social change and evolution. Marc Gafni's teaching is filled with love of people, love of God, and love of all of creation. It is also scholarly, hip, serious, deep, funny, profound, sometimes startlingly original, and always invested with the intent to transmit not only insight but also, and especially, an open heart.
Enjoy the interview:
This content is restricted to site members, you need a
FREE
membership to view the full content.
If you are an existing user, please login
Click here
.
New users may register below
Click here
.
Andrew Harvey and Sally Kempton are co-teaching a 6-months online course on The Evolutionary Goddess: Incarnating the Divine Feminine in Your Spiritual Life & Our World through The Shift Network.
In a bonus session for the course they have been interviewing Marc Gafni on the presence of the divine feminine in Jewish mysticism, and how the Kabbalistic teachings on the Shekinah hold a secret mystical understanding of the evolutionary Goddess:
For more free transformational content and world-changing information, please visit www.TheShiftNetwork.com.  This recording is ©2015 The Shift Network. All rights reserved.
Andrew Harvey is the Founder Director of the Institute of Sacred Activism, an international organization focused on inviting concerned people to take up the challenge of our contemporary global crises by becoming inspired, effective, and practical agents of institutional and systemic change, in order to create peace and sustainability. Sacred Activism is a transforming force of compassion-in-action that is born of a fusion of deep spiritual knowledge, courage, love, and passion, with wise radical action in the world. The large-scale practice of Sacred Activism can become an essential force for preserving and healing the planet and its inhabitants. Read more about his biography>>>
Sally Kempton is one of the Founders of Center for World Spirituality, which is now transformed into Center for Integral Wisdom. She serves as Vice President and a member of the Board of Trustees. Read more about her>>>
Dr. Marc Gafni is a visionary thinker, social activist, passionate philosopher, wisdom teacher, and author of ten books, including the award-winning Your Unique Self: The Radical Path to Personal Enlightenment, the two-volume Radical Kabbalah, and the recently published Self in Integral Evolutionary Mysticism: Two Models and Why They Matter and Tears: Reclaiming Ritual, Integral Religion, and Rosh Hashana. Read more about him>>>
In a recent Blog-Post "Waking Up to a New Love Story" on HuffPost The Third Metric Marc Gafni wrote:
We need a new story. A new cosmos story. A new waking up story. We need to know once again and beyond anything we ever knew that the universe is a love story. Not an ordinary love story, an Outrageous Love story. We live in a world of outrageous pain. The only response to outrageous pain is Outrageous Love.
The Looks and Feel of a Board Meeting
How this outrageous love story looks and feels like we could all witness and be part of at our annual CIW Board Meeting that took place in Texas at Co-Board Chair John Mackey's ranch.
68 people gathered including staff members, supporters, Advisory Board, Board of Trustees and Executive Board members (see below*).
The purpose of the board meeting was threefold:
To clearly unpack the core mission of the Center for the entire inner community.
For the inner community to get to know each other.
To commit as a larger community to play a larger game and to take direct responsibility for the evolution of consciousness in every possible way that we can.
This is part 4 of this series. Click here for part 1, part 2, and part 3.

The practice of writing Outrageous Love Letters is modeled by the Song of Songs, written, as they say, by the great lover King Solomon. It is the practice of Rumi… and Hafiz.
It is also a hidden Chassidic practice that was lost in the Holocaust when most of the Chassidic Masters were killed. Marc has recovered this practice from what he calls the "Inside of the Inside."
Having engaged this practice myself on a regular basis I can attest that it radically trains our love muscles.
This is part 3 of this series, click here for part 1 and part 2. The following passage is a paraphrased summary of some of this weekend's teachings.
Changing the Game: a New Outrageous Love Story
"The only community of people that has ever changed the story, is a community of people coming together and saying: We are going to love each other outrageously," said Marc Gafni during the 5th annual World Spirituality Retreat at Esalen 2014 and "There is not only a covenant between God and the children of Israel but also a covenant between the children of Israel and their children and their children… a covenant between the generations. Israel are 'those who wrestle with God.' That is us. Every generation is responsible for the evolution of consciousness. It is our turn now."
The transformation of the all includes our own transformation: If you work your issues just for yourself, transformation is difficult to achieve. If you work your issues for the sake of the evolution of love, that changes the entire game. The energy you now have available for your own transformation is huge. It is fueled by the evolutionary impulse itself that is living in you, as you, and through you.
But it doesn't stop there. Seeing someone living their Unique Self, we cannot help but fall in love with them. That doesn't mean we will engage them in a romantic sense, but it will inspire us and others to live their Unique Self as well.
That is what creates what Marc calls a "Unique Self symphony."[Read more…]
This is the second part of a series. For part 1 click here.
As a lover of this trans-lineage World Spirituality Dharma that Marc Gafni and Sally Kempton wove together so beautifully during this Retreat and that is both deeply rooted in the age-old Wisdom Traditions and in the Integral Framework, I am always fascinated by how Marc weaves his magic again and again, how the Dharma stays fresh and alive and unfolds into ever more clarity and depths. And it was a pleasure to see Sally teach and get her transmission as well.
So, for starters, what is this Dharma we are talking about?
The following passage is a paraphrased summary of some of this weekend's teachings.
First of all, Dharma is not Dogma. It is the best take on reality we have, based on pre-modern, modern, and post-modern insights, weaving together what we know about the patterns that connect.
Marc Gafni's two sentence Dharma of this weekend:
"We live in a world of outrageous pain. The only response to outrageous pain is outrageous love."
So, what is the difference between ordinary love and outrageous love? Why doesn't love do what it is supposed to do? Why doesn't it have the healing powers we intuit it should have?
After a truly magical trip along the Pacific Coast from LA to Big Sur, with Elephant Seals, Sunshine, and last but not least my dear friends Liza Braude-Glidden (CIW Board Member, Scholar and Senior Teacher for Unique Self) and her husband Reed, we arrived there early enough to wander around a bit and see the myriads of Monarch Butterflies and a stunning sunset. Yes, Esalen IS a magical place.
Yet, the best was still to come.
Seeing these two master teachers, Dr. Marc Gafni, Co-Founder, Lead Scholar, and President of CIW, and Sally Kempton, Co-Founder, Vice-President, and Senior Fellow of CIW, teach together, "Two Tastes of the Same Voice" as Marc said so beautifully, was what I would call Third Tier Magic. They gorgeously modeled for us how two strong teachers from different lineages can come together, make room for each other, and teach together.[Read more…]
The Success 3.0 Summit, this amazing gathering from October 30th to November 2nd, 2014 in Boulder, Colorado of the world's leading thinkers, entrepreneurs, and change-agents that was co-initiated by the Center for Integral Wisdom was a wild success.
Among the speakers were thought leaders like Tony Hsieh (CEO, Zappos Inc), Arianna Huffington (Editor in Chief, Huffington Post), Alanis Morissette (Singer/Songwriter & Activist), Blake Mycoskie (Founder, TOMS Shoes), Barbara Marx Hubbard (Author, Social Innovator, Evolutionary Thought Leader), Casey Sheahan (former CEO, Patagonia), Lynne Twist (Global Activist & Author), Adam Bellow (Vice President, Harper Collins), Ibrahim Husseni, Business leader, Ben Jealous (former President & CEO of the NAACP), DJ Spooky (Composer, Musician & National Geographic Emerging Explorer), Tom Chi (Innovator & Founder, Google Glass), Jack Canfield (Author, Chicken Soup for the Soul), and many others.
The goal of the summit was to articulate a new, transformative vision of conscious living, innovation, and social impact and to create a new definition of Success that can lead humanity into the future. And that was exactly what happened. The partnership between Marc Gafni, the President of Center for Integral Wisdom, John Mackey, the board chair, Kate Maloney the co-board chair and Ken Wilber the Co-Founder of the Center was so clear and beautiful that it naturally manifested this powerful event which so many people in the room felt was perhaps the most powerful event of this kind that had ever attended in their lives. I want to particularly note the love and respect between Marc and Kate that was subtle and quiet in the space but clearly lit up the room.
In the Media
About 600 people attended the event live and thousands of people watched at least part of it through the live stream. The event was wildly shared through social media with many thousand tweets on twitter alone. Gaiam TV will screen the videos of it by the end of the month. And last but not least, many of the speakers and attendees were recorded alongside the event as part of a movie that will emerge from this. So, stay tuned.
Second Simplicity of Dharma
It was gorgeous to see the many ways the Dharma of Unique Self, Eros, Outrageous Love, and World Spirituality, that Dr. Marc Gafni has been articulating and outrageously transmitting for the last several years, has played a role in this amazing happening.
Most of the speakers started to use the 6-word Mantra Wake Up, Grow Up, Show Up. Dr. Marc Gafni, Visionary Scholar, Wisdom Teacher, and Co-Founder and President of CIW, brilliantly transmitted these thought forms in his opening speech. He suggested that every generation needs to participate in the evolution of consciousness. And:
"It is our turn. We are here to articulate an ethics of success that is rooted in Outrageous Love. Outrageous Love demands a new vision of success."
He also introduced one of his key terms, the word Second Simplicity. Second Simplicity is what he calls the Simplicity that comes after Complexity. After having really grasped the complex concepts, we can get to a stage where we can express them in a compellingly simple way–thereby reaching people from all stages of consciousness.[Read more…]
The story of the holy snuff box
A beautiful story retold by Marc Gafni
Everybody knows that Holy Beggars hold the world together. Thus would one modern master introduce the following sacred story. Never, never pass by a holy beggar, and they are all holy. Walk across the street. Go out of your way! Who knows who he really is? Who knows what great soul lays hidden in that tattered beggar? You never know… You never know. All you can know that is if someone asks, they must certainly need.
One day a beggar came to see the Holy Israel, Master of the Name. He was angry and depressed. "What kind of a God do you have. I used to be rich – I helped many people. But now look at me – I have lost everything. It's not fair. How did such a fate fall upon me?!" And with that the beggar broke down into tears.
"Sweet Yossele," said Israel, Master of the Name. "All the mysteries are in your own life. Think back to Yom Kippur six years ago."
And now the master Israel had Yossele's complete attention. For how did he know that his name was Yossele – and how could he know what he had done six years ago? Master Israel continued. "It was a fast day, the holiest day of the year. A day when we pray all day long. People on that day are at their weakest, but also at their highest. You remember, Yossele, that you brought the snuff box to the prayer service?" For although on this fast day eating is proscribed, fragrance is permitted. Often, as in the prayer fellowship I grew up in, snuff boxes would be passed around, to offer fragrance to revive the spirits for prayer.
"Do you remember, asked Master Israel, how you went around to all the congregants giving snuff to everybody?" Yossele, now spellbound, could only nod silently. "Well there was a beggar in the back of the room, lying lifelessly on a bench. You said to yourself – just for a second, 'Why should I walk back there for him? He can come up to me to get his snuff." Yossele was overwhelmed as he recalled for the first time that fleeting thought. "Well," continued Master Israel "that beggar hadn't eater for three full days. If only you knew how much he needed that pinch of snuff! He was so inside of his prayer that the heavenly gates were wide open… listening to his every word, his every sigh.
"When the holy angels saw that you did not walk back and give this holy soul some snuff, that was it – they were enraged! They decreed you should lose all your money and that the beggar should become wealthy instead of you. Well, that beggar is now the wealthiest man in your town."
At this point, Yossele's contrition turned to anger. "You mean that beggar has all of my money? What chutzpah! How do I get it back?"
"Actually, you can get it back," answered Master Israel with a twinkle in his eye. "If you can find a time when you ask him for a pinch of snuff, and he refuses, at that moment all of that lost wealth will be returned to you."
The Story of Krishna
We're going to finish with a holy story that I will read you from my heart, from the mirror of the heart. It's the great story of the goddess Radah.
You know that many mortal women make love to Krishna, and Krishna is the sensuous God, the child, the lover. He was often caught stealing butter. He would walk among the villages in the hot, moist, Indian land, and he called the women to join him for an afternoon of lovemaking. Age didn't matter, the rolls of the belly didn't matter, gray hair or black hair didn't matter, curve of the breast didn't matter, marital status didn't matter. Krishna loved all women and all men, and Krishna wanted to be loved in turn.
Stream Audio here and read further below:
Tbird Luv and Dr. Marc Gafni have teamed up in the creation of a new series of Dharma Party events, during which she and Marc bring dharma, music, empowerment and outrageous calls to action to awesome crowds of movers and shakers in the San Francisco Bay Area.
Some of you may know board member Tbird Luv from some of the Center's events over the past year (such as the 2013 World Spirituality retreat at Esalen, and the SF Dharma Circles), where she has brought her unique music to Dr. Marc Gafni's teachings, and her collaborative brilliance to other projects with the Center.
A Dharma Party is Not just another event that leaves behind GREAT memories. Instead, those present have a chance to get inspired, and to strategically design the future with aligned relationships and projects that have the potential to make the world a better place.
Here is the invitation to the 2nd Dharma Party – coming up next week on April 19 – which was sent to a list of Bay Area locals who attended the 1st one. If you want to be invited to this Dharma Party – or any of the next ones! – let us know here. We want you there!

We just completed a very special series of events at our Teaching Center at Venwoude in Holland. Dr. Marc Gafni taught two Valentine's Day events in a very beautiful church in Amsterdam. This was followed by a wonderful and very intimate two-day retreat at Venwoude on Saturday and Sunday. Capping off the 4-day weekend, we had an outstanding presentation at Nijenrode University on Conscious Capitalism with Prof. Dr. Paul de Blot, Dr. Marc Gafni, and Ken Wilber (via Skype) in front of 150 enthused Entrepreneurs.
Valentine's Day at Vondelkerk Amsterdam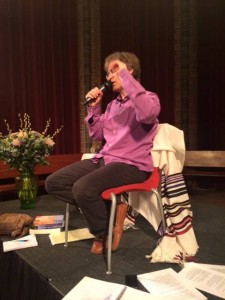 A packed house of people celebrated Valentine's Day in an old beautiful Church in Amsterdam with Dr. Marc's Dharma on Outrageous Love. It was a day of profound new dharma, deep practices, and a stunning community of Outrageous Lovers. Dr. Marc took us deeply into a practice space with dyad practices, chanting, and intimate sharing. The evening session seemed to explode–after a very quiet and subtle beginning with hearts meeting in Chant and Meditation and finally and melting open into the Inside of the Inside–with a fireworks of Dharma on Outrageous Love and Unique Intimacy.[Read more…]
An excerpt from the forthcoming book "Outrageous Love"
by Dr Marc Gafni and Kristina Kincaid

There are two questions that you must answer to make your life a triumph. The first is, Who Are You? The second is, are you willing to play a larger game?
We live in a world of outrageous pain. The only response to outrageous pain is outrageous love. We live in a world of outrageous beauty. The only response to outrageous beauty is outrageous love.
What is the path of the outrageous love?

It is to live as an outrageous lover. What does an outrageous lover do? She keeps every boundary that should be kept and breaks every boundary that should be broken.

But what does an outrageous lover actually do?

The outrageous lover commits outrageous acts of love.

But which outrageous acts of love should you commit?

There is so much that you might do, and so much that needs to be done. The answer is simple.

You commit the outrageous acts of love that are yours, and yours alone, to commit. You commit the outrageous acts of love that are an expression of Your Unique Self.
Steven Raymond is a student of Marc Gafni and of Integral theory. For the Center for World Spirituality, Steve serves as a Unique Self teacher and a Board of Trustees member, and is delighted to be bringing Unique Self dharma to the New England states in collaboration with other teachers. His focus is on the integration of group experiential processes with Unique Self training for individuals and healthcare professionals, with a particular interest in the fields of conscious birthing and conscious dying.
Steve has broad experience in deep experiential transpersonal processes and therapies, and is a master of assisting others with shadow work. Steve has a private coaching/teaching practice, and provides transformative consultation to individuals, groups and small entrepreneurs. He is also a leader in foundational men's work, is an Alumni of the Breakthrough Men's Community in Carmel, CA, and is now setting up a men's community group and an Awakening Your Unique Self study group in Portland, ME. He is the parent of an adult son and daughter, and the grandparent of three children, who love him as a jokester and as a mythological god on the ping pong table.
Steve writes, "The essence of my spiritual practice, my Unique Self practice, is to live a fully embodied and passionate life of joy, clarity and purpose. This is how I Show Up for my family, friends, clients and students."

My First Unique Self Encounter: The First Time I Ever Fell Really in Love
by Steven Raymond


My Unique Self in the Third Person

The first time I ever fell really in love, I was an emotionally damaged 23-year-old man finding my way through the complex maze of my early life. My first real love was a dying 70-year old woman, and the radically Outrageous Love I shared with her transformed my life and revealed a path forward that 37 years later I assess as the discovery of my Unique Purpose, and a life-altering revelation""my Unique Self.

This content is restricted to site members, you need a

FREE

membership to view the full content.

If you are an existing user, please login

Click here

.

New users may register below

Click here

.

We are pleased to be able to share with you the inspiring poem below, written and submitted by Shalom sangha member and energy healer Cerridwen following the Shalom Mountain Wisdom School in Livingston Manor, NY, October 10-13.  Dr. Marc Gafni, Wisdom Teacher in Residence at Shalom, unfolded teachings on Pleasure, Addiction, and Eros at this retreat, and the sangha celebrated together the Outrageous Love dharma. Cerridwen says the retreat experience moved her closer to this draft of her poem.

This content is restricted to site members, you need a

FREE

membership to view the full content.

If you are an existing user, please login

Click here

.

New users may register below

Click here

.

Please join Sally Kempton and Marc Gafni at Esalen October 18-20 for an astonishing weekend experience of Evolutionary Love Practice.

There are two practical inquiries that will sit at the core of all of our sacred play:

What does it take to live your life in love?
What does it mean to be lived as love?

The 4th Annual World Spirituality Retreat
"Falling in Love with the Divine: Devotion and Tantra of the Heart"
October 18-20

During this weekend, we (Sally Kempton and Marc Gafni) promise to help you discover some real answers to these questions, which are rich with potential to transform the rest of your life.

Back in the 70s, a little book called The Lazy Man's Guide to Enlightenment swept the spiritual world. Its message was simple: Enlightenment does not require heavy effort and asceticism. It only requires that you choose love in all circumstances. Making this simple insight alive and real in your life is the change that changes everything.

We each individually realized this insight during times when we were searching for light in the complexity of our own lives, and something deep within us recognized that choosing love in all circumstances is the secret. We also both knew that just deciding to love in all circumstances is not enough.

You can't just decide to love. You need to find out how to kindle love in yourself. You need to practice love. You need to understand the different forms and levels of love. And you need a way to keep kindling your love-core "" through meditation, through chant, through contemplation, and through "outrageous acts of love" that change not only your relationships, but you yourself.

That's what this weekend retreat – "Falling in Love with the Divine" – is about: Loving Your Way to Enlightenment.