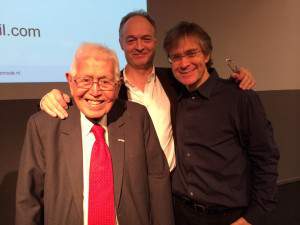 In this workshop on Conscious Entrepreneurship at Nyenrode Business University, Dr. Marc Gafni, Ken Wilber (on Skype), and Prof. Dr. Paul de Blot explored the following questions:
What are the three core principles of running a conscious business?
What is the difference between the shareholder model and the stakeholder model, and why does it matter?
Why is it essential for a company to identify its Unique Self?
What are the three reasons that changing the perception of business in the modern world is essential to the success of business?
Why is the evolution of business from unconscious to conscious entrepreneurship essential to the financial bottom line of a company?
Let's celebrate the role of capitalism in culture, and create a breakthrough new way of navigating a transforming economy. What might it take to forge radical changes born from the ethical and spiritual wisdom of Ken Wilber's Integral approach. Spiritual and ethical consciousness in doing business includes four principles:
Higher purpose / meaning of life
Interdependent stakeholders' orientation
Conscious leadership based on self-leadership
Conscious culture of trust with awareness for each other
Enjoy the workshop:
In Ken's talk at the 2014 Board Meeting, he talked about the different implications of the term World Spirituality versus the term Integral Wisdom.
In 2012, Marc and Ken initiated a two-year conversation with the leadership of the Center about what the think tank's formal name should be. We began as The Center for World Spirituality, and then, the name evolved to The Center for Integral Wisdom. In the end, our decision is to call ourselves iEvolve: Evolving the Source Code of Culture: The Center for Integral Wisdom. Within that context, one of our lead projects is the World Spirituality Project.
You can listen to Ken Wilber's talk on Integral Wisdom from the Board Meeting in February 2014 and read the transcript below:
Enjoy these videos from an evening of Outrageous Love about The Path of the Outrageous Lover:
Watch and listen to this gorgeous dialogue between four masters of their respective fields in the process of evolving the teaching of Unique Self, Unique We, Couplehood, Imago Therapy, and Unique Self Recovery:
Harville Hendrix is a contemporary psychologist who co-founded Imago Relationship Therapy, along with his wife, Helen LaKelly Hunt.
Harville Hendrix was born in 1935 in Statesboro, Georgia. He was an ordained Baptist minister before he completed his BA at Mercer University in Georgia, in 1957, and his BD from Union Theological Seminary in 1961. He went on to receive both an MA and PhD in psychology and religion from the Divinity School at the University of Chicago.
Hendrix serves as a therapist, educator, and pastoral counselor. He has spent the last two decades practicing and teaching his own form of marriage and relationship therapy known as Imago Relationship Therapy in collaboration with his wife.

Helen LaKelly Hunt (born 1949) is a daughter of H. L. Hunt. She is founder and president of The Sister Fund, which describes itself as "a private women's fund dedicated to the social, political, economic, and spiritual empowerment of women and girls."
Hunt currently lives in New York with her husband, Harville Hendrix, a self-help author.
Hunt was inducted into the National Women's Hall of Fame, which cited her as a "[c]reative philanthropist who has used her own resources and others to create women's funding institutions."
Lori Galperin serves as a Member of the Board of the Center for Integral Wisdom.
She is a clinician, writer and teacher who began her 27 year career working in the area of sex & marital therapy. Training at Masters & Johnson Institute, she eventually became co-director, co-founded the first inpatient sexual trauma program in the country, and ultimately established and clinically co-directed three such programs. Her work spanned diverse populations including incest families, sex offenders, victims of sexual abuse and individuals struggling with sexual addiction.
Dr. Marc Gafni is a philosopher, public intellectual and wisdom teacher. He holds his doctorate in philosophy from Oxford University, rabbinic certification from the chief rabbinate in Israel, as well private rabbinic ordination. He is also ordained and holds a doctorate in religious science. He is the initiating thought leader, together with Ken Wilber, of World Spirituality based on Integral principles, as well as the leading theorist and teacher of Unique Self Enlightenment. He is the director of Center for Integral Wisdom (formerly World Spirituality), a think tank he co-founded in 2011 with Ken Wilber, Sally Kempton, and Mariana Caplan (now also joined by Lori Galperin) which is creating a body of work to evolve the source code of human existence.
The Success 3.0 Summit, this amazing gathering from October 30th to November 2nd, 2014 in Boulder, Colorado of the world's leading thinkers, entrepreneurs, and change-agents that was co-initiated by the Center for Integral Wisdom was a wild success.
Among the speakers were thought leaders like Tony Hsieh (CEO, Zappos Inc), Arianna Huffington (Editor in Chief, Huffington Post), Alanis Morissette (Singer/Songwriter & Activist), Blake Mycoskie (Founder, TOMS Shoes), Barbara Marx Hubbard (Author, Social Innovator, Evolutionary Thought Leader), Casey Sheahan (former CEO, Patagonia), Lynne Twist (Global Activist & Author), Adam Bellow (Vice President, Harper Collins), Ibrahim Husseni, Business leader, Ben Jealous (former President & CEO of the NAACP), DJ Spooky (Composer, Musician & National Geographic Emerging Explorer), Tom Chi (Innovator & Founder, Google Glass), Jack Canfield (Author, Chicken Soup for the Soul), and many others.
The goal of the summit was to articulate a new, transformative vision of conscious living, innovation, and social impact and to create a new definition of Success that can lead humanity into the future. And that was exactly what happened. The partnership between Marc Gafni, the President of Center for Integral Wisdom, John Mackey, the board chair, Kate Maloney the co-board chair and Ken Wilber the Co-Founder of the Center was so clear and beautiful that it naturally manifested this powerful event which so many people in the room felt was perhaps the most powerful event of this kind that had ever attended in their lives. I want to particularly note the love and respect between Marc and Kate that was subtle and quiet in the space but clearly lit up the room.
In the Media
About 600 people attended the event live and thousands of people watched at least part of it through the live stream. The event was wildly shared through social media with many thousand tweets on twitter alone. Gaiam TV will screen the videos of it by the end of the month. And last but not least, many of the speakers and attendees were recorded alongside the event as part of a movie that will emerge from this. So, stay tuned.
Second Simplicity of Dharma
It was gorgeous to see the many ways the Dharma of Unique Self, Eros, Outrageous Love, and World Spirituality, that Dr. Marc Gafni has been articulating and outrageously transmitting for the last several years, has played a role in this amazing happening.
Most of the speakers started to use the 6-word Mantra Wake Up, Grow Up, Show Up. Dr. Marc Gafni, Visionary Scholar, Wisdom Teacher, and Co-Founder and President of CIW, brilliantly transmitted these thought forms in his opening speech. He suggested that every generation needs to participate in the evolution of consciousness. And:
"It is our turn. We are here to articulate an ethics of success that is rooted in Outrageous Love. Outrageous Love demands a new vision of success."
He also introduced one of his key terms, the word Second Simplicity. Second Simplicity is what he calls the Simplicity that comes after Complexity. After having really grasped the complex concepts, we can get to a stage where we can express them in a compellingly simple way–thereby reaching people from all stages of consciousness.[Read more…]
John Mackey, Co-CEO of Whole Foods, and Marc Gafni on 'The Unique Self of Business'
Author: Michael Ellsberg
As featured on Forbes.
John Mackey, the co-CEO of Whole Foods, is the author (with Raj Sisodia) of Conscious Capitalism: Liberating the Heroic Spirit of Business of Capitalism. Philosopher Marc Gafni, Ph.D., president of the Center for World Spirituality, is the author of Your Unique Self: The Radical Path to Personal Enlightenment.
While these are very different books, the authors have been in dialogue for years now about interesting crossovers in their thinking. In this dialogue, we captured some of the new ideas the two thinkers are pioneering for the future of business, centering around their concept of "The Unique Self Business."