On July 6, 2013 Simple Life host Cynthia Fernandes interviewed Dr. Marc Gafni, who shared with her and her audience some of the most cutting-edge teachings on Unique Self and the self-organizing principle of Evolutionary Unique We-Space.
They discuss:
why people have a deeper need to start playing a larger game and stop doing business as usual.
why people tend to close down when confronted with the huge challenges we are facing as humanity and what we can do about this.
the path from Ego through True Self to Unique Self and what it means to be an outrageous lover.
the clues to recognizing your Unique Self.
how we can "unleash the symphonic creativity of every Unique Self" and how this is key to solving every challenge in the world.
why both happiness as well as profit cannot be pursued directly - they are the natural by-product of living our Unique Self and striving for excellence.
Listen to the interview here and read the synopsis of some of the keypoints below:
This content is restricted to site members, you need a
FREE
membership to view the full content.
If you are an existing user, please login
Click here
.
New users may register below
Click here
.
X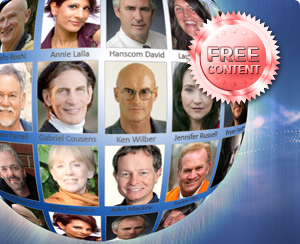 Free Membership
Radio Show "Vibrant Living" with special guest Marc Gafni
Hosted by Glenn Brooks and Michael Russ
9-10 AM Pacific on KSJO 92.3 FM in San Francisco
Listen online at www.u923fm.com
Tune in for a lively conversation with Dr. Gafni about Outrageous Loving, Unique Self, and much more – including his upcoming presentation at the New Living Expo:
"Actualize: Awakening Your Unique Self"
Friday, April 26 at 8pm PT
San Francisco, Concourse Exhibition Center
The Podcast of this show will be made available at on iTunes at "˜Vibrant Living Connection'
About Glenn Brooks and "Vibrant Living" Radio

Glenn is a respected and acclaimed leader in wellness and lifestyle education.  As founder and CEO of the Vibrant Living Media, he has hosted ground-breaking radio and TV programs, both in syndication and in major US markets, for over 25 years.
Supported by his co-host, Michael Russ, and an international team of journalists, he has been hosting and producing visionary radio and television for 20 years. His own acclaimed radio show, Vibrant Living, has included interviews with such diverse luminaries as Deepak Chopra MD, Ram Dass, Byron Katie, Guy Finley (author of The Way of Wonder), Richard Moss MD (author of The Second Miracle), Yogi Don Stapleton, and physicist Peter Russell.
Glenn lives his life the way he preaches — there are no rules that can't be broken. He became a nationally recognized and syndicated radio and television host with no formal training. He was in the room when the phrase "personal coaching" was coined, and has been doing it for years. He has received no degrees, yet he's been a successful entrepreneur for over two decades.[Read more…]
By Marc Gafni
Note: The following article appeared in the December 2012/January 2013 issue of Common Ground Magazine.
If you stop to think even for a short moment, you realize that sex really is the great mystery of our lives. Two groups, however, suggest very different approaches to sex, and both of them are wrong.
One powerful group of forces is arrayed in culture to prevent us from getting sex. They tell us that sex is somehow wrong, immoral, or sinful. Even when we think we have gotten free of them, they pop up again inside our hearts or heads, wagging their fingers disapprovingly. And they remind us constantly of all the trouble sex has gotten the world into "" from the Trojan War to the Clinton/Lewinsky drama. Not to mention the trouble it has gotten you and me into""emotionally, psychologically, personally, professionally, and physically. You have to admit that the sexual conservatives have a point. If you want to keep life simple, clean, and orderly, forgoing or limiting your sexual experience might be an excellent choice. If you like spiritual exercises, take a few minutes to list all the times sex has gotten you into trouble.
Lots of conventional moralists and organized religion fall into this category. Religion wants to affirm love and passion as virtues but to divorce them entirely from sex. So moralist religion works hard to erect boundaries that will protect us from the pitfalls of sex. Yet while we all know that sex requires some discipline, and that context and commitment count, most of us know in our hearts that the moralists are wrong, and that sex is ultimately""and overwhelmingly""good, and not merely a side benefit of achieving loving relationship.
To read the entire article, download it as a PDF file. 

By Marc Gafni
Note: The following article appeared in the December 2012/January 2013 issue of Common Ground Magazine.
The true nature of your values is always revealed in death. In eulogies, both in what is spoken and unspoken, there is something of the essential nature of your life and loyalties. Sometimes, however, before you die you are strangely privileged to declare where your ultimate loyalty lies.
It was September 11, 2001. The planes had just crashed into the Twin Towers in Manhattan. Victims had moments to use their cellphones. No one called asking for revenge. No one offered philosophical explanations or profound insights into the nature of reality. People did one thing and one thing only: they called the people close to their hearts to say, "I love you."
"I love you" is our declaration of faith. Implicit in those words is everything holy. Yet we no longer know what we mean when we say it.
It used to mean, "I am committed to you. I will live with you forever." Or it might have meant, "You are the most important person in my life."
But it no longer seems to mean that. And when you no longer understand your own deepest declarations of love, you are lost. You become alienated from love, which is your home. Despair, addiction, and numbness become your constant companions.
To read the entire article, download it as a PDF file.
Chahat Corten is a close student, friend and a board member of Center for World Spirituality and a leader of the Venwoude Retreat Center in Holland. She received empowerment from Marc Gafni as a teacher of Unique Self Enlightenment and is engaged in an upcoming book project with Dr. Gafni. She was recently interviewed for a wonderful article in a leading European magazine (pictured below).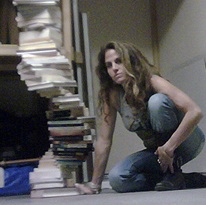 By Marc Gafni
Artist Claudia Kleefeld is not the first person to see the symbol of the spiral as being a portal to a vision of a coherent cosmos. She is original in that she is a first-rate, old-master-style artist with thirty years of training, who paints the spiral as an expression of an Eros of certainty that asserts the utter meaningfulness, depth, and order of the cosmos. Kleefeld's paintings emerge from her own opened eye of the spirit and speak directly to the higher spiritual intuition of her viewers. Finally, Kleefeld is unusual in that she is part of an emergent form of art, which seeks to reveal the enchantment of a cosmos "" a cosmos that is good, true, and beautiful.
I am delighted to present an article which celebrates the work of Claudia Kleefeld, one of the brightest shining lights in the universe of art today. My new article, "Post-postmodern Art: A Return to Belonging," is now published in the latest issue of Parabola Magazine.
Marc Gafni was recently featured in Spanda Journal, the peer-reviewed biannual publication of the Spanda Foundation.
The Spanda Foundation offers publications related to "sustainable advancement of peace, knowledge, and understanding."
Marc's article, entitled "The Future of the Holy: From Sex to Eros," begins like so:
"Sex. Is there anything else that so grabs our rapt attention, inessantly pursues us, occupies our daydreams, fantasies, and yearnings? The kabbalists state the obvious: God is trying to get our attention. Now I am not talking about the God who sends good people to burn in hell because they slipped up on one of his impossible demands. nor even the Grandfather in heaven who hands out chocolate to do-gooders. Forget that God. The God you don't believe in doesn't exist. Rather, the God that exists for us is the personal erotic life force that courses through reality. The God we believe in is the vitality of eros. The God we believe in is the force for healing and transformation in the world. The God who knows our name. That is the God who so clearly calls out to us that sex is the answer."
For the entire article, click: SPANDAJOURNAL_C&D2.0_Marc_Gafni.
See: Gafni, M. (2012). "The Future of the Holy: from Sex to Eros", Spanda Journal, ed. S. Momo, III,1: 131-139.
Mariana Caplan, writing in Common Ground Magazine, in the winter of 2010/2011, shortly before the opening of Center for World Spirituality:
Finally, for the first time in history, the most profound teachings and living teachers from all the great systems of Spirit are readily available in a non-coercive and open-hearted form, not only to people of their particular religion, but to all who wish to study and practice with them. World Spirituality seeks to unite our common ground while acknowledging, celebrating, and partaking in the diversity of the world's religions and cultures, so each religion can put forth its deepest and most profound contributions. While the idea of a World Spirituality is not new, the actualization of it remains an evolutionary leap whose time has come, and there is little more exciting than to be in the wake of a movement that is breaking ground. The yearning to articulate a World Spirituality is rippling across the globe in the hearts and minds of tens of millions of people, and this nascent urge needs to be articulated, lived, and practiced. As yet, there is no set of practices, obligation, or surrender, leaving seekers and practitioners without guidance or a formal community with whom to practice. This is soon to change, however, with the opening of the Center for World Spirituality on March 5 in San Francisco.
Read the whole aricle…