Dr. Zachary Stein: Love in a Time Between Worlds: On the Metamodern "Return" to a Metaphysics of Eros
Academic Review and Essay on New Think Tank Book: A Return to Eros
In this paper, Zak discusses the core think tank meme of Cosmo-Erotic Humanism that is the central underlying theme of A Return to Eros. It is this theme, which is the meta-vision of the think tank, and which all other memes express in different ways.
Key future works of the Center on Evolutionary Spirituality, Homo Amore, Unique Self theory with Marc, Zak, our co-chair and partner Barbara Marx Hubbard, and many other writers and scholars revolve around this new vision of Humanism.
---
A Return to Eros: The Radical Experience of Being Fully Alive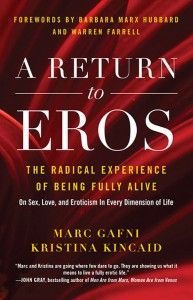 – On Sex, Love, and Eroticism in Every Dimension of Life, from Drs. Marc Gafni and Kristina Kincaid, reveals the radical secret tenets of relationship between the sexual, the erotic, and the holy. They reveal what Eros actually means and share the ten core qualities of the Erotic, which are modeled by the sexual. These include being on the inside, fullness of presence, yearning, allurement, fantasy, surrender, creativity, pleasure, and more.
A Return to Eros shows why these qualities of the erotic modeled by the sexual are actually the same core qualities of the sacred. The relationship between the sexual and the erotic becomes clear, teaching you how to live an erotically suffused existence charged with purpose, potency and power.
To be an Outrageous Lover—not just in sex but also in all facets of your life–you must listen deeply to the simple yet elegant whisperings of the sexual. This book will forever transform your understanding and experience of love, sex, and Eros.
___________________
Reclaiming Eros
with Dr. Marc Gafni
Imagine being fully expressed with an unstoppable life force that aligned you with the will, the desire, the knowledge and the creative impulse to engage ALL areas of your life full-on; without fear or shame stopping you from moving forward. Imagine the transformative power and positive impact you'd have on your personal relationships and potentially be a major influence in the world.
This is the ideal companion to our think tank book A Return to Eros by Dr. Marc Gafni and Dr. Kristina Kincaid.